Comedy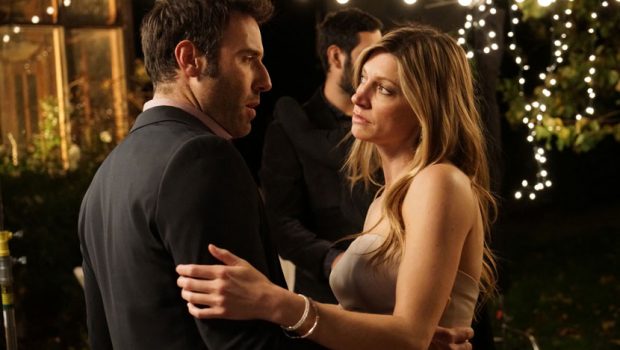 Published on November 11th, 2017 | by Natalie Salvo
Married By Christmas DVD Review
Summary: "Married By Christmas" is a rom-com with an unfair premise. What could be easy, festive viewing might actually rankle some viewers.
"Married By Christmas" is a made for TV rom-com that features a race to the altar. As a piece of Christmas escapism it is adequate as long as you don't think too hard about the premise. The idea is one that might have made a little more sense if it was produced several decades ago, but in today's modern light it seems misogynistic and utterly ridiculous.
Jes Macallan stars as Carrie Tate, a career girl who has dedicated years of her time and energy to building up her family's food-distribution company. Carrie's ditzy sister, Katie (April Bowlby) meanwhile, is a successful restaurateur who has never concerned herself with the family business. So imagine Carrie's surprise when Katie announces that she will have a holiday wedding and the girls learn that their grandmother has an antiquated rule in her will that means the ownership of the company will pass on to the husband of whichever granddaughter marries first.
This film sends some pretty terrible messages. Getting married is the most important thing for a woman (what is this 1950?) And apparently hard work and determination can amount to nought. You can also have this shoved in your face because it can all be bequeathed to an opportunistic ring-in to the family. While it's admirable that Carrie doesn't immediately throw in the towel, her solution is to try and find a beau to take her to the altar but the results are predictable as all goes awry and the ending is a little too neat for its own good.
FYI, Carrie eventually falls in love with the enemy. Coby Ryan McLaughlin plays Dylan, a corporate lawyer, the groom's best man and a guy that is working for the opposition in a deal that Carrie is brokering. The pair share a nice on-screen chemistry and the acting is decent. The cinematography is also quite nice with beautiful shots of Christmas decorations, a log cabin and gifts. These get you in the mood for festive cheer, it's just a shame that the storyline leaves such a bitter taste in your mouth.
"Married By Christmas" is a film that will rankle some people because the premise is an outdated and unfair one and this comedy could do with more laughs. The characters are interesting and multi-dimensional so if you can look past the ridiculous and antiquated premise then this could be your easy fix of holiday cheer. And for everyone else, remember there's always Christmas pudding.
DVD Details
Director – Letia Clouston
Actors – Jes Macallan, April Bowlby, James Eckhouse, Lee Garlington
Film Genre – Family
Label – Shock
Running Time – 87
Aspect Ratio – 1.37:1
TV Standard – PAL
Rating – PG
Consumer Advice – Mild themes
Year of Release – 2016
Primary Format – Movies/TV – DVD