Comedy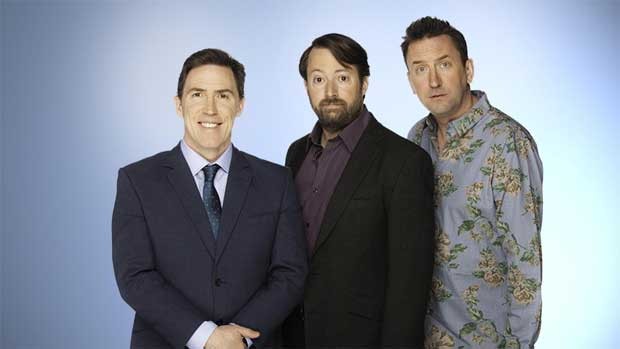 Published on August 31st, 2015 | by Natalie Salvo
Would I Lie To You? Volume 2 DVD Review
Summary: 'Would I Lie To You' is a well-edited and well-shot panel program. It's clever, funny and engaging.
The truth is often stranger than fiction and a program like 'Would I Lie To You?" gets at the very heart of that. This British panel program is nothing short of fun, hilarious and excellent. It's a clever concept that is delivered in a simple, matter-of-fact way and it all works perfectly thanks to a revolving and exemplary cast of eccentrics.
A total of nine series of the program have been made since it first broadcast in the U.K. in 2007 (when it was hosted by Angus Deayton). In Australia we have just seen the release of "Volume 2" on DVD which is in fact series five. The show is now hosted by Rob Brydon, a likeable character who seems very similar to the persona he played in 'The Trip' in that he enjoys throwing in the odd impersonation or impression where he can. He also enjoys poking fun at his short stature and Welsh heritage.
The two team characters are the logical, upper-class and occasionally up-tight, David Mitchell (of 'Mitchell and Webb' fame) and comedian, Lee Mack. The latter likes to be cheeky and play the fool. Each week they run through lots of bizarre premises and anecdotes in a bid to try and bluff their opponents in the show's three different segments. There are "Home truths" where the guest has to try and make an occasionally rather implausible and personal tale appear true (even if it isn't), "This is my…" where the members of the opposing team each claim to know a guest and "Quick fire lies" which is similar to the first part, only shorter and can include a personal possession.
The second volume includes comedians: Jack Whitehall, Miranda Hart, Robert Webb, Kevin Bridges, Bill Oddie, Dara O'Briain, Sarah Millican and David O'Doherty. There are actors like Katherine Parkinson ('The IT Crowd'), Mackenzie Crook ('The Office') and Greg Davies ('The Inbetweeners') plus TV broadcaster, Terry Wogan. There are also a lot of local television presenters and stars from the U.K. This series works well because the guests engage and are often very chatty and self-deprecating. The only minor quibble is that the show would benefit from having a few more female guests.
A particular highlight from this series was a segment where Rob Brydon claimed to own a "cuddle jumper" i.e. a huge sweater that was big enough for two people. This was such a classic example of the series, as the guests tried to one-up each another with great one-liners and jokes. There was a funny "demonstration" and lots of tangents and it was so worth it. The only other scene that would beat this one in the comedy stakes was when Kevin Bridges once appeared on the show and told his "home truth" about hiring a horse in Bulgaria (it's fabulous, you should Google it).
This set doesn't really have any special features which is a tad disappointing. There is a final episode where some of the unseen bits shot during the previous episodes are edited together to make a show. It's not bad but it's obvious why these parts played second fiddle to the ones that made it to the broadcast proper.
'Would I Lie To You' is a well-edited and well-shot panel program. It's clever, funny and engaging. It's also great fun to try and play along. This is a testament to how good a program it is that it will make an audience member feel like they're included and can actually play along from the comfort of their lounge chair. In short, it's British comedy gold.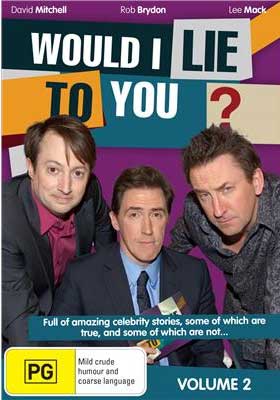 DVD Details
Actors – Rob Brydon/David Mitchell /Lee Mack
Film Genre – TV Comedy
Label – Shock
Audio – English (Dolby Digital 2.0)
Aspect Ratio – 1.78:1
Region Coding – 4
TV Standard – PAL
Rating – PG
Year of Release – 2011
Primary Format – Movies/TV – DVD