Documentary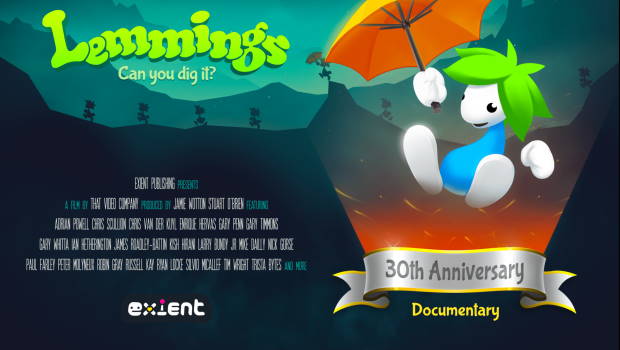 Published on December 14th, 2021 | by Chris O'Connor
Lemmings: Can You Dig It? Review
Summary: Learn how Lemmings came to be from the people behind the scenes who brought us so much joy... and frustration!
Those of us who grew up gaming in a certain era will know Lemmings and will have both positive and negative memories of it. Positive because it was such a different game to everything that was out at the time (which to be fair was not as wide a range as we have today… but still), it was a simple concept and easy to get into… but tough to master and that's where the negative memories come in. Those who have played Lemmings will know the sheer frustration of coming up against a level that just seems impossible and whilst watching your Lemmings explode on screen for the umteenth time is somewhat (disturbingly) soothing… you just suspect you are going to be stuck on this level for the rest of your days.
Well, now you can learn about how that gaming experience came about, thanks to Lemmings: Can You Dig It? a documentary that looks back 30 years to the group of friends who formed a company and created a game that would go on to become a Legend in it's own right and yes… they do cover level design and the concerns they had subjecting the gaming public to the levels they designed.
The documentary starts off by setting the scene and there is plenty of talk of the classic Sinclair Spectrum (a computer near and dear to my heart as I think it may have been the first we ever had). The creators go over how they all came to know each other and the fun they all had just learning how these new computers worked, how far they could push them and helping each other get the best out of their systems.
Interviews with the creators are intercut with "industry" people talking about their experience with the game and what it means to them and has meant for the industry in general. As we learn, the game didn't just put the developers on the map, but it also put a spotlight on Dundee as a place to study game design and related fields.
The documentary is clearly a product of these pandemic times we are in as it is pieced together via video chats. The result is some video and audio quality is better than others which can be a bit frustrating but the upside is it gives the whole thing a somewhat more intimate feel, as if you are actually communicating with the people yourself rather than watching someone else's filmed interviews.
I thoroughly enjoyed listening to the creative team behind the game (the cover artist seemed a bit keen on himself, pointing out all the little activities he depicted the Lemmings engaged in which are then stated by one of the actual design crew as clearly not being things you can do in the game.) The only thing that did come off as a bit incongruous was the last ten or so minutes in which we are shown the new mobile version of Lemmings. It's incongruous because throughout the rest of the documentary we are reminded just how unique and special Lemmings was… it didn't follow the trends and just slightly change a game format that was already out there… it was a totally new game, then we hear how the mobile game has "costumes" and such which "the players all love"… so we go from ground breaking to "stuff it with "trending" things". The gameplay of the mobile game (due to the interface mechanics) had to be changed to and looks like it might take a lot of what was fun and challenging about the original game and simplify it to a point of being pointless… but it's hard to tell from only a few short clips. I would be quite keen to see a remastered version of the original… maybe the mobile game will become a hit, but either way this is a fantastic documentary and worth a watch for fans of the game or even just fans of game design (seeing how much character can be conveyed in such a small space with limited colours is quite inspiring and impressive!)
As a love letter to the original game it's appropriate that the documentary will be available to view via streaming platforms from the 14th of February.