Comedy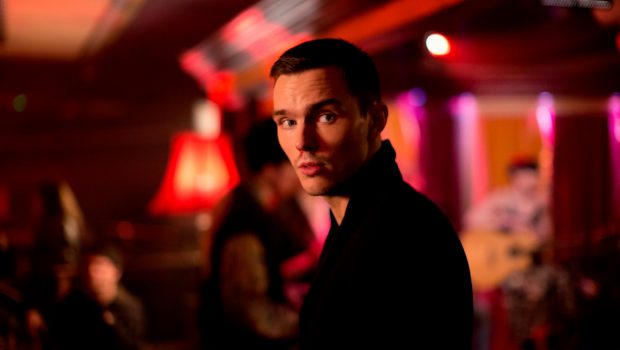 Published on September 2nd, 2016 | by Natalie Salvo
Kill Your Friends DVD Review
Summary: "Kill Your Friends" tries too hard to immerse the audience into a world of sex, drugs and rock 'n' roll but sometimes it isn't even playing the right tune. It means this cheeky and clever film also had some room for improvement.
"Kill Your Friends" is a film that could be renamed, "How To Lose Friends & Alienate People." It is a black comedy that is based on John Niven's semi-autobiographical novel of the same name. It's also a film that's a bit "24 Hour Party People" with a twist of some "Trainspotting" and also boasts the same bloated excess as "Fear & Loathing in Las Vegas."
The story centres around a seemingly charming man named Steven Stelfox (Nicholas Hoult ("Warm Bodies".)) Stelfox is a ruthless and ambitious A & R (Artist & Repertoire) representative for a record label called Unigram. Hoult is a great actor but Stelfox is not an immediately likeable character. He's actually more of a sharp-tongued anti-hero who frequently breaks down the fourth wall to explain himself and make joking asides to the audience. Some of these gags hit the mark while others about rape, the holocaust, paedophilia and aids are in poor taste.
Stelfox is rather Machiavellian in his approach to the world, especially work. When the label promises a promotion to his colleague, Roger Waters (James Corden,) Stelfox gets high and resorts to murder. When another guy is head-hunted, Stelfox frames him. Stelfox will stop at nothing- blackmail, murder and all manner of lies to get exactly what he wants. He doesn't really love music, he's only in it for the money.
The film is hedonistic and it enjoys lavishing itself in extremes and excesses. It also has a rather uneven tone, which some people may find jarring. One of the major positives of this film is its soundtrack. The story is set in 1997 at the height of the Britpop craze and the soundtrack boasts no less than: Radiohead, Blur, The Prodigy, The Chemical Brothers and Echo & The Bunnymen. The songs are used to great effect, one highlight is watching Stelfox as he takes in Radiohead's "Karma Police."
This movie is cheeky and clever but it also could have been a much better one. Some of the characters could have benefited from some extra character development and the shifts in tone could have been ironed out so it was a little less extreme. "Kill Your Friends" is not a film that will change you life but it doesn't aim to be. Instead it tries (sometimes too hard) to immerse the audience in the deep and dark world of sex, drugs and rock 'n' roll, but sometimes it feels like it isn't playing the right tune.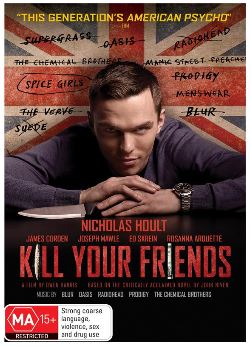 DVD Details
Director – Owen Harris
Actors – Nicholas Hoult, James Corden, Craig Roberts, Rosanna Arquette
Film Genre – Comedy
Label – Roadshow
Audio – English (Dolby Digital 5.1)
Subtitles – English
Running Time – 98
Aspect Ratio – 1.78:1
Region Coding – 4
TV Standard – PAL
Rating – MA15+
Consumer Advice Line – Strong coarse language, violence, sex and drug use
Year of Release – 2015
Primary Format – Movies/TV – DVD