Drama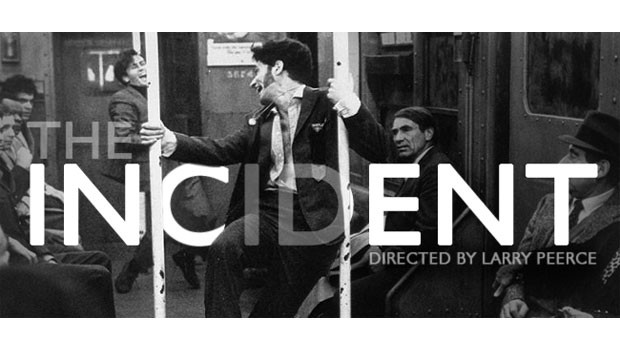 Published on October 3rd, 2015 | by Rob Mammone
The Incident DVD Review
Summary: The Incident is a confronting movie, a movie that reminds it's viewers that concerns about racism, homophobia and urban decay aren't ...
Filmed in 1967, The Incident tells a story of a disparate group of late night train commuters who fall foul of two drunk, bored, angry young men. Over the course of the film is revealed the true character of people when under pressure, and boy, this movie has plenty of that.
With the Vietnam War playing out nightly on American televisions, and set against the domestic backdrop of 'white flight' from the inner city to the suburbs as the civil rights movement soured and cities began to burn, The Incident is an excellent, gritty drama that pulls no punches in its examination of race, class and marriage. Filmed in black and white, and mainly set on one set, it is a claustrophobic examination of the failings of America in the late 60s.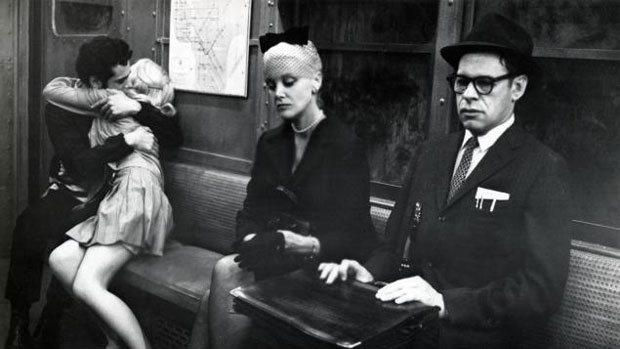 Script writer Nicholas E. Baehr introduces the cast efficiently and effectively in the first half hour. Late night ne'er do wells and general deadbeats Joe (Tony Musante Once a Thief, Oz) and Artie (Martin Sheen Apocalypse Now, The West Wing) meander their way across late night New York in search of fun times that in the end involve bailing up a civilian and bashing him for eight dollars. Not content with this, they catch the last carriage of a New York Subway Train.
Prior to this, in flashback, we are introduced to: Bill (Ed McMahon) and his wife Helen (Diana Van der Vlis) with their sleeping daughter; teenage virgin Alice (Donna Mills) and her mouthy boyfriend Tony (Victor Arnold); elderly Jewish couple Sam (Jack Gilford) and his wife Bertha (Thelma Ritter); black couple Arnold (Brock Peters) and his wife Joan (Ruby Dee); recovering alcoholic Douglas (Gary Merrill); Kenneth (Robert Fields) a gay man; sullen Muriel (Jan Sterling) and her useless husband Harry (Mike Kellin) and finally two soldiers, Private Phil Carmatti (Robert Bannard) and Private Felix Teflinger (Beau Bridges).
Refused permission to film in the subway itself, the crew, led by director Larry Peerce (The Other side of the Mountain; Two Minute Warning) led a guerrilla campaign, filming on the fly one-step ahead of the transit police. A specially built carriage was constructed, complete with period posters (that rather embarrassingly refer to handicapped people as 'retarded' – at least some things have changed for the better) … allowing Peerce and cinematographer Gerald Hirschfeld a free hand in filming the latter half of the movie.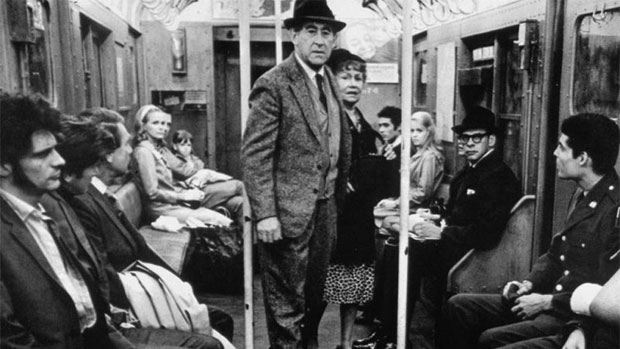 Oftentimes, the true measure of a person is how the react under pressure. For the most part, the unfortunates trapped in the carriage come from respectable middle class lives where their daily routines shield them from interacting with the sort of people Joe and Artie are. However, those facades, already shaky to begin with, begin to crack when the rampage begins.
Baehr's screenplay effectively captures the pressures his characters exist under. Whether it be family issues – Bill grousing about his in-laws to his wife, or Sam complaining about his feckless son to his wife, or the relentless racism that Arnold lives with, or the sexual pressure Tony places on Alice, or the unfair expectations Muriel has of Harry, all of the characters (apart from the two soldiers) live lives of quiet desperation.
Enter Artie and Joe. Joe is the catalysing figure in the movie. One thinks that Baehr didn't quite have a handle on exactly what he wants Joe to be. Is he just a hoodlum, looking for fun by bashing people? Or something more sinister – a satanic figure able to get his hooks into people and break them with his relentless questioning. A key moment occurs when he begins to question Tony. Tony has spent the evening passively aggressively trying to sleep with Alice. Thinking himself a bit of a tough guy, Tony tries to cosy up a little to Joe, but Joe sees through that and proceeds to humiliate Alice in front of Tony, who is too cowardly to defend her against Joe's suggestion that all three of them go to bed together. Joe's look of disdain when Tony breaks tells you everything you need to know about his true nature.
The Incident is a fascinating time capsule of a period gradually fading into memory as the baby boomers age and pass away. The depiction of homosexual Kenneth is the one that most jars – here he is depicted as weak and feminine, pathetically trying to find a partner in a bar, then helpless against the torments inflicted by Artie and Joe. The other interesting figure is Arnold, an angry black man who sees racism everywhere around him (and has it validated at the end of the movie when the police try to arrest him (simply because he is black) and not Artie and Joe). In this period, the passing of the Civil Rights Act hadn't miraculously changed the lives urban blacks led in the north of the country, or the south for that matter. Racism still abounded, and attitudes were only very slowly shifting. Mainstream America reacted very badly to the race riots spreading across the country, and only a year later, the murders of Bobbie Kennedy and Martin Luther King appeared to validate the belief that those who stood up for black rights would get killed for their efforts.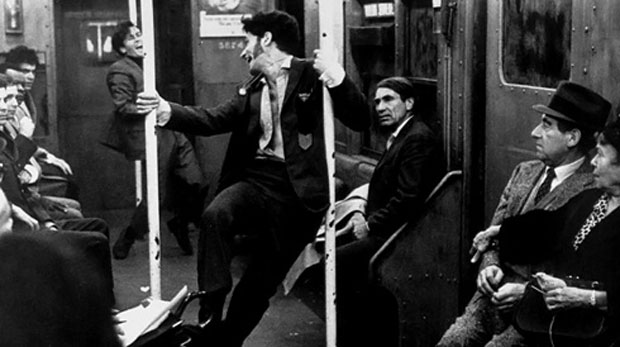 The movie also says a lot about how the middle class isn't prepared to stand up for itself, that it is willing to go along to get along for the sake of a quiet life. The unwillingness of most of the passengers to stand up for each other as Artie and Joe bully each in turn is testimony to the fact that most would rather spend their lives hiding at home rather than engage with the people around them. It is really only Beau Bridges, a son of farmers, who is willing to take on the role of quasi-sheriff when no one else is, much like Gary Cooper in High Noon, and stand up to Artie and Joe in a memorable final encounter.
In the end, The Incident is a confronting movie, a movie that reminds it's viewers that concerns about racism, homophobia and urban decay aren't a modern invention and that constant vigilance is needed to ensure everything previous generations have worked for isn't torn down by those who don't care a whit for their efforts.
Filmed in black and white, The Incident's visual style has a grittiniess that matches the material. Audio is fine, coming out of both speaker's with perfect clarity. There are no special features on this release.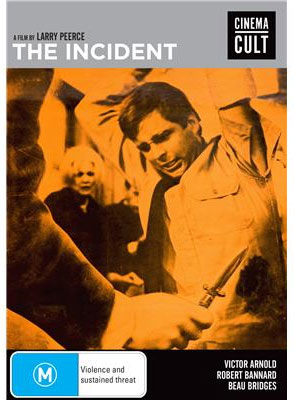 DVD Details
Director – Larry Peerce
Actors – Victor Arnold/Robert Bannard/Beau Bridges/Ruby Dee/Robert Fields/Jack Gilford/Mike Kellin
Film Genre – Thriller
Label – Cinema Cult
Audio – English (Dolby Digital 1.0)
Running Time – 107
Aspect Ratio – 1.85:1
Region Coding – 4
TV Standard – PAL
Rating – M
Year of Release – 1967
Primary Format – Movies/TV – DVD