Mind & Body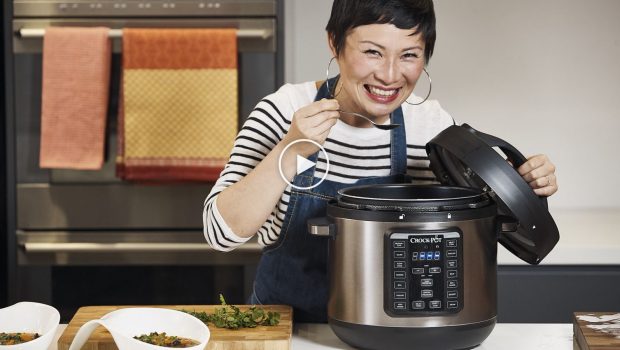 Published on June 13th, 2019 | by Admin
HUMP DAY IS REAL: AUSSIES STRUGGLE WITH THE WEDNESDAY 'MID-WEEK MEAL DILEMMA'
The hump day slump has crept into the kitchen, with Aussies feeling particularly stuck for cooking ideas on Wednesdays, according to new Crock-Pot research released today.
The research revealed that cooking inspiration does not strike on hump day, with nearly half (45 per cent) of Aussies on the hunt for an easy solution with a short cook time, and over a third (39 per cent) of those who lack inspiration finding Wednesday cooking to be a 'mid-week dilemma'. Of those who do cook, 29 per cent get most stuck for dinner inspiration on a Wednesday1.
With an increasing number of Aussies looking for quick and easy cooking solutions to overcome their bland mid-week meals, celebrity chef and MasterChef Star Poh Ling Yeow has created an exclusive recipe series in partnership with Crock-Pot Express Crock.
Aptly named #WednesdaysWithCrockPot, the campaign includes six exclusive new recipes from Poh, with one being released per week from today (12 June 2019).
Newly appointed Crock-Pot ambassador, Poh Ling Yeow, said, "I grew up with Crock-Pot in our home and my mum still has one, which can classify as vintage. It's remarkable to see what a long way it has come. When I realised I could pressure cook, steam, sauté and more, all in the one pot, I fell in love with the appliance as it is both a time and space saver. One of its outstanding qualities is that it is fail safe – fabulous for beginners or challenged cooks to gain confidence and deliver consistent, quality meals.
"I want this new recipe series to provide inspiration for mid-week meal solutions and offer dishes that are quick and easy but also incredibly flavourful. It's funny, everyone thinks I'm whipping up fancy dinners every night but I'm just like all busy Aussies who need most meals to be fuss free. My favourite thing about Crock-Pot is it keeps me eating healthily during those busy times when takeaway is really tempting – you can just bung everything in the one-pot, walk away and multitask like a boss! Who doesn't love that? I've made sure there are recipes for the changing seasons and all stages of the day, so you get a great feel for how versatile this magic pot is. I hope everyone loves them as much as I do."
Although on Wednesdays, Aussies get stuck for cooking ideas1, the research shows that they are also likely to look up a recipe, with nearly a third (29 per cent) of Aussies jumping online or digging out an old cook book.
When completely lacking meal inspiration, nearly half of the nation (42 per cent) default to getting a takeaway, followed by eating leftovers (33 per cent). When it comes to eating leftovers, males (28 per cent) are less likely to have leftovers than females (37 per cent).
Of all the generations, millennials struggle the most with home-cooked meals, with 53 per cent choosing takeaway as their go-to cooking solution. While those who have kids are more inclined to cook but also lack inspiration, especially from Wednesday onwards.
Commenting on Aussie's cooking habits, Newell Brands' Home Economist Jill Cooney, said, "It's long been known that there is a growing trend of people looking for convenient and easy cooking solutions, as we become more time-poor. But who knew that hump day was actually real and had crept into our kitchens!
"Our new recipe series sets about to provide Aussies with the inspiration and easy convenient recipe solutions that they need to overcome their 'mid-week meal dilemma', while empowering them to spend more time out of the kitchen with family and friends."
Along with the new recipe series, Crock-Pot® has the solution to help Australians beat mid-week meal time dilemmas with the Crock-Pot® Express Crock Multi-Cooker and the all-new extended assortment: the Crock-Pot® Express Crock XL Multi-Cooker. Both Express Crock Multi-Cookers revolutionise home cooking with their ability to cook any dish up to 70 per cent faster at the touch of a button, meaning less time in the kitchen and more time with friends and family. The convenient solution for the dreaded 'mid-week meal dilemma', the 12 in 1 multi-cooker can Pressure Cook, Slow Cook, Steam, Sauté and more so you can easily prepare any recipe, using one convenient appliance in no time without compromising the taste.
The Crock-Pot Express Crock Multi-Cooker is available from leading electrical specialists and department stores from $149. The Crock-Pot Express Crock XL Multi-Cooker is an extended assortment and larger version of the original, and retails from $199.95.
Visit www.crockpot.com for further information about the Express Crock range or to see the full range of Crock-Pot products. Or better yet, follow the hashtag #WednesdaysWithCrockPot on social media to get the weekly recipe updates and share your homemade recipe creations.