Drama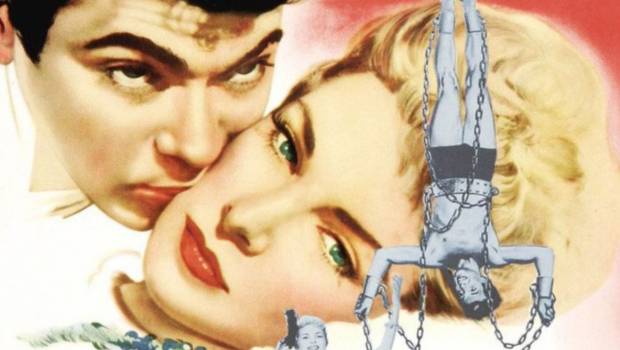 Published on July 8th, 2020 | by Rob Mammone
Houdini DVD Review
Summary: Entertaining biopic of the legendary Harry Houdini, his rise to fame, obsession with the occult, and his lasting fame as a master escapologist!
Growing up, I knew all about Harry Houdini, master escapologist and scourge of fake mystics and dabblers in the occult. The so called Chinese Water Torture escape stuck in my mind, as did learning about Houdini being one of the first people in Australia to fly a plane. He was also apparently locked inside a box and thrown into the Yarra in Melbourne, which, given the quality of the water, would've been near suicide!
Watching Houdini, starring Tony Curtis in the lead role, and Janet Leigh as his wife, Bess, is a charming way to spend a couple of hours. It is old school Hollywood from the 1950s, filmed on sets, with a cast of thousands. The tricks themselves, by most accounts, are as they would appear in real life, with only one or two patented camera tricks to achieve the results. For someone with a keen high in the history of magic, watching Houdini is a great way to watch a parade of old school magic.
Not all biopics actually accurately depict the life of their subject. There are embellishments in this movie, such as Houdini's keen interest in an elderly German stage magician, Von Schweger, who somehow managed to teleport himself from one spot to another and spent the rest of his life trying to repeat it. Houdini, in real life, had no time for any mystical nonsense, and indeed reveled in exposing fakes who were ripping vulnerable and gullible people who could ill afford the cost. I recall he went toe to toe with Arthur Conan Doyle who, after the death of his son in World War One, turned into a spiritualist, in the vain hope of communicating with his dead son.
The first half of Houdini is a bright and breezy affair. His courtship of Bess is positively whirlwind by our Tinder standards – he spots her when she visits where he is working in a carnival as a sort of Wild Man of Borneo, doubling as a stage magician in the next act, and decides to pursue her. By our standards, it's positively archaic, though there is a frisson of intrigue when he attempts to sneak her back to his home. Could the staid 50s be about to countenance a one night stand? No, the Hays Code still prevailed, and in fact Harry and Bess have just got married after a couple of dates. But it is sweet, even if a little corny.
Houdini's gifts and skills improve, and he takes the plunge and tours Europe, starting first in England. Here, the notorious instance of Houdini agreeing to be locked in an English gaol, and then escaping, made him an overnight sensation and launched him into what we would today call superstardom.
Returning to America as a virtual unknown, Houdini embarks on a series of escapes that makes his name in his home country. This is where the movie takes a darker turn than one might expect. Barely escaping drowning from a ice choked river, Houdini swears he managed the feat after hearing his mother's voice, at exactly the same time as she died. From then, Houdini attempts to contact his mother, finding and exposing frauds along the way. Obsessed with his mother's death, Houdini ignores Bess's pleas not to perform the famed Water Torture Trick, and succumbs, vowing to contact her from the other side, if he can.
Overall, Houdini is a competently directed movie that would've been entertaining Saturday afternoon television fare for a generation of kids living in Australia during the 70s. Tony Curtis plays the role in a slightly knowing manner, but his easy charm and definite charisma draw the eye in every scene. Leigh, as his supportive (if long suffering wife) is a world away from her role as the thief (and memorable) victim, in Psycho. Hers is probably the more difficult role, effectively supporting Curtis and feeding him lines while he steals the scene. A charming diversion for most of its first half, Houdini does venture into darker territory than one might think for a movie from the 1950s, and for that, is worth tracking down.
Head over to the Via Vision Entertainment Facebook page for the latest releases, giveaways, great deals and more!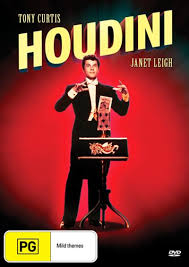 Film Details
Director
George Marshall
Actors
Tony Curtis, Janet Leigh
Film Genre
Classics
Label
Via Vision
Audio
English (Dolby Digital Stereo)
Running Time
106
Aspect ratio
1.77:1
Region Coding
4
TV Standard
PAL
Rating
PG
Consumer Advice
Mild themes
Year of Release
1953
Primary Format – Movies/TV
DVD