Drama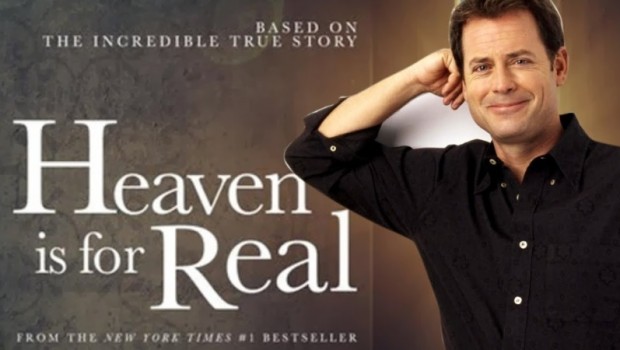 Published on October 9th, 2014 | by Admin
Heaven is for Real DVD Review
Summary: Heaven is for Real is a thoughtful film about life, faith and whether the afterlife exists.
Director – Randall Wallace
Actors – Greg Kinnear/Kelly Reilly/Margo Martindale/Jacob Vargas/Connor Corum/Thomas Church
Film Genre – Drama
Distributor – Universal Sony Pictures
Audio – English (Dolby Digital 5.1)
Running Time – 95
Aspect Ratio – 2.40:1
Region Coding – 4
TV Standard – PAL
Rating – PG
Year of Release – 2014
Primary Format – Movies/TV – DVD
Reviewer – Andrew Bistak
Heaven is for Real is the emotional drama about a small town pastor called Todd Burpo (Greg Kinnear) whose life is forever changed when his 4-year old son Colton (Connor Corum) undergoes an unexplainable near death experience while on the operating theatre. This experience was so profound that it rocked the foundation of their small Midwest country town and interestingly, this movie is based on the book, Heaven Is for Real: A Little Boy's Astounding Story of His Trip to Heaven and Back by Todd Burpo that is a true story. Although the "catch" is that we won't find out if it is, until we die!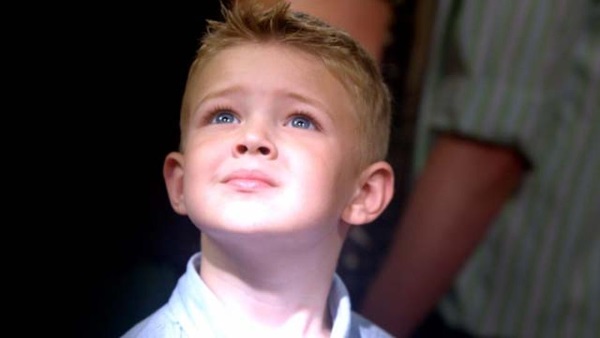 Director Randall Wallace who also helped with the screenplay with Chris Parker sets up the characters early on the piece as the Burpo's are a loving and religious family who are struggling to make ends meet and as a result, Todd works five jobs. Todd is supported by his stay at home wife Sonja (Kelly Reilly) who looks after their two children, Colton and Cassie (Lane Styles) and when her husband is injured during a softball match, she makes the suggestion of a family holiday to Denver.
Although the family holiday goes without incident, Colton returns home with a fever and when it worsens, he is rushed to the hospital by his parents. As Colton has a ruptured kidney, his situation is quite dire and almost dies on the operating table. With their son literally on deaths door, both parents question their existence with Todd letting out his frustration on God and Sonja asking their church to pray for their son. Somehow through scientific or divine intervention, Colton is saved but is irrevocably changed by his operation.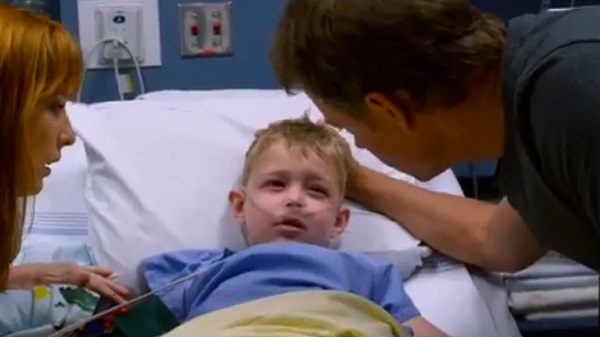 Following the surgery, Todd begins to disclose to his father that he visited heaven and actually spoke and sat on the lap of Jesus. Corny, I know but there are a few neat twists in this story. Initially Todd dismisses the story but when Colton begins to articulate his experience such as he actually saw himself flo  ating above his body and that he witnessed his parents in different rooms during the surgery, this causes him to question his faith and that hope may actually be a reality. Colton even makes mention of his great grandfather who he spoke to in heaven.
While Todd tries to rationalise his son's visit to heaven, he informs his clergy and even the local radio station that causes frictions amongst the townsfolk. It even creates a rift between his wife Sonja, especially when a board member (Margo Martindale) of the church questions her pastor's motives. From here, Heaven is for Real creates some interesting dynamics and really makes you question the afterlife in this well made and acted film.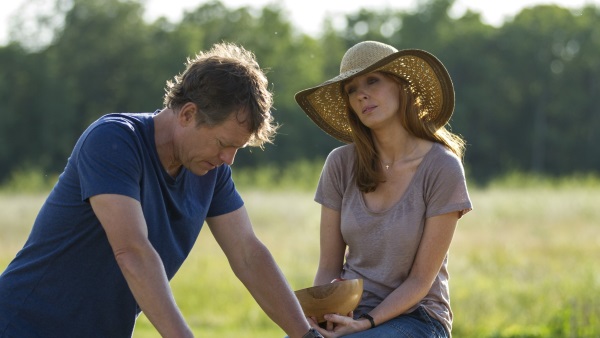 Sure, there are a few clichés along the way but the message in Heaven is for Real is quite strong and really tugs at your emotional heartstrings, especially the amazing acting by Connor Corum who plays Coulton. Greg Kinnear and Kelly Reilly also add to the realism of their characters that makes you quite invested in the Burpo family, especially the curve ball that Coulton makes toward the end of the film. All in all, Heaven is for Real is a thoughtful drama about life, faith and whether the afterlife exists.
Final Thoughts?
At times, Heaven is for Real does feel like a telemovie but if you can push that aside, the film successfully raises a powerful topic of the afterlife and where we as humans fit in the grand scheme of things. However this would not be possible without Connor Corum who plays the perfect Colton Burpo with a hint of childlike mystery and of course Greg Kinnear, the questioning pastor. In conclusion, Heaven is for Real is a very engaging family drama that also features a great featurette on the real Burpo family to help top off this interesting story.
Special Features:
Colton Goes To Heaven
Deleted Scenes