Drama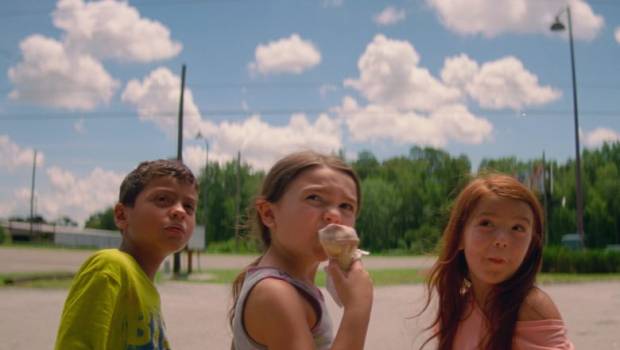 Published on April 30th, 2018 | by Curtis Mayfield
Florida Project DVD Review
Summary: Baker presents a wonderfully beautifully true, funny and ultimately sad movie...
Movies set in the North American state of Florida usually touches on the weird and wonderful (and so do the real life news stories about the state too). There's the ultra violence covered in mountains of cocaine in Scarface and who could forget seeing the grown up Disney starlets going bad in Spring Breakers. The Florida Project tells a more innocent story about childhood that also manages to provide a great deal of insight into the hardships of adult life. Set in a run down hotel that looks like a crack house Wes Anderson designed the movies follows some troublesome and captivating characters. Dubbed the 'Magic Castle' the hotel is located right outside Disney World but the people who stay there are far from the usual tourists looking to get their photo taken with Snow White.
Director and co-writer Sean Baker shows us this beautifully twisted world through the eyes of a very troublesome yet endearing and innocuous six year girl old called Moonee (played by the scarily talented Brooklynn Kimberly Prince). The story follows Moonee and her equally mischievous friends over the school holiday period in summer. On paper this movie might sound like a family friendly adventure but it's far from it. Baker gives us a sweet and heartbreaking story about the innocence of childhood with the backdrop of extremely adult hardships. For a while it seems like the smart and charismatic Moonee is blissfully unaware of her single mother's financial struggles but no one can pull the wool over this kid's eyes. "I can always tell when an adult is about to cry" might be the saddest bit of casual dialogue to come from a child actor that speaks volumes about this kid's battle scars.
The hotel doubles as a home for the poor working class and unemployed families that fill up the dank rooms. The kids don't mind and treat it like their own playground as Moonee leads her pals from prank to prank around the hotel all at the grievance of Bobby, the strict but supportive and caring hotel manager played wonderfully by Willem Dafoe. Bobby is patient and charming but knows not to take any shit in this crazy world he looks over. Moonee's mischievous ways sees her circle of friends grow and shrink rapidly due to parents keeping their children away from her leading ways. It's when Moonee takes Jancey (Valeria Cotto) under her wing that the real adventure starts. "These are the rooms we're not suppose to go in…but let's go in anyway" she says with a crackle as she shows Jancey the ins and outs of the beautifully trashy purple hotel. Much of the dialogue from the children seems improvised and free-flowing that you couldn't be blamed if you thought you were watching a documentary. It's the scenes with the adults that add a lot of dramatic weight to the story. Moonee's mum Hallee (played amazingly by first time actor Bria Vinaite) is carefree about her situation as an unemployed stripper on the surface but just below that there is a fire of worry and determination brewing. Hallee hustles hard to keep the wolves (and Bobby) away from the door every week when the rents due through her resourceful and charismatic ways (like mother like daughter it seems). Cheap perfumes are sold to country club playing golfers, stolen Disney Land wristbands are hawked to tourists and sadly selling her body comes as a final desperate attempt at staying above water.
The Florida Project's bottom-line is representing characters on screen that often get dismissed in the movie world as well as real life. The story here is one part child wonder and two parts about the American dreamers that Mickey Mouse forgot about. The realism of the film is one of the factors that makes it so great as it uses long takes and what seems like guerrilla styled filming at times to paint a detailed picture of the hardships of simply trying to survive whether it be a child passing time by scamming money for ice cream or a young mum trying to keep a roof over her daughter's head. Baker presents a wonderfully beautifully true, funny and ultimately sad movie that dips its toe into the realm of Richard Linklater's world of human storytelling with a climax that is guaranteed to break hearts into a million pieces.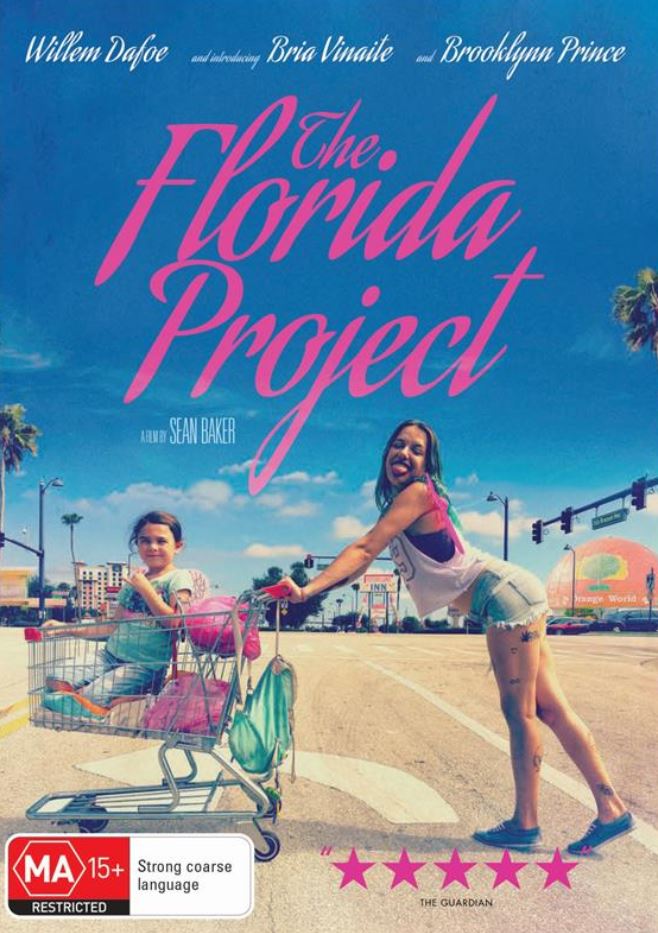 DVD Details
Director – Sean Baker
Actors – Brooklynn Prince, Christopher Rivera, Aiden Malik
Film Genre – Drama
Label – 20th Century Fox
Audio – English (Dolby Digital 5.1)
Subtitles – English
Running Time – 115
Aspect Ratio – 2.40:1
Region Coding – 4
TV Standard – PAL
Rating – MA15+
Consumer Advice – Strong coarse language
Year of Release – 2017
Primary Format – Movies/TV – DVD