Comedy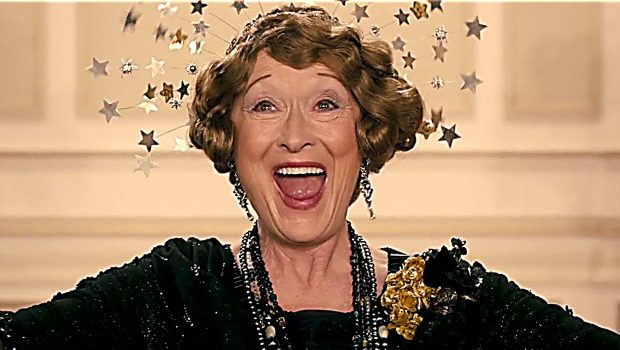 Published on November 1st, 2016 | by Natalie Salvo
Florence Foster Jenkins DVD Review
Summary: This biopic shows an enthusiastic socialite and would-be opera singer. But this film tries too hard to be too many different things, meaning the beat is off the mark in more ways than one.
Meryl Streep is no stranger to singing. The loveable actress has sung pop on the silver screen in "Mamma Mia!" and was recently a rock chick in "Ricki and the Flash." In "Florence Foster Jenkins" Meryl puts in a fabulous performance by singing opera but doing so badly. It's one of those things where the singing is so bad it's almost good but unfortunately this sentiment does not apply to this uneven, dramedy biopic.
On paper, "Florence Foster Jenkins" should be great. The film is written by Nicholas Martin ("Midsomer Murders") and is directed by Stephen Frears ("The Queen.") "Florence Foster Jenkins" stars Streep as the eponymous star who is based on a real-life diva and larger-than-life eccentric (who already inspired the French film "Marguerite.") The charming Hugh Grant plays Jenkins' second husband, St Clair Bayfield and Simon Helberg plays Cosmé McMoon, the mortified accompanist piano player to the "alleged" soprano singer.
This is a film that sounds good but it's too uneven in tone to really cut through. It's a story that oscillates between drama and farce, a mix that is similar to oil and water. It's also a film where you want to feel for Jenkins because she can be generous and philanthropic, and she suffered from deafness due to treatments she received for syphilis (an illness her first husband gave her.) But you can't help but laugh at how crazy and disillusioned she is. It's hard as a viewer to grasp what the true message of this film is, should we believe that it is to dream big and be persistent because then one day you could realise that fantasy of playing Carnegie Hall; or should we think that Jenkins should be delegated to some corner somewhere and we can revel in the fact that her husband is a philandering younger bloke?
The setting for this film is at least captured perfectly. The costumes are sumptuous and the buildings are gorgeous and are appropriate for New York socialites in the 1940s. A lot of attention was paid to the props and settings as well as Streep's warbling, as the featurette reveals that she had to be just slightly out of tune in order to capture Jenkins's true singing style. The other special features are adequate and include information about the setting, designing the look and the film's world premiere.
It's obvious that "Florence Foster Jenkins" is an eager and enthusiastic woman but this film – like her singing – is far from pitch perfect. The biopic is a warm story that tries too hard to be funny and dramatic and in the end neither of these threads work particularly well. There are some charming performances and the setting may be gorgeous, but the best this film can hope for is offering some people a pleasant viewing experience because it will hardly make you want to sing while you're winning.