iOS Games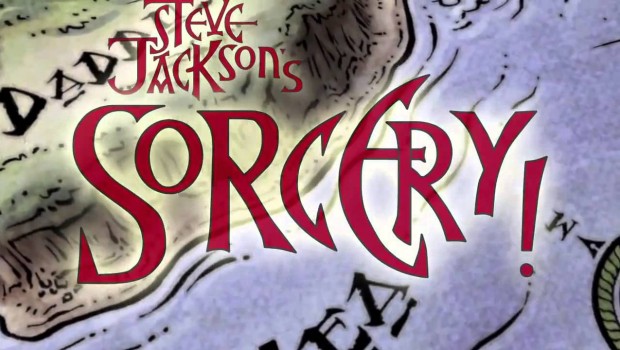 Published on April 23rd, 2015 | by Admin
Fantasy Epic "Steve Jackson's Sorcery!" Returns to iOS and Android Today with "Sorcery! 3"
Time travel, a massive open world, and seven deadly serpents make this new narrative game from 80 Days developer inkle the most complex Sorcery! adventure yet
CAMBRIDGE, U.K. – April 23, 2015 – inkle, developers of the award-winning mobile game 80 Days, have released Sorcery! 3 for iPhone/iPad and Android. Spun off from the popular Steve Jackson's Sorcery! gamebooks of the 1980s, Sorcery! 3 sends you on a challenging quest with a massively branching storyline that literally writes itself around your choices. This highly flexible interactive narrative can be enjoyed fresh as a standalone adventure, or as a continuation of previous Sorcery! installments with the consequences of past choices woven into the story.
From its masterful writing, whimsical hand-drawn illustrations, and rich soundtrack to its turn-based combat, magic spells, and optional dice mini-game, Sorcery! 3 takes this acclaimed series' most-loved elements to an exciting new level. The city of Kharé is at your back and the Crown of Kings drives you forward, but with rations dwindling and seven deadly serpents stalking you across the cursed wasteland of Kakhabad, your hero's success has never been less certain. Every choice comes at a price and many will impact Sorcery!'s climactic final chapter, The Crown of Kings — that is, if you survive to reach it.
Sorcery! 3's design has been influenced by inkle's smash hit 80 Days, with a massive open world to explore and a dynamic day/night cycle that marks the nonstop passage of time. Fluid travel between two distinct time periods sets up a layered narrative with hidden storylines to uncover across two complete world maps. Plus the ability to rewind at will and replay to discover new story branches and endings makes Sorcery! 3 a vast, non-linear experience packed with far more than a book's worth of high fantasy adventure.
"Rich, interactive storytelling is a hugely underdeveloped area in video games, one we believe has strong potential to shape the medium," says inkle's development director Joseph Humfrey. "To this end we've used each Sorcery! installment to try new ideas, and Part 3 is no exception. Exploring this open world leaves a trail of narrative breadcrumbs that creates a story unique to you. With so many choices to make and paths to pursue, the adventure will be surprising and fresh for longtime Sorcery! fans as well as for those trying it out for the first time."
Sorcery! 3 sells for $4.99 / £3.99 (or equivalent in local currency) on the App Store and Google Play:
App Store: https://itunes.apple.com/app/sorcery!-3/id978352903
Google Play: https://play.google.com/store/apps/details?id=com.inkle.sorcery3
Learn more about Steve Jackson's Sorcery! on the official website: http://www.inklestudios.com/sorcery