TV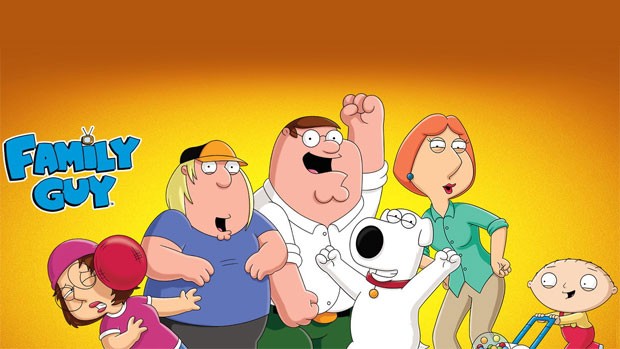 Published on December 13th, 2015 | by James Wright
Family Guy Season 15 DVD Review
Summary: The Family Guys Season 15 is like a fine bottle of wine, it keeps getting better and better
Family Guy is like a fine bottle of wine, it gets better with age and Season 15 of this hilarious series is no exception to the rule as we are once again reunited with the colourful and more often than not, the politically incorrect Griffin family. Created by Seth MacFarlane in 1999, Family Guy is definitely not slowing down with age when it comes to humour and thankfully its writers, continue to expand and comment on society that had me laughing, crying and sometimes gasping in shock at some of the antics of these "modern" Flintstones.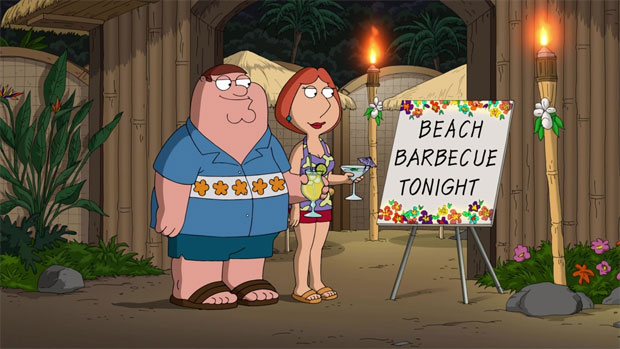 Season 15 also featured the controversial The Simpsons crossover called "The Simpsons Guy" that had the Griffin family meet their cartoon rivals that was entertaining yet lacked the finesse from other episodes. Needless to say, it featured plenty of Simpsons and Family Guy references plus a very violent (and I do mean violent) fight between Homer and Peter. Will we see more crossovers between these two popular families? Hopefully we will.
Apart from "The Simpsons Guy", Season 15 also took the Mickey out of other TV series and movies such as "Breaking Bad", entitled Baking Bad to "The 2000-Year Old Virgin" that revolved around Quahog's very own Jesus Christ.
However my favourite episode of Season 15 was easily "Fighting Irish" that starred Liam Neeson as himself and when Peter begins his drunk talk that he can beat Neeson in a fight, it ends up with Peter becoming his personal slave (aka b**ch) much to the hilarity of the viewer. Other highlights include Meg becoming a foot fetish model and an amusing visit to the Titanic thanks to Stewie as Chris and Brian go a history rollercoaster ride with some unexpected twists. Oh yeah… Stewie also gets pregnant!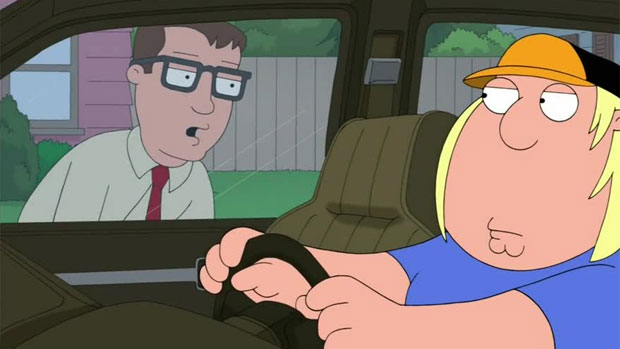 Family Guy Season 15 Episode Listing
The Simpsons Guy
The Book of Joe
Baking Bad
Brian the Closer
Turkey Guys
The 2000-Year-Old Virgin
Stewie, Chris, & Brian's Excellent Adventure
Our Idiot Brian
This Little Piggy
Quagmire's Mom
Encyclopedia Griffin
Stewie is Enceinte
Dr. C and the Women
#JOLO
Once Bitten
Roasted Guy
Fighting Irish
Take My Wife
Video, Audio & Special Features
Well presented on DVD with exceptional video and audio quality, Season 15 boasts some great special features that include insightful commentary, amusing deleted scenes, behind the scenes and a great featurette about The Making of the Simpsons crossover episode. Unlike some other special features, these are definitely not dry but are very entertaining!
Commentary by Series Writers, Directors, Producers and Case Members on Select Episodes
Deleted Scenes
On the Road to Springfield: The Making of "The Simpsons Guy"
Episode Animatic on "Stewie, Chris & Brian's Excellent Adventure"
Baby Ways
Who Let the Dog Out
BFinal Thoughts?
Although Season 15 did start a little rocky with The Simpsons crossover, it didn't take too long before it found its footing again and if you're a fan of the Family Guy, then Season 15 is a must have DVD. The series also ends on a high that sees Peter, Quagmire, Cleveland and Joe go with their partners to a marriage retreat that once again takes the comedy to new highs.
Recommended!
DVD Details
Film Genre – TV Animation
Label – 20th Century Fox
Audio – English (Dolby Digital 5.1)
Subtitles – English
Aspect Ratio – 1.78:1
Region Coding – 4
TV Standard – PAL
Rating – MA15+
Year of Release – 2014
Primary Format – Movies/TV – DVD