Comedy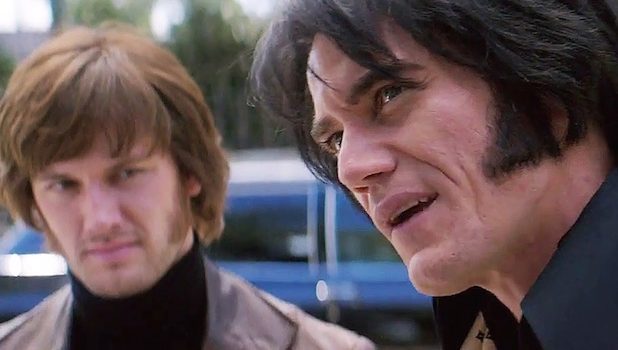 Published on November 24th, 2016 | by Natalie Salvo
Elvis & Nixon DVD Review
Summary: "Elvis & Nixon" is an aimless and unimportant film that imagines the meeting between the King and the President. It's pleasant but lacking in drama, feeling and meaning.
A little less (known) conversation was the one that transpired between Elvis Presley and President Nixon in December of 1970. The odd meeting was one that was never recorded but has left many people wishing that they had been a fly on the wall at the time. The only proof that Elvis entered the White House is a black and white photo, which is one of the most requested ones from the National Archives. It's an interesting-enough premise but the plot of this film is simply too weak to justify an 86-minute runtime.
This story has already been told once before in "Elvis Meets Nixon." In both cases the filmmakers have taken artistic licence and imagined what was actually said between these two larger than life personalities. In the case of "Elvis & Nixon," the conversation is more of a comedic one. The unlikely pair trade weirdness and paranoia in between sips of Dr Pepper and handfuls of M & Ms.
Kevin Spacey stars as Nixon and does a good job of capturing his awkwardness and aloof nature. Michael Shannon on the other hand has a harder job because he looks and sounds nothing like Elvis. This is particularly obvious in a scene when an Elvis impersonator meets Presley but believes the King is a fellow impersonator. In this film Elvis is more of a cartoon or caricature than a serious artist but perhaps this is a hint at what was in-store for him in his final years (including his time in Vegas.)
This meeting occurred because Presley showed up at the White House and gave a hand-written note to the security guards. He was wanting to help Nixon on the War on Drugs (an ironic idea considering he was addicted to amphetamines.) Presley also wanted Nixon to give him a badge and grant him the role of Federal Agent at large with the FBI.
At the meeting Nixon and Elvis become verbal sparring partners at times while at other moments they form an unlikely bond. They seem to relate to each other through a shared appreciation for guns. Writers, Joey Sagal, Hanala Sagal and Cary Elwes attempt to inject some drama into the tale through a sub-plot about one member of Elvis's entourage wanting to leave in order to propose to his girlfriend. This feels like it's trying too hard to create drama amidst a rather aimless and meaningless story.
"Elvis & Nixon" is not an important film even though it does capture a fleeting and interesting chapter in history. After this event, all meetings in the Oval Office were recorded but it's difficult to know what really happened on this particular day in 1970. The film's fictionalised account may be pleasant but ultimately this is lacking in drama and substance. "Elvis & Nixon" is really just a short look at when Elvis was in and had left the building.
DVD Details
Director – Liza Johnson
Actors – Michael Shannon, Kevin Spacey, Alex Pettyfer, Johnny Knoxville, Evan Peters
Film Genre – Drama
Label – 20th Century Fox
Audio – English (Dolby Digital 5.1)
Running Time – 86
Aspect Ratio – 2.35:1
Region Coding – 4
TV Standard – PAL
Rating – M
Consumer Advice – Coarse language
Year of Release – 2016
Primary Format – Movies/TV – DVD