iOS Games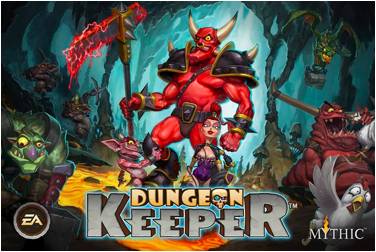 Published on February 3rd, 2014 | by Admin
Electronic Art's Dungeon Keeper Now Available Worldwide on App Store and Google Play
Welcome back, Keepers! Electronic Arts Inc. (NASDAQ: EA) announced today the worldwide launch of Dungeon Keeper™, EA Mythic's devilishly twisted mobile take on the 1990s hit PC game.  Now available as a free download for iPhone®, iPad®, iPod touch®, and Android™ devices, Dungeon Keeper allows players to build the ultimate underground lair and summon diabolical forces, all from a tablet or smartphone.
"With the recent surge in the popularity of core mobile games, Dungeon Keeper joins several of EA's other mobile titles, including Heroes of Dragon Age, to offer our gamers an immersive and strategic mobile gaming experience," said Nick Earl, Senior Vice President of EA Mobile.  "We've reimagined this classic title and built it specifically for mobile platforms, giving longtime Dungeon Keeper fans a new way to delve into the fun of this legendary title on the go."
In Dungeon Keeper, players will be challenged to master the Hand of Evil and build the ultimate underground lair to defend it from nefarious invaders who are bent on destroying their Dungeon Heart.  Keepers must summon an army of minions like Imps, Trolls, Bile Demons, and Warlocks as well as maximize their defenses to thwart invaders, using expertly-lain traps and dungeon designs. Players can dominate the leaderboards in player versus player and player versus environment combat, by attacking enemy dungeons and plundering resources. 
Dungeon Keeper is now available in thirteen different languages—English, French, German, Italian, Spanish, Dutch, Turkish, Russian, Japanese, Korean, as well as Simplified and Traditional Chinese—allowing fans all over the world to enjoy the game in their own language.  It is now available to download on the App Store and Google Play worldwide.