iOS Games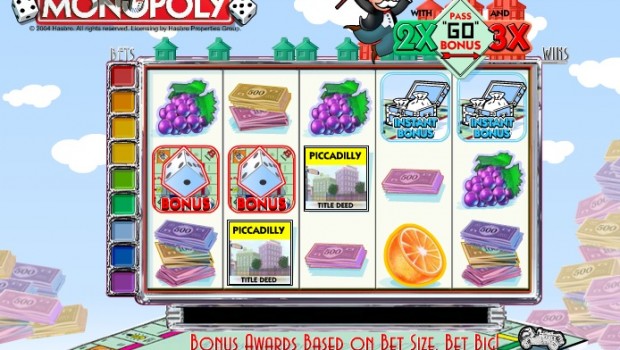 Published on November 15th, 2013 | by Admin
EA AND HASBRO ANNOUNCE TWO NEW MOBILE CASINO-STYLE MONOPOLY GAMES
MONOPOLY Bingo and MONOPOLY Slots now free to download on the App Store, Google Play and Amazon Appstore
Sydney, Australia – November 15, 2013‹Electronic Arts Inc. (NASDAQ: EA), together with Hasbro, Inc. (NASDAQ: HAS), today announced two new and distinct MONOPOLY-branded games for iPhone®, iPod touch®, iPad® and Android devices.  EA will combine the casual mobile gaming experience and the popular world of MONOPOLY with the fun of bingo in MONOPOLY Bingo, and deliver the big casino wins of slots in MONOPOLY Slots. Both titles will be free* to download.
³We¹ve taken two of the most-time tested game mechanics‹bingo and slots‹and paired them with MONOPOLY, the world¹s favorite game brand, to create two unique mobile experiences that will give fans a simple and easy way to collect their favorite properties, tokens and other aspects of the MONPOLY world they¹ve come to love over the years,² said Chip Lange, Senior Vice President and General Manager at EA.  ³Gamers will feel right at home with these MONOPOLY titles‹big risk and huge rewards await as they build their property empires, collect tokens, build hotels, and spin and bingo their way through the MONOPOLY world that everyone knows and loves.²
Now live worldwide on the App Store and Google Play, MONOPOLY Bingo is set to put the ³GO² in bingo with tons of non-stop, MONOPOLY-themed bingo fun, rich graphics and exclusive MONOPOLY Bingo game modes.  Players can Bingo their way to Boardwalk and watch their favorite MONOPOLY properties come to life as they progress through the MONOPOLY neighborhood.  Bingo fanatics can keep the bingo action coming by playing up to 16 cards at a time on tablets or up to 8 cards at a time on their phones, increasing the chance of mini-game rewards and more through ³Chance² scratcher cards and ³the ²Lucky Number² bonus.  Players can collect virtual rewards with every win, including MONOPOLY properties, tokens, and house and hotel upgrades. Additionally, the MONOPOLY Bingo Fall Feast room is now live in the game for a limited time only and comes complete with exclusive collection items and a seasonal-themed token.
MONOPOLY Slots, now live on Google Play and on the App Storein select territories, will challenge fans to spin and win by playing through a variety of MONOPOLY-themed slot machines and celebrate in-game payouts while Mr. MONOPOLY cheers them on.  Players can double their luck with Twin 3×3¹s or take their game to the next level with 3×5 slots.  MONOPOLY Slots will also feature free, unlockable slot themes, big bonuses, and exclusive mini-games that make it rain virtual MONOPOLY coins and diamonds and give users a ³Chance² to increase their odds of hitting it big.  The title will roll out globally on the App Store over the coming weeks.
The MONOPOLY brand has been entertaining families since 1935 and the game has been played by more than one billion people in 111 countries around the world. Whether fans play face-to-face, online, or on their mobile devices, there are MONOPOLY gaming experiences for every lifestyle.
*Wireless fees may apply