Wii U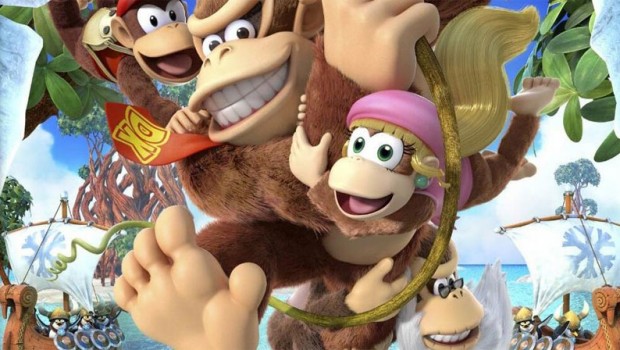 Published on March 2nd, 2014 | by Admin
Donkey Kong Country Tropical Freeze Review
Summary: A truly fantastic arcade game that not only plays well (with a few 21st century tweaks) but looks amazing on this next-gen console.
Donkey Kong Country Tropical Freeze
Developer: Nintendo
Format: Wii U
Players: 1 – 2 (Offline)
Genre: Arcade
Rating: G
Review: James Wright
Donkey Kong returns to the Nintendo Wii U for another glorious arcade experience that is complemented by HD graphics and next-gen gaming. Unfortunately for Donkey Kong this current instalment is not a social visit because the naughty Snowmads (aka Vikings) have taken over the lands and it's up to the player or players to liberate the areas. Best of all, Kong has his trusty sidekick Diddy Kong to help plus Dixie and Cranky as additional backup in this hilarious romp through frozen tropical areas with lots of ground pounding and barrel-blasting.
This game is also a "sequel" to the awesome Donkey Kong Returns and features very similar gameplay. Although it's totally old school, the developers have tweaked the title with some new features and more importantly moves from our favourite apes. For me, Donkey Kong Country Tropical Freeze is easily the most diverse Donkey Kong game to date, especially with the varied and challenging themed environments from classic jungles to snow filled areas with a total of 6 worlds.
Another highlight of the game is how much detailed has been crammed into the game that is made more evident by the realistic weather and lighting effects. Purists will also be pleased that the mine carting returns as do the underwater levels which is quite a contrast to the land based levels. Interestingly enough, the other games had 8 worlds.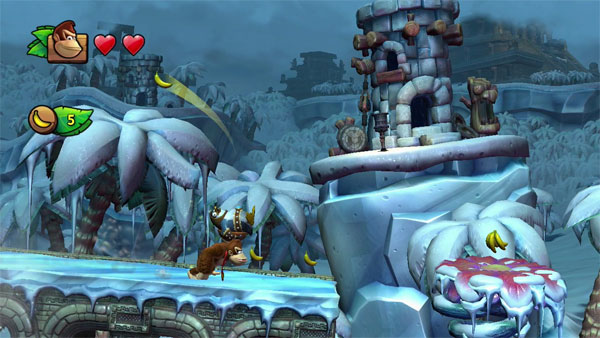 Given that, Tropical Freeze contains a plethora of unlockables and without spoiling this facet of the game, it is well worth finding everything you need to unlock them. Combat ranges from traditional animals and monster/henchmen to give the player a run for their money.
But where the challenge factor does increase is through the sometimes annoying yet achievable bosses battles. I must admit that some of the bosses were quite difficult but once you learn their pattern, this opens up their weakness. Thankfully you have your dependable pals to help such as Diddy and his Peanut Popgun and Barrel Jet to Dixie and her Gumball Popgun and special helicopter move.  It's all classic Donkey Kong and made even more classic with the inclusion of Cranky and his staff!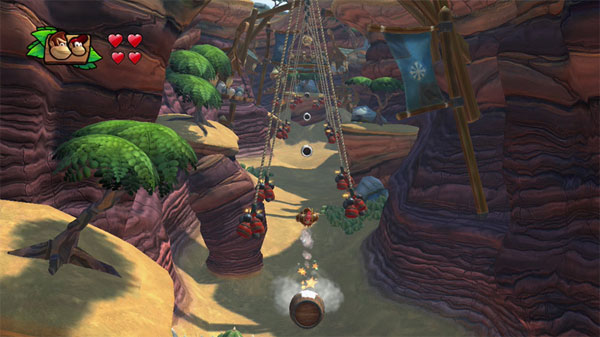 Although no online support (growl), Tropical Freeze does allow up to 2 players and this is where the secondary characters are quite useful. Both Diddy and Dixie are definitely better for reaching high places while Kong is always the brute force. It was also quite refreshing to play Dixie, especially with her blonde locks that can be used as a helicopter blade in both the air and the water as a propeller. This definitely adds some unique dynamics into the mix. Another new playable character is Cranky who has a great little cane which is perfect for attacking enemies or using it like a pogo stick.
All in all, you need to work together in order to clear the levels, find those bonus hearts, collect all the bananas, grab the letters that spell "KONG" and do some great King Pow damage (provided you've collected 100 bananas) which is a new move to the franchise and clears the screen of all enemies. With that said, these characters are also used in the single-player game but they AI controlled with the player still controlling Kong. The only online feature is the leaderboard and I for one cannot wait until we see one of these games boast online cooperative play.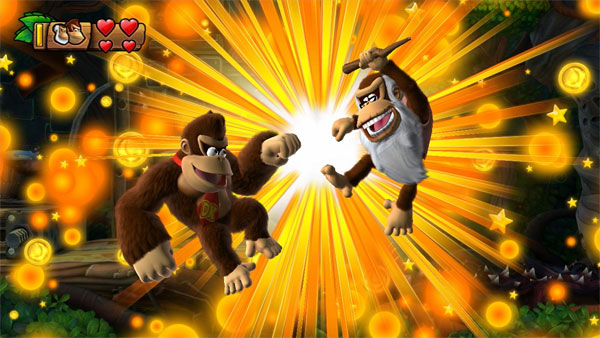 Another interesting new feature is the dynamic camera which totally changes how you play the game, especially when its used with the mine cart levels. In terms of controls, Tropical Freeze supports the Gamepad as the primary controller which works a treat or you can use the classic gamepad or traditional Wii controllers. For me, the classic gamepad controller was more enjoyable as it was a little lighter than the Wii U Gamepad. Nonetheless this is a fantastic arcade experience on the Wii U.
Graphics
Graphically, Tropical Freeze looks beautiful on the Nintendo Wii thanks to the HD graphics. It's almost like a cartoon busting out of your TV with exceptional detail and smooth animation. To compliment the eye catching graphics, the soundtrack is brilliant as are the whacky sounds of Donkey Kong and co. Also, the level design of Tropical Freeze works on so many levels and even when you're having some difficulty with the game, the graphics just draw you back to try again. The new dynamic camera angle works well, especially for those mine cart and jet barrel rides as it's almost like a point of view experience.
Final Thoughts?
Given the lack of quality new titles for the Nintendo Wii U, it's great that Nintendo has come to the rescue with this truly fantastic arcade game that not only plays well (with a few 21st century tweaks) but looks amazing on this next-gen console. It's definitely platforming at its best and if you have a hankering for some truly fun gaming, than Donkey Kong Country Tropical Freeze is the solution. Just be warned though that there could be some controller rage because getting through a level unscathed can sometimes be quite the feat and forget about that assisted help!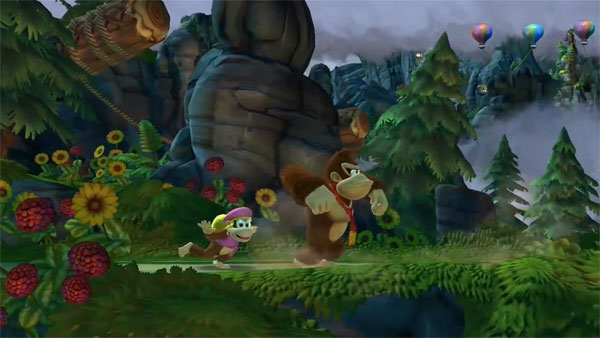 Key Features
• Dixie Kong is back to join the adventure as a playable character alongside Diddy Kong. Either can buddy up with Donkey Kong, and each character offers a different game-play experience.
• Explore new dynamic levels that twist, turn and transform in new ways. Plus enjoy spectacular views from the dynamic rotating camera.
• On their journey to reclaim Donkey Kong Island, Donkey Kong and his friends travel across five islands with a variety of stages that include underwater areas and frozen environments.
• Enhance Donkey Kong's exploration and unlock secrets with a new move that involves "plucking" items right out of the ground.
• Team up with friends in a cooperative multiplayer mode that lets two players share in the fun together.