Comedy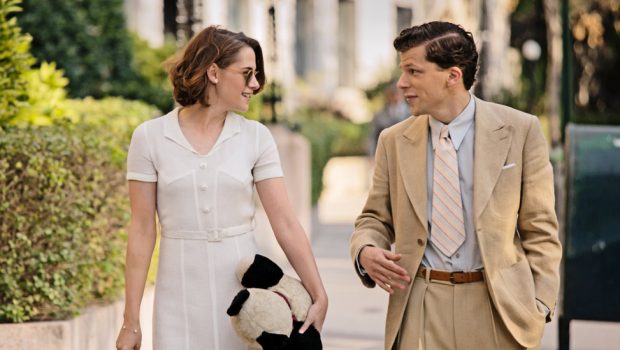 Published on February 6th, 2017 | by Natalie Salvo
Cafe Society DVD Review
Summary: "Café Society" is a flimsy story that celebrates style, youth and beauty. It's a pleasant slice of escapism and a moment where you can enjoy some fleeting moments with the society set.
It seems that "La La Land" is not the only film to look affectionately at some halcyon days in Hollywood. Woody Allen's "Café Society" manages to do this as well as celebrating the jazzy nightlife of New York. This is a light yet fun film that is like a love letter to old money and its trappings, even though it is set in the thirties, a time where most would normally stop and think about the Great Depression.
"Café Society" once again sees the famed director doubling as the film's narrator. It is also brimming with the kind of witty repartee that Allen and his work have become synonymous with. It also finds time for some navel gazing, posing some existential questions and sticking the knife into organised religion. This is a funny and romantic story but in true Allen fashion, it's one that rules with the head rather than the heart.
Jesse Eisenberg does his best Woody Allen impression and stars as Bobby, a kid with stars in his eyes. He is seduced by Hollywood's bright lights and leaves his family behind for L.A. Steve Carrell is a Hollywood heavyweight and Bobby's Uncle Phil. The latter takes pity on his nephew and offers the boy some work doing odd job at the company he owns.
Bobby initially enjoys the girls, glamour and debauchery of la la land but eventually he comes to see through it all. He realises that a lot of it is excess, fakery and vanity. This sentiment is shared by his uncle's secretary, Vonnie (Kristen Stewart who actually cracks a smile for once and puts in a decent performance.) The chemistry between these former cast mates is quite obvious and really makes the romance seem plausible.
The two youngsters bond over a mutual love of Mexican food. Vonnie initially plays her cards close to her chest because she's intelligent and street-smart and because she has an elusive boyfriend she started dating shortly before meeting Bobby. The latter was always going to be hooked on his Uncle's secretary, he was smitten early on and it's almost inevitable that he will have his heart broken.
Eventually Bobby returns to New York to work with his gangster brother in a nightclub. It's here that he meets a divorcee (a fresh-faced and bubbly, Blake Lively.) A new romance blossoms but this bliss doesn't last for long because Vonnie soon visits New York and the club with another unwelcome visitor in tow.
"Café Society" celebrates style, youth and beauty. It's a rather flimsy, predictable and lightweight film but it's also one that offers enjoyment in spades thanks to its beautifully-shot scenes and witty dialogue. This is a look at a rich part of America in the thirties and it shows where professional dreams can clash with romance (although this is nothing new.) This is the sort of film that will not profoundly affect you but one where you can sit back, relax and enjoy as a sort of date with the society set with all of the trimmings.