Mind & Body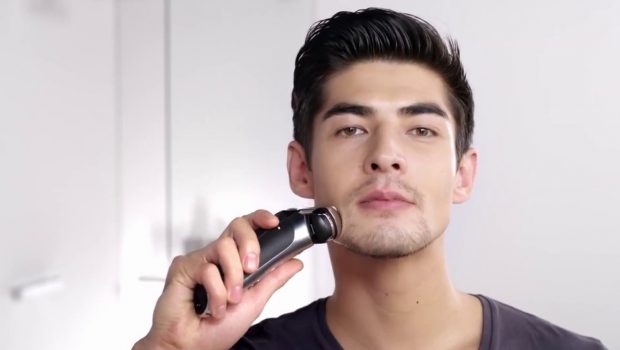 Published on August 12th, 2022 | by James Wright
Braun Series 9 Pro Shaver Review (9467cc)
Braun Series 9 Pro Shaver: The world's most efficient electric razor, reinvented to be even better. The new Series 9 Pro is efficient and gentle, no matter if it's a 1, 3, or 7-day beard.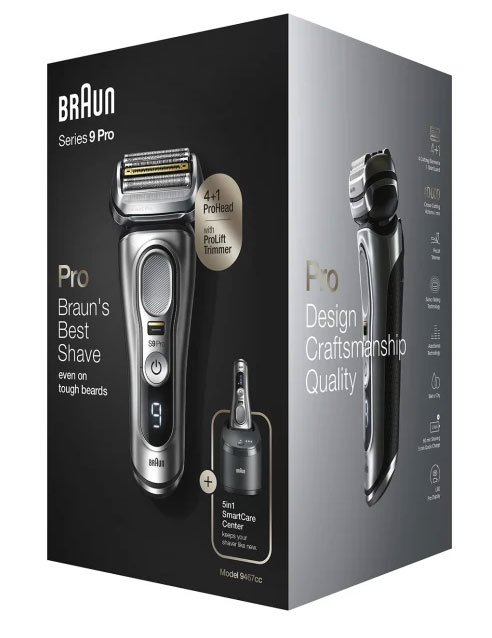 Rashes, blemishes, ingrown hairs and cuts are the battle scars of traditional razors and when a warrior goes into battle with a blunt sword… well, things don't always work out. Cue the electric razor that makes shaving a considerably easier experience and more importantly, avoiding all the battle scars of a traditional razor shave.
So with Father's Day just around the corner, what better way to spoil him than with Braun's new Series 9 Pro Wet & Dry Shaver which offers a wealth of features and more importantly, a comfortable shave that is able to access those hard to reach areas. Another highlight is that the Braun Series 9 Pro Shaver is faster (compared to previous models) and comes with a built-in Li-ion battery that lasts up to 60 minutes, including the option of a quick 5-minute quick charge. Furthermore, the new Pro Shaver is 100% waterproof which allows you to use shaving foam, gel (woohoo) or even under the shower. There are also different configurations of this electric shaver and we checked out the 9467cc which comes with the following.
Box contents
Electric shaver
5-in-1 SmartCare Center
Cleaning cartridge
Cleaning brush
Charging cable
User manual
Unboxing Gallery
Well packed by Braun, the Series 9 Pro Shaver definitely screams high-end from its overall German build quality which has been designed to last up to 7-years, it not only feels sturdy but aesthetically, it's visually quite a striking piece of tech. Further, controls are well placed on the shaver, including LED lights so you can easily see the battery level.
When it does come to cleaning and maintenance you can use the brush to clean the head and wash it under hot water. However this model comes with the SmartCare Center which intelligently selects the necessary cleaning program, automatically charges and hygienically cleans, lubricates and dries your shaver. Smart hey?
From an ergonomically perspective, the Braun Series 9 Pro is well-balanced in terms of handling and balanced weight which doesn't make it awkward to use.
When it comes to shaving, the Braun Series 9 Pro Electric Shaver is a fine-crafted technological marvel as it adjusts to your shaving needs. This is achieved by a combination of technologies that include 5 Shaving Elements (support different stubble lengths and areas), ProLift Trimmer (lifts longer hairs away from skin), Unique Sonic Technology (10,000 vibrations per minute) and a Precision Switch (locks head). The other clever element is the SmartCare Centre that with a touch of a button hygienically cleans the shaver, lubricates the blade, charges it and fully dries it within 45-minutes.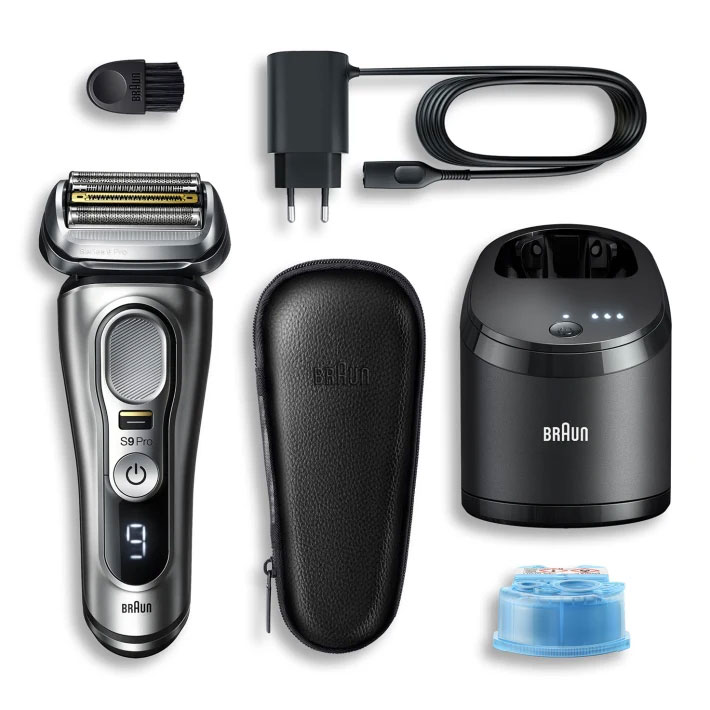 As a safety mechanism, the Bran Series 9 locks the swivel when you are shaving those more challenging areas such as under your chin and near your nose.
For those that like to shave in the shower and as mentioned, the product is 100% waterproof and if you don't like a dry shave, you can use foam and gel. I'm not a huge fan of a dry shave but I actually found the Braun Series 9 Pro quite nice to use which for me, is great for traveling. Using gel, I found the experience was more similar to a traditional razor, however the end result was considerably smoother and no battle scars from shaving. I also let my stubble grow for a few days and again, the Braun Series 9 provided an exceptional shave that didn't take any longer than my regular electric shaver. For those with sideburns, the trimmer performs remarkably well and adds some excellent accuracy to keep those sidies neat.
Final Thoughts?
The Braun Series 9 Pro Electric Shaver is a "smart" electric shaver and if you're looking to purchase a new electric shaver for your own needs or seeking the perfect Father's Day gift, the Braun Series 9 Pro Electric Shaver should definitely be on your list. So what are you waiting for? It's time to level-up your shaving routine with the Braun Series 9 Pro Electric Shaver!
Features
Series 9 Pro: Braun's best razor, reinvented with a new ProHead
Efficient and gentle, no matter if it's a 1, 3, or 7-day beard: championing our unique ProLift trimmer, this electric razor for men lifts and cuts tricky hair
More efficient¹ & gentle: the innovative ProLift trimmer and Braun's unique Sonic Technology help to shave up to 10% faster¹, for a gentle shave
50% more battery runtime with the world's first PowerCase: charge anytime & anywhere with this portable shaver charging case, its powerful built-in Li-Ion battery charges your shaver for up to 6 weeks of use
Made in Germany & designed to last 7 years: this electric razor is also 100% waterproof and can be used with foam, gel or even under the shower