Comedy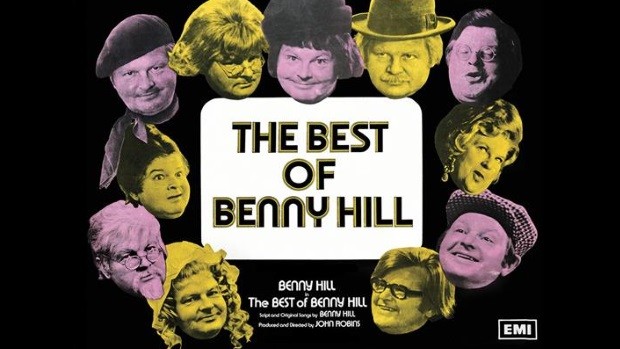 Published on July 24th, 2015 | by Natalie Salvo
The Best of Benny Hill DVD Review
Summary: 'The Best of Benny Hill' is a mixture of slapstick, parody, innuendo and gross misunderstanding
The late Benny Hill was a top-notch, British comedian. 'The Best of Benny Hill' is a short, feature-length film that combines sketches and musical numbers from his long-running comedy and variety TV series. The collection itself hasn't been available on DVD until recently and it is a hit and miss set featuring some fine bits and others that are certainly not his greatest work.
This feature has a number of repetition themes. Hill – who took his name from the comedian, Jack Benny – enjoys slapping bald men on the head. There are also a lot of jokes involving sexual innuendo between dirty old men and pretty, scantily-clad women.
Hill is at his best when he leaves the fast-forwarded, silly chases and visual slapstick behind and instead focuses on his clever and funny sketches. The interview between a gushing television host and a pretentious, French film director is excellent as are the scenes where another director tries to help some confused actors with their dialogue.
The best sketch here is 'Tommy Tupper in Tupper Time'. Here, mayhem ensues as Hill plays a talk show host named, Tommy Tupper who loses control of his show when he has to interview a monosyllabic, pipe-smoking actor, a drunk Broadway actress, an elderly man who dies and a football-playing vicar. The sketch featuring an exchange at the airport between a Chinese man and an Indian man seems stupid and racist. It proves that Hill is not a comedian for people who are easily offended or those who demand political correctness.
The visuals here are rather grainy and disappointing and look like a straight video to DVD transfer. The sound is a little better and this is particularly noticeable in Hill's many stage numbers and when Boots Rudolph's 'Yakety Sax' (or 'Benny Hill' theme) is played. The special features are very disappointing and are merely the original theatrical trailer and image gallery (it's all stuff that could probably be found on Google).
'The Best of Benny Hill' is a mixture of slapstick, parody, innuendo and gross misunderstandings. There are jokes that are repetitive and the humour is light-hearted and bawdy. This film is an uneven one with no actual plot, instead threading together both long and short sketches that are taken straight from the TV show from the time. It's a reasonable tribute to a man that has influenced lots of other comics but it is by no means a collection of his best material.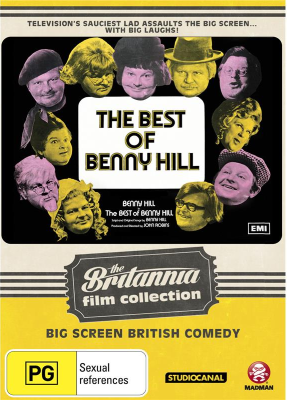 DVD Details
Director – John Robins
Actors – Benny Hill
Film Genre – Comedy
Label – Madman Entertainment
Audio – English (Dolby Digital)
Running Time – 83
Aspect Ratio – 1.33:1
Region Coding – 4
TV Standard – PAL
Rating – PG
Year of Release – 1974
Primary Format – Movies/TV – DVD