Wii U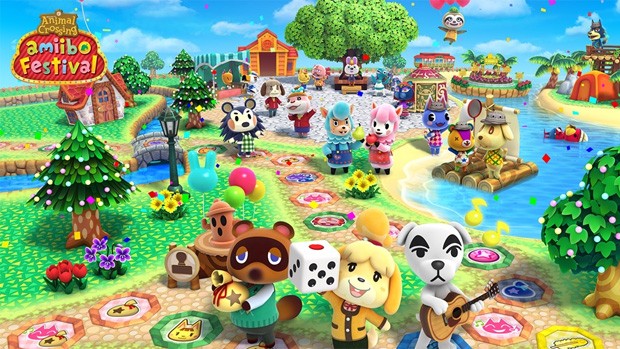 Published on December 17th, 2015 | by James Wright
Animal Crossing Amiibo Festival Review
Summary: Animal Crossing Amiibo Festival is Mario Party but lacking true content!
Merging the world of Animal Crossing with the extremely popular amiibo craze, Animal Crossing Amiibo Festival is a true virtual board game that not only boasts a colourful universe and delightful environments plus characters but it features some mini-games to keep younger gamers happy but there is a catch. In order to play these mini-games you need to purchase cards but the game does come with three cards that open-up Desert Island Escape (build a raft to escape the island), Happy Campers (think Pachinko and Whac-A-Mole) plus an Animal Crossing Quick Game.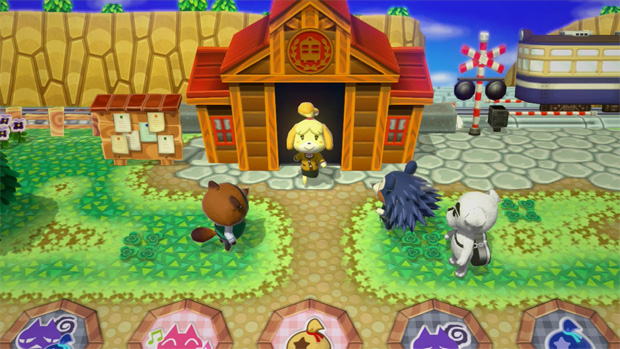 Our review unit contained two adorable amiibo characters with Isabelle and Digby who helped us blur the line between a traditional versus a console board game. Sure it's not Mario Party but it does allow you to have up to four amiibo's in play and if gamers don't have enough of these, their friends can play virtual villagers. Given that the game uses amiibo's, it could also become quite expensive if you're a fan to purchase additional pieces for your board.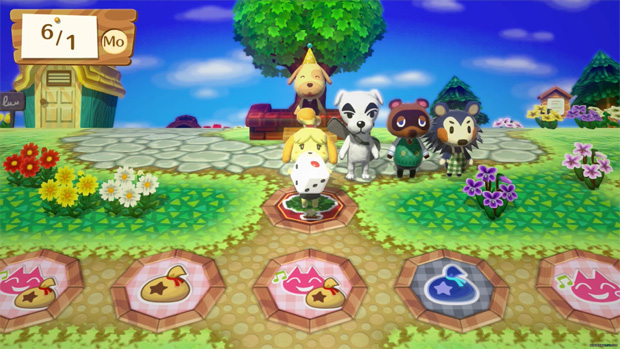 With that in mind, Animal Crossing Amiibo Festival is best played with other people because it can be a little lonesome on your own as you play this board game. The goal of this current version of Animal Crossing is to gain the most happy points and there's even an element of trading from the original games as you trade turnips. The trading element of the game definitely mirrors the real-world stock market because you do need to take risks in order to gamble for big winnings.
So while you roll your dice, this will move you through the virtual board game and depending on where you land, this will affect the gameplay. Pink spaces will score you points and purple spaces will deduct points. Given the limited interactivity on the board game, it could become quite dull as it's basically a modern version of snakes and ladders. To add some additional random elements into the game, you will also meet various animal characters on your squares who give you bonuses and cards to move you along.
One drawback in the game is the amount of text that it uses which can be a little overused as times. In terms of controls, players use the gameplay to roll their dice but it does lack some of the finesse of Mario Party. The mini-games are probably the highlight of the game and I must admit that I did enjoy Desert Island Escape as I searched the island for items to help me escape. The quiz game was also quite challenging, particularly if you're not familiar with the franchise. Overall, it's a good attempt but definitely needs more work!
Graphics & Audio
Graphically, Animal Crossing Amiibo Festival is a delightful game on the Wii U that has some extremely colourful worlds that really immerses the player into the Animal Crossing universe, particularly the characters which look like they have walked straight out of a Saturday morning cartoon series. Audio is equally as good, particularly the music which will have you humming some of the tunes long after you've finished playing the game. Oh… I also loved the incorporation of the seasons into the game which did look quite impressive on the Wii U.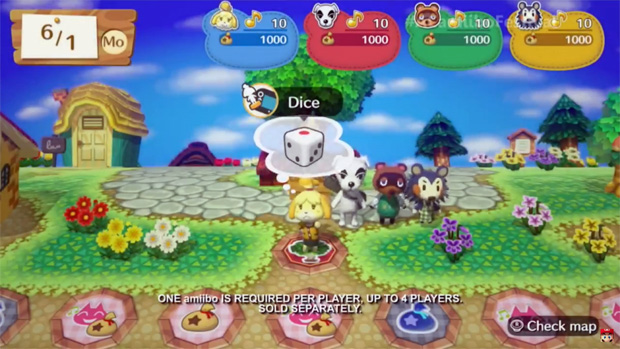 Final Thoughts?
Animal Crossing Amiibo Festival is an interesting game on the Nintendo Wii U which replicates this gaming franchise into a board game with a handful of mini-games. It is well presented on the Wii U with some great colours, special effects and lighting that does make the presentation relatively slick on this console. However it's also one of those games that you need to play with another person because this is definitely not a solo adventure. Furthermore, the main board game can become quite repetitive and dare I say a little boring because of the lack of interactivity with the player or players.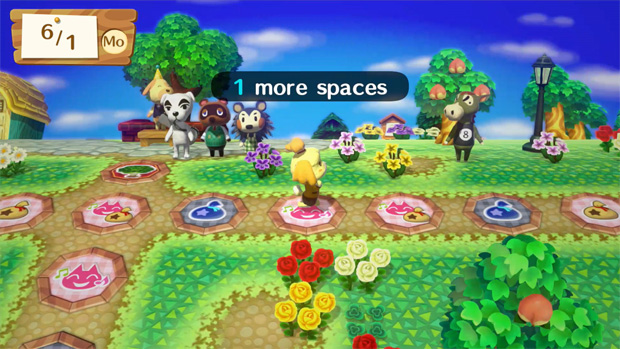 Game Details
Primary Format – Games – Nintendo Wii U
Game Genre – Role Playing Game / Board game
Rating – G