TV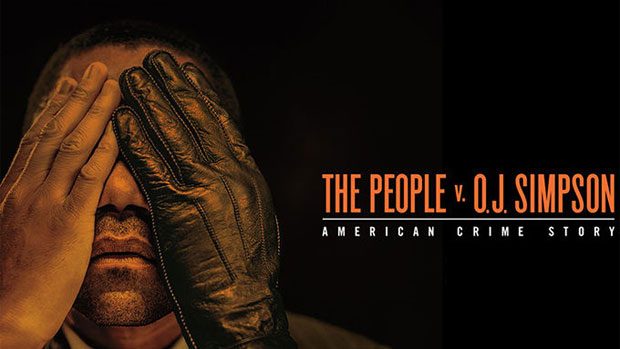 Published on August 30th, 2016 | by James Wright
American Crime Story: The People v O.J. Simpson DVD Review
Summary: American Crime Story: The People v O.J. Simpson is definitely a must have a DVD if you enjoy courtroom drama!
For those have been living under a rock, American Crime Story: The People v O.J. Simpson is a 10-part series that successfully recreates the trial of the century which also boasts a stellar cast that includes John Travolta, Cuba Gooding Jr., Sarah Paulso, David Schwimmer, Bruce Greenwood and Sterling Brown. Although it explores the court cast of former NFL and film star O.J. Simpson and through some artistic liberty, it explores what may have happened behind closed doors, including the tactics used by those involved in the case which is quite a powerful look. The series is also based on the novel by Jeffrey Toobin called The Run of His Life: The People v. O.J. Simpson.
Although most of us know the verdict of the trial, this series not only humanises the experience but also sheds light into the darkness which revolves around the court cast and with so many larger than life personalities involved, it does create some very interesting dynamics which is well played by the actors. Furthermore, it showcases the American court system and how the defence capitalised on its flaws and used the media to create an almost circus like setting, not to mention pulling out the 'race card'. However what sets this series apart from just about everything on television at the moment is the amazing cast who were brought together to retell the tale of O.J. Simpson.
This includes John Travolta as Robert Shapiro, David Schwimmer as Robert Kardashian, Sarah Paulson as Marcia Clark and a brilliant performance by Cuba Gooding Jr. as O.J. Simpson. I really can't fault the actors and they definitely excel at the characters they are playing and tven though the actors share some similarities with their real-world counterparts, their performance is almost flawless which really takes this drama to a whole new level. At times, watching this series is like watching the actual court case with its media circus, not to mention a touch of who the Kardashians were before they become a household name which includes Kris Jenner (Selma Blair) and Robert Kardashian. However the series does pay homage to the two victims of this heinous crime, Nicole Brown Simpson and Ron Goldman who were brutally murdered in 1994 that then led to the infamous highway chase by police.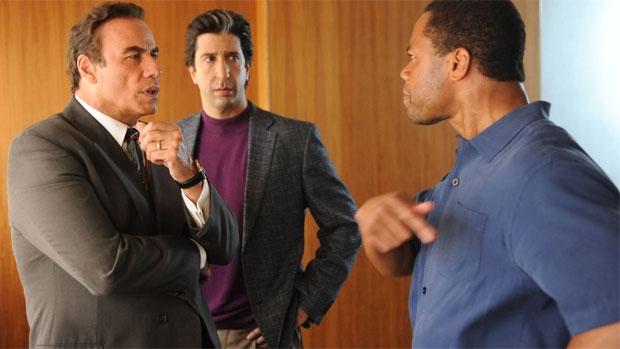 Video, Audio & Special Features
Well presented on DVD with exceptional video and audio quality, American Crime Story: The People v O.J. Simpson on DVD comes with a handful of insightful documentaries entitled Past Imperfect: The Trial of the Century and Facts of the Case: An Interactive Timeline which shed additional information onto the O.J. Simpson trial that had the world captivated. I really enjoyed the interactive timeline that allows you explore key parts from this trial and beyond.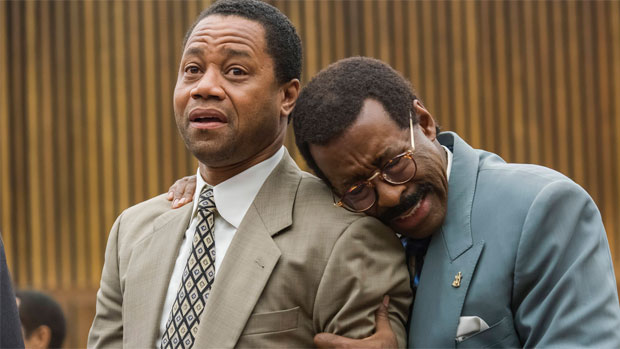 Final Thoughts?
American Crime Story: The People v O.J. Simpson is not only a slick presentation but also a disturbing look at one of the United States most infamous high profile court cases that gives the viewer a powerful look into this case. It is well written and the production values are quite high which at times makes it feel like you are watching some Hollywood courtroom blockbuster. Then add the excellent cast and American Crime Story: The People v O.J. Simpson is definitely must watch viewing!

DVD Details
Actors – Cuba Gooding Jr., Sarah Paulson, John Travolta, David Schwimmer, Courtney B. Vance, Jordana Brewster, Selma Blair, Billy Magnussen, Kenneth Choi, Sterling K. Brown, Connie Britton
Film Genre – TV Drama
Label – 20th Century Fox
Audio – English (Dolby Digital 5.1)
Subtitles – English
Running Time – 390
Aspect Ratio – 1.78:1
Region Coding – 4
TV Standard – PAL
Rating – M
Consumer Advice Line – Mature themes, violence, sexual references, drug use and coarse language
Year of Release – 2016
Primary Format – Movies/TV – DVD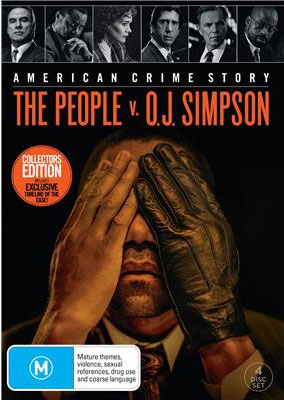 AVAILABLE ON DVD 31 AUGUST 2016