iOS Games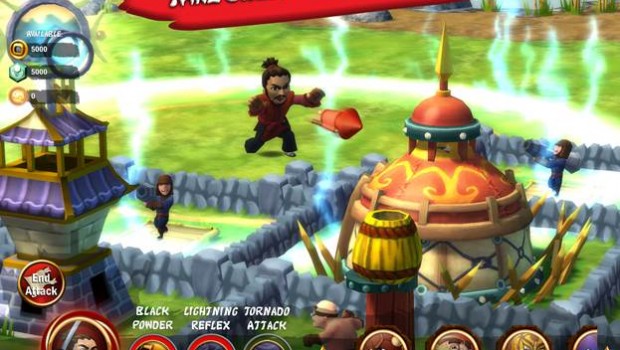 Published on December 16th, 2013 | by Admin
2K Announces Availability of Sensei Wars for Smartphones and Tablets Worldwide
Train an army, build a dynasty, and become the fiercest leader to walk the Earth in the latest combat strategy game to hit the App Store, Amazon Appstore, and Google Play 
Join the conversation on Twitter by using hashtag #SenseiWars
Sydney, Australia – December 16, 2013 – 2K today announced that Sensei Wars, a new combat strategy game set in a charismatic, 3D Asian art style, is now available for download worldwide on select iPad®*, iPhone®, iPod®, iPod® touch, Android™, and Amazon Kindle devices.
Sensei Wars challenges mobile gamers to rule a 3D world by building and defending a thriving rural village, creating alliances, and training an army of lethal soldiers to conquer other players' base camps and resources. Each player begins with an immortal Sensei warrior, a controllable and versatile offensive and defensive unit that masters skills from three different fighting styles, and embarks in warfare alongside additional military units, such as Monks, Samurai, Ninjas, and Dragons, as they are unlocked. 
"In developing Sensei Wars, Cat Daddy Games worked hard to incorporate features we hadn't seen before, as well as create an experience that resonates with a wide variety of mobile gamers to keep them coming back," said Harley Howe, co-studio head of Cat Daddy Games. "From being able to explore the game from a 360-degree perspective, to defining the Sensei's fighting style, Sensei Wars adds a layer of depth and control combat-strategy fans can't experience anywhere else." 
For those preferring strength in numbers, Sensei Wars offers dynamic co-operative gameplay elements to assist in the race to the top of the leaderboards, through forming allegiances with other players, sharing reinforcements, and working together in battle. 
Sensei Wars is now available for free to download on the App Store, Amazon Appstore, and Google Play for select mobile devices.
For more information on Sensei Wars and 2K, visit Facebook and @senseiwars on Twitter.
*Supported mobile devices for Sensei Wars includes: iPad 2 and up, iPad mini, iPod touch 4 and up and iPhone 4 and up.
Cat Daddy Games is a 2K studio. 2K is a wholly owned publishing label of Take-Two Interactive Software, Inc. (NASDAQ: TTWO).