XBox 360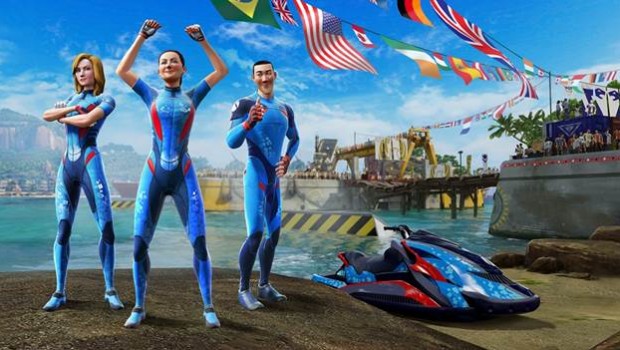 Published on April 4th, 2014 | by Admin
Xbox Newsbeat 31 March – 4 April 2014
Creating a Champion in Kinect Sports Rivals
By Xbox Wire Staff
The "Kinect Sports Rivals" Champion scan – the process of scanning your face and body to create a digital, stylised version of yourself that will represent you in the game – is an amazing new-gen feature that is made possible only with the new Kinect. After scanning your body, Kinect focuses on your face and captures 93 measurements to build a 3D model, then adds features, such as skin colour and hair style, to create the finished character. No two Champions look alike, unless you have an identical twin.
We sat down with the Champion feature's lead engineer, Andy Bastable, and lead artist, Iain McFadzen, to learn more.
Xbox Wire: What came first, the new Kinect technology or the idea to scan players and create a stylised version of themselves?
Iain McFadzen: We actually had the idea for quite a while, but it was only when we saw the power of the new Kinect sensor that we truly felt it was something that we could come to fruition. That said, although the hardware was in place, the underlying software needed to scan and recognise the various elements that make up a human face had to be built from scratch.
Xbox Wire: Can you tell us about the initial pitch meetings? Did people think the idea was crazy/couldn't be done?
Andy Bastable: The great thing about the Champion feature is people just get it. We didn't need a well-crafted "elevator pitch" or snazzy images to get the concept across. All we said is "we're going to create technology that can scan you and put you at the centre of the game." Everyone we talked to thought it was a fantastic idea and would really show off the power of Xbox One and the new Kinect sensor.
Iain: I think the biggest concern we faced was, as you can imagine, not everyone wanted a 100% reflection of themselves in game. So, this is where we coined our code name for the feature, "Awesome You," because basically, we are taking your essence, your basic likeness and building this awesome character, your Champion. We want to make everyone look great in "Kinect Sports Rivals."
To view the rest of the interview please visit Xbox Wire.
Forza" Creative Director Details Updates For Fans, Debuts Top Gear Car Pack for April
A Letter from Dan Greenawalt, Creative Director, Turn 10 Studios
This year marks the 12-year anniversary of Turn 10 Studios' founding and, next year, we'll celebrate the ten-year anniversary of the original "Forza Motorsport" on Xbox. Today, Turn 10 Studios Creative Director Dan Greenawalt shared a letter to the fervent community, sharing his personal thoughts on the new content that has come to "Forza Motorsport 5" since launch last November, and announced a new "Forza Motorsport 5" content update that will enhance the way cars are added to players' garages.
Read the entirety of Dan's letter here.
Race The Stig's Digital Cousin in the "Forza Motorsport 5" Top Gear Car Pack, Available Today
World-renowned TV show "Top Gear" and "Forza Motorsport 5" have teamed up to deliver an all-new car pack for the critically acclaimed Xbox One racing title, featuring ten stunning vehicles for players to collect, race, and customise – all built from the ground up for the new generation and available today.
The Top Gear Car Pack (included as part of the "Forza Motorsport 5" Car Pass) is now available for AU $13.45 and includes all ten cars, including the bonus 2013 Holden #10 Xbox Racing Team Commodore VF – all of which are immediately accessible in your "Forza Motorsport 5" garage.  Each car can also be individually purchased, a la carte, via the Xbox Live marketplace.
Click here for more information and to view all ten cars in the Top Gear Car Pack.
All assets related to these announcements can be accessed on Xbox Wire here.
Get Hitman: Absolution and Deadlight for Free with April Games with Gold
Starting tomorrow, two more great titles are available via the Games with Gold program on Xbox 360, available for free for a limited time:
"Hitman: Absolution"  AU $29.95
"Deadlight" AU $19.95
Wear the suit of the ultimate assassin in "Hitman: Absolution." Betrayed by the Agency and hunted by the police, Agent 47 finds himself pursuing redemption in a corrupt and twisted world.  Blend into plain sight, kill with your bare hands and fashion a weapon from almost anything. Download on April 1and become Agent 47, the world's deadliest assassin.
Then, on April 16, download "Deadlight" to follow the journey of Randall Wayne, a man searching for his family across Seattle during the aftermath of a 1980s event that has decimated life on earth – there is no hope, no new beginning, only the survivors. This visually stunning and highly cinematic survival platformer will challenge you to run, jump, climb and struggle for your life as you look for answers and the ones you love. More details on Games with Gold are available here.
Twitch Sets Record-Breaking Numbers as Xbox One Usage Booms
By Xbox Wire Staff
Xbox One is home to the biggest entertainment and app partners who, alongside the best games and live TV experiences, are contributing significantly to the boom in Xbox One usage. Today, Xbox Live members worldwide are spending an average of 5 hours per day exploring apps, playing games, and watching TV on Xbox One.
Twitch on Xbox One has played a big role in the increase in Xbox One usage since the app added broadcasting on Mar. 10. In fact, nearly 23 million minutes have been broadcast from Twitch on Xbox One since launch. This includes more than 2.7 million minutes broadcast from Xbox One March 10-11, the most ever for a Twitch console app in its first day. Additionally, 30 percent of all Twitch unique broadcasters were broadcasting from Xbox One during the app's first day.
For more information, visit Xbox Wire.
Entertainment on Xbox One Keeps Getting Better With Your Help
Since the launch of Xbox One, it's been our mission to keep improving – the games, the entertainment, the all-in-one experience. That's why we're bringing some updates to you this month across Xbox Video and Xbox SmartGlass, and it's why we're also exploring exciting new features to bring TV elements to more global markets and a new option for using OneGuide on multiple devices.
Starting this week, you can rent (or buy) a movie on Xbox Video, begin watching on one screen, then pick-up right where you left off on another.* Perfect for movie junkies or anyone who loves marathon-watching TV shows, Xbox Video makes it easier than ever to watch whatever you like on Xbox One, Xbox 360, Windows 8, Windows Phone 8, or even online at XboxVideo.com.
For more information, visit Xbox Wire.