DVD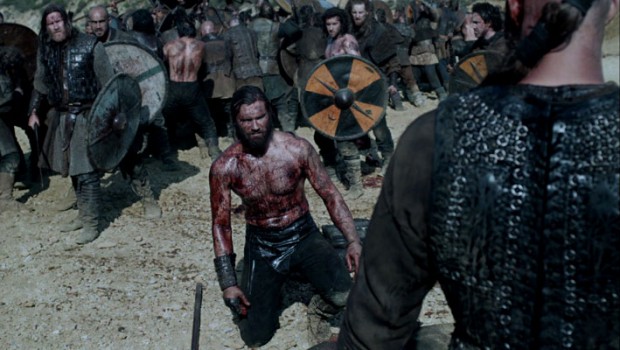 Published on April 7th, 2014 | by admin
Vikings the Complete First Season DVD Review
Summary: A very well written TV series with some exceptional acting and storylines
Vikings the Complete First Season
Format: DVD
Distributor: Fox
Running Time: 378 Minutes
Genre: Drama
Reviewer: Peter Bourke
There are two must watch TV shows at the moment, The Game of Thrones and the more realistic Vikings which is equally as gripping and entertaining which follows protagonist Ragnar Lothbrok (Travis Fimmel), a Viking who vows to lead his tribe into greatness. However this fierce warrior has a few obstacles in his way that includes his tribe leaders and more importantly, his brother Rollo (Clive Standen) who has his own ambitions, especially when it comes to Ragnar's warrior wife Lagertha (Katheryn Winnick).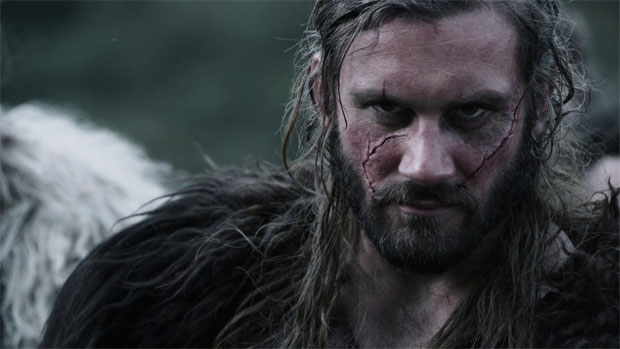 Set in 793 A.D., Ragnar thirsts for more than just following orders from tribal chief (Gabriel Byrne) and wishes to travel far away from his Norse lands in order to seek his own fortune and glory. Recruiting Floki (Gustaf Skarsgård), a ship-builder, he is given a vessel that will allow him to cross the seas so he can commence pillaging. Also joining Ragnar is his brother Rollo and other like minded warriors that quickly led them to the shores of England as they plunder a local monastery.
Although most the priests are butchered by Ragnar and his followers, he leaves one of the priests alive (George Blagden) who happens to speak Nordic. As a slave, the priest known as Athelstan and teaches Ragnar the ways of the England that he believes will allow him to return and continue his plundering ways with this inside information. As the series progresses, Ragnar successfully leads more raids against England that increases his wealth and power which fulfils his destiny in this gripping TV series.  However in order to increase his standing amongst the Vikings, he pledges loyalty to King Horik (Donal Logue) who also recognises the usefulness of this warrior but behind the scenes, others plot his downfall.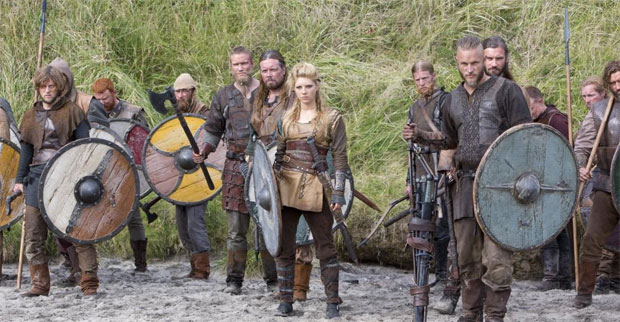 The series is also quite gruesome and gory when it comes to the violence of the era, including the explicit sex scenes that is reminiscent of The Tudors with a mix of Spartacus and Game of Thrones when it comes to the political turmoil, intrigue and allegiances. The acting is brilliant, especially Travis Fimmel as Ragnar, Katheryn Winnick as his wife plus George Blagden as the priest who becomes torn between two cultures. All in all, if you enjoy period dramas, especially ones as violent as this, then you've definitely come to the right place.
This 3-disc set released by Fox features all 9 episodes from Season one and includes the following;
– Rites of Passage
– Wrath of the Northmen
– Dispossessed
– Trial
– Raid
– Burial of the Dead
– A King's Ransom
– Sacrifice
– All Change
Video/Audio & Special Features
The video quality of Vikings is presented in 16:9 widescreen that boasts some sharp images and very earthy colours. Although vibrant colours are rare in this series, the image quality really stands out that successfully creates the harshness of 8th century. Audio really booms, especially when the violence occurs and this release features 5.1 Dolby Digital which boasts clear dialog, balanced sounds and a great musical score.
In terms of special features, the main highlights include deleted scenes, audio commentary and three great documentaries about the life and times of the Vikings. Although I'm a huge fan of Game of Thrones, what I like about the Vikings is how realistic and accurate the stories are. This gritty realism is what makes this series standout and the documentaries really compliment this.
Deleted Scenes
Audio Commentary on Select Episodes
A Warrior Society: Viking Culture and Law
Birth of the Vikings
Forging the Vikings Army: Welfare and Tactics
Final Thoughts?
With so much happening in season one such as the betrayal of Ragnar, a plague that threatens his daughter and the beautiful princess Aslaug (Alyssa Sutherland), I really can't wait to see how these stories pan-out. It is a very well written TV series with some exceptional acting and plotlines. Sure, it may not have the budget of the Game of Thrones but in essence, both stories are very different that only really share the violence and the explicit sex. Nonetheless, it is about the journey of Ragnar and how one man vows to change his destiny and if someone gets in his way, they better watch out!
Powerful!