Comedy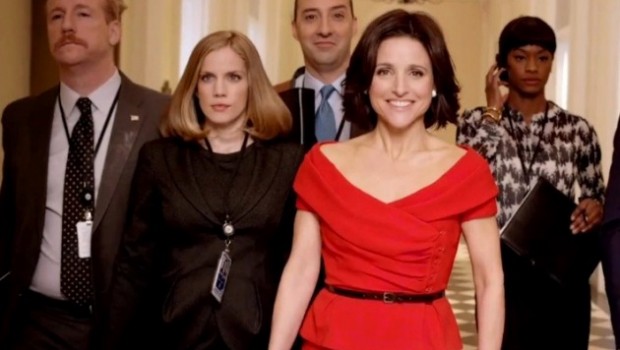 Published on June 15th, 2014 | by admin
Veep Season 2 DVD Review
Summary: Veep Season 2 is a politically incorrect political satire that will make you smile from ear to ear!
Veep Season 2
Distributor: Warner Bros
Discs: 2
Genre: TV / Comedy
Rating: MA15+
Running Time: 278 Minutes
Rating: MA15+
Veep stars the excellent Julia Louis-Dreyfus (Seinfeld, The New Adventures of Old Christine) as Vice President Selina Meyer in this political comedy TV series about the life of politics and how it seeps into the personal and vice versa. However for Vice President Selina Meyer, she has a hidden agenda and that agenda is herself which creates some really amusing laugh out loud moments, especially with her foul-mouth.
With foul language in mind, Veep is definitely not for the politically correct, even though this clever TV series is about politics. To complement the performance of Louis-Dreyfus, we have her Chief of Staff Amy Brookheimer (Anna Chlumsky), Communications Director Mike McLintock (Matt Walsh) and Selina's personal aide Gary Walsh (Tony Hale) who all add to the anecdotes of Veep. There are also some new actors in season 2 that include Gary Cole who plays the very amusing and quick witted Karl Rove, a political strategist and Kevin Dunn as the Presidents person Chief of Staff who creates a very interesting dynamic for Selina.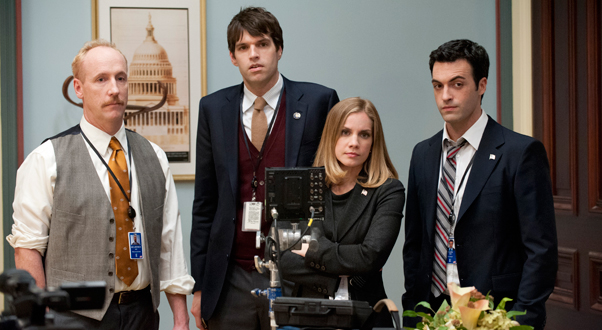 Episode Listing
Midterms
Signals
Hostages
The Vic Allen Dinner
Helsinki
Andrew
Shutdown
First Response
Running
D.C.
What I enjoyed about Veep is how the characters political and personal lives cross that sometimes erupts into something bigger. Of course Selina is the protagonist of the series and it's great that the series writers explore her ambitions more in season 2, especially getting closer to the hallowed grounds of the White House. It doesn't help the current president either when Selina's opinion polls are starting to outshine them.
There's also some very amusing guest stars in the series such as reporter Allison Janney (Touchy Feely), an old friend of Selina and Dave Foley as the Prime Minister of Finland who both cause some very funny chaos in her life. It's almost Champaign comedy at its best thanks to the clever dialogue.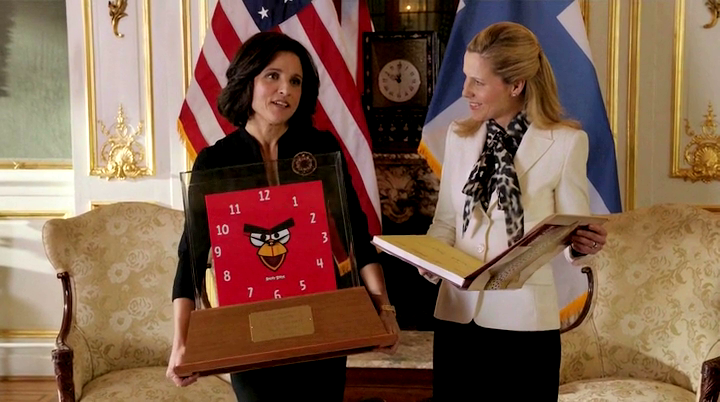 As the series is from HBO, its creator Armando Iannucci (In The Loop) definitely holds no punches with its storylines or characters and although it's not a clever satirical comedy per se, it's more grass roots, especially with its dialogue and considerable amount of swearing that actually suits these characters perfectly. As with most series, Veep has had its hit and miss episodes but for the majority they work well. Season 2 also ends on a high and I for one cannot wait until the next season of Veep is released. Another hit from HBO and Warner!
Video, Audio & Special Features
Video quality boasts sharp images and vibrant colours with no errors or artefacting whatsoever. Audio is equally as good thanks to the DTS-HD Master Audio 5.1 lossless surround sound track which gives the user good levels, clear dialogue and some exceptional music. For special features, Veep Season 2 has some fun audio commentaries that include both Iannucci and Dreyfus plus some deleted scenes that will definitely give Veep fans something to smirk about.
Special Features
Audio Commentaries
Deleted Scenes
Final Thoughts?
All in all, Veep Season 2 excels from the previous season and really sets the scene of things to come. I also believe this is some of Julia Louis-Dreyfus' best work and even if you have never watched Veep before, you can comfortably pick up season 2 and start watching without being disadvantaged whatsoever. Veep Season 2 is a politically incorrect political satire that will make you smile from ear to ear!