XBox One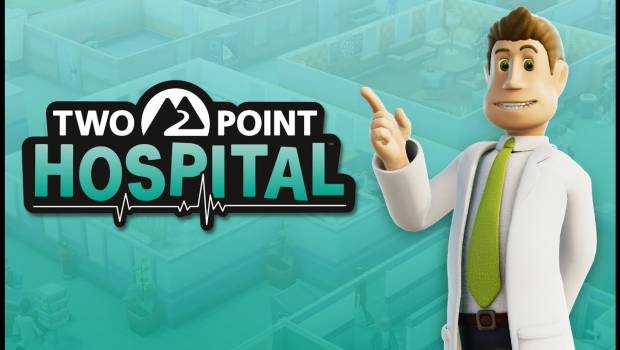 Published on March 31st, 2020 | by Hugh Mitchell
Two Point Hospital Review
Summary: Two Point Hospital is an excellent spiritual successor to Theme Hospital with modern mechanics and a charming aesthetic.
Two Point Studios aren't shying away from the suggestion that Two Point Hospital is a modern reboot of the classic PC sim, Theme Hospital in all but name. In fact, some of the more sceptical critics have theorised that the name 'Two Point Hospital' is a cheeky way of implying that this is 'Hospital 2.0'. With EA sitting on the rights to Theme Hospital and no plans for a franchise reboot in the near future, Two Point Studios have taken it upon themselves to satisfy Theme Hospital fans everywhere by creating an excellent spiritual successor to Theme Hospital that takes everything that made the original game so iconic and rejigging it to make it work in the modern gaming landscape.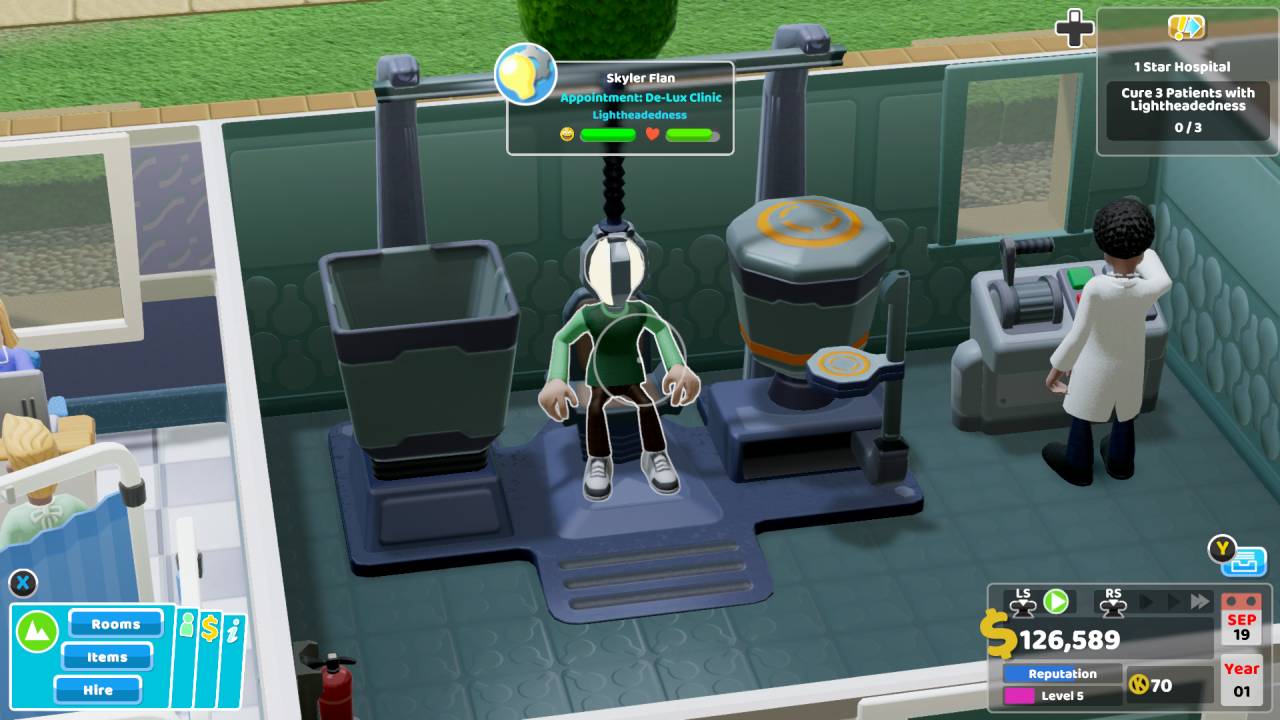 Two Point Hospital puts you in the shiny leather shoes of a hospital administrator tasked with designing, operating and maintaining a metropolitan hospital. This is a business management/simulation game first and foremost, so be prepared to read resumes, train staff, manage payrolls and balance budgets. The game can feel like a 'plate-spinner' management simulator at times as you simply identify the weaknesses in your systems and address them as they occur – whether that be firing incompetent staff, budgeting to hire an expensive new doctor with specialised training or selling off old equipment to buy upgraded machinery to deal with a sudden outbreak of a quirky new disease.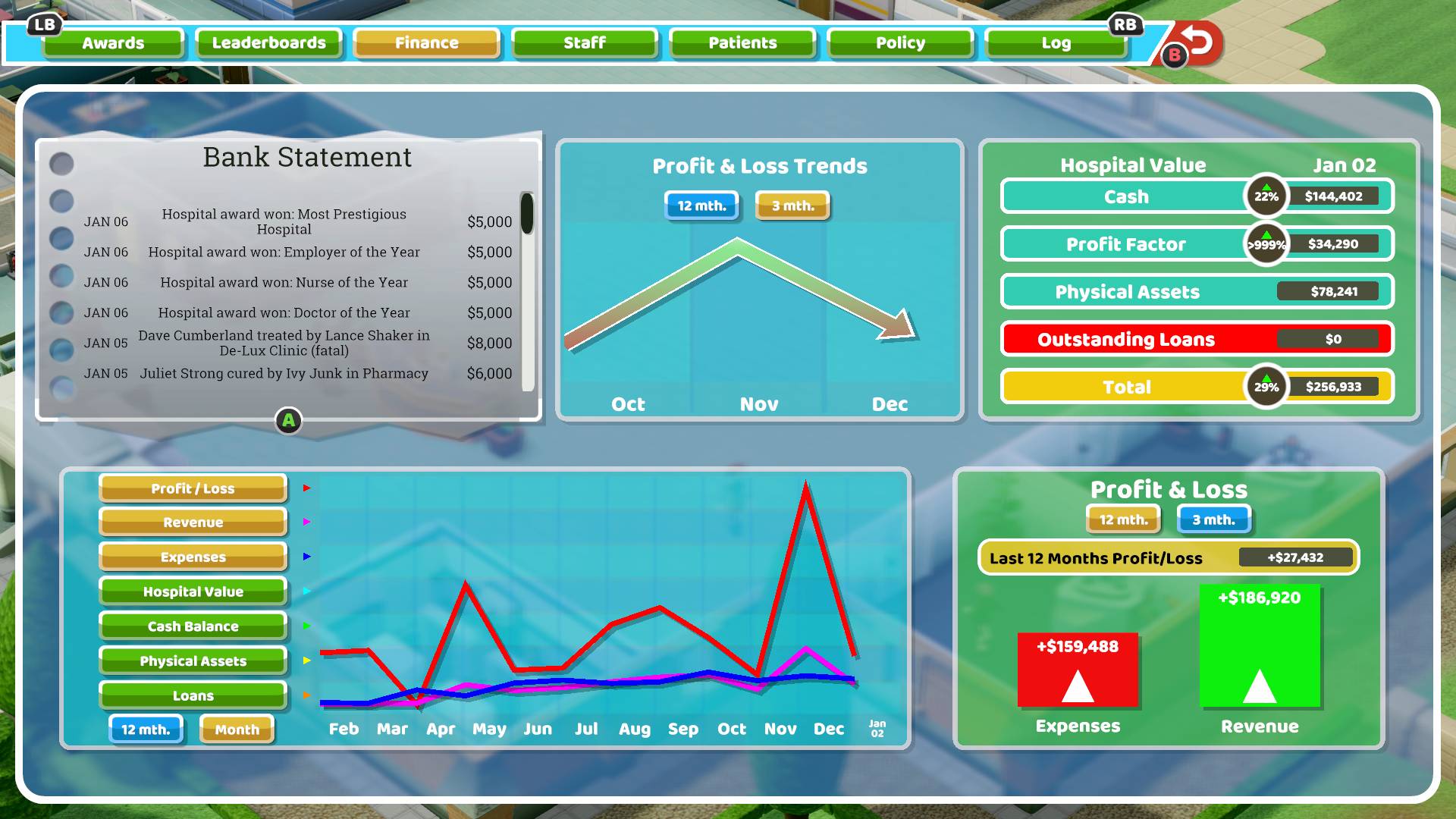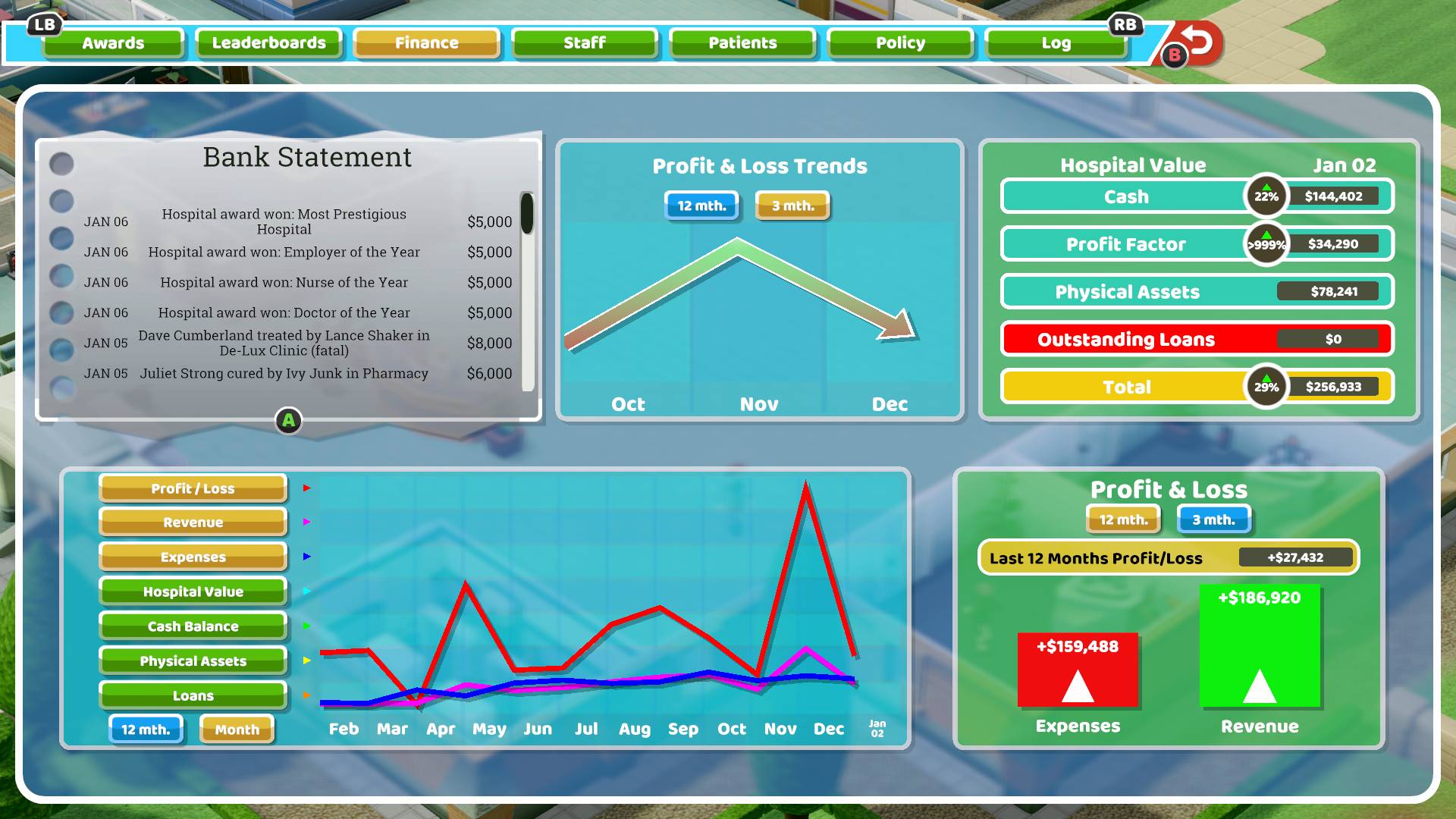 But it's not all book sheets and budget cuts. As hospital administrator you'll also be responsible for designing the layout of the hospital, purchasing new equipment and customising the look of the place. The customisation options in Two Point Hospital aren't as robust or freeform as the toolset on offer in something like Planet Zoo, however there are plenty of options for you to spruce up your building and decorate the various rooms and facilities to make your creations feel unique.
The game utilises a placement grid for construction and item layout that makes building rooms and filling them with the essential equipment super simple. There are plenty of shortcuts to copy and paste entire rooms to make rapid expansion quick and painless, or if you prefer to design each room piece by piece, you can always do that too. Playing on a controller is an excellent experience and probably my preferred method of control. After a brief period of acclimating to the various layers of menu navigation and the cursor selection quirks, building rooms, buying items and managing staff payroll feels natural and effortless with a controller.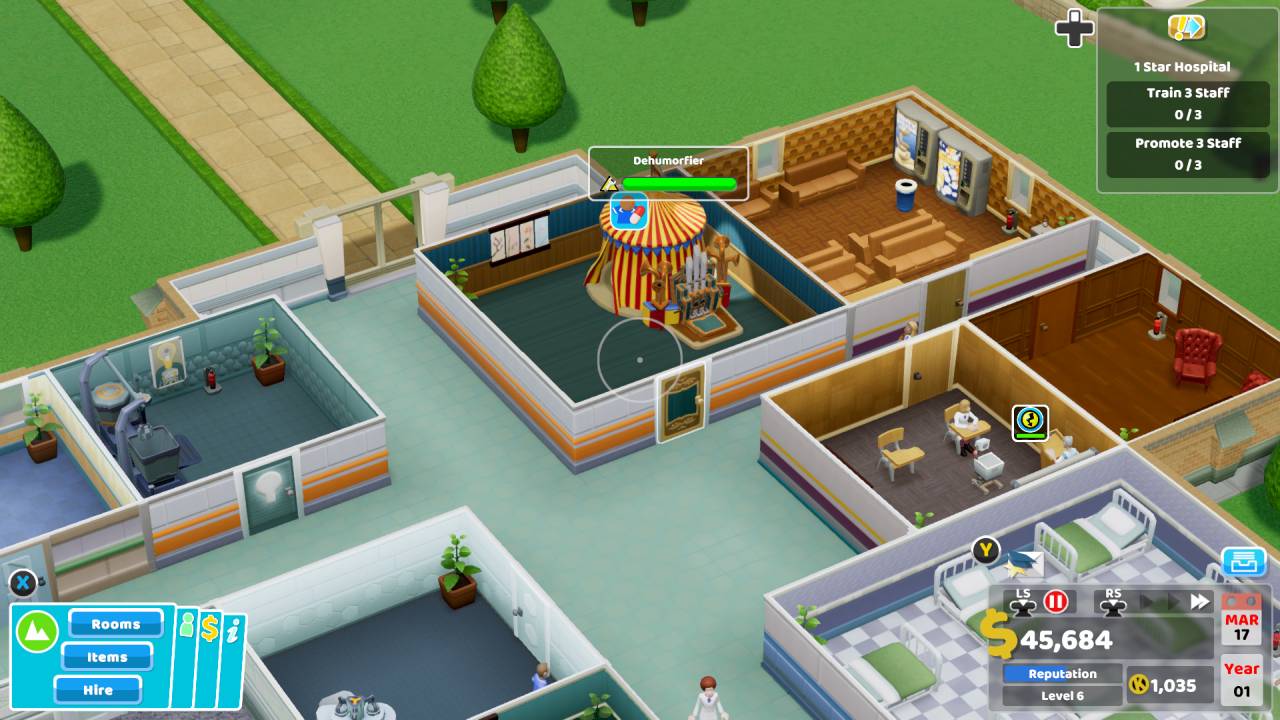 The campaign mode in Two Point Hospital is broken up into a number of missions that task you with building a new hospital and addressing a specific challenge as you do so. These missions provide tutorialisation for the game's mechanics and offer fun challenges at the same time without being overwhelming. Simply completing the basic tutorial challenge awards you with a single star and unlocks the next mission, plus additional challenges for that level, which reward special items upon completion.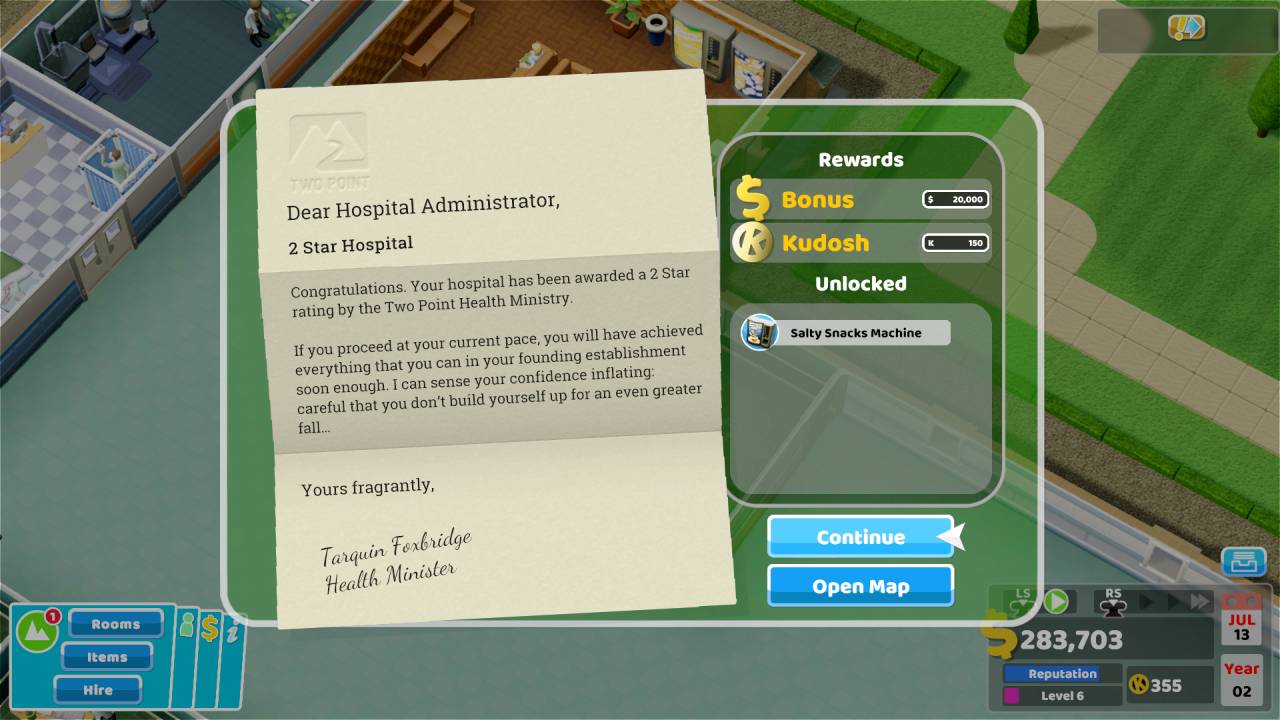 The entire game has a terrifically silly sense of humour and this is reflected in Two Point Hospital's mechanics and mission design. For example, an early mission revolves around teaching the player about establishing a psychology department in a new hospital. What better way to put your management skills to the test than an outbreak of 'Mock Star' spreading throughout the town – a mental disorder that causes delusions of grandeur and convinces sufferers that they are actually the world's greatest rock icon. Nothing truly exposes the inefficiencies in your hospital system quite like an onslaught of Freddie Mercury impersonator's swinging microphone stands around your waiting room.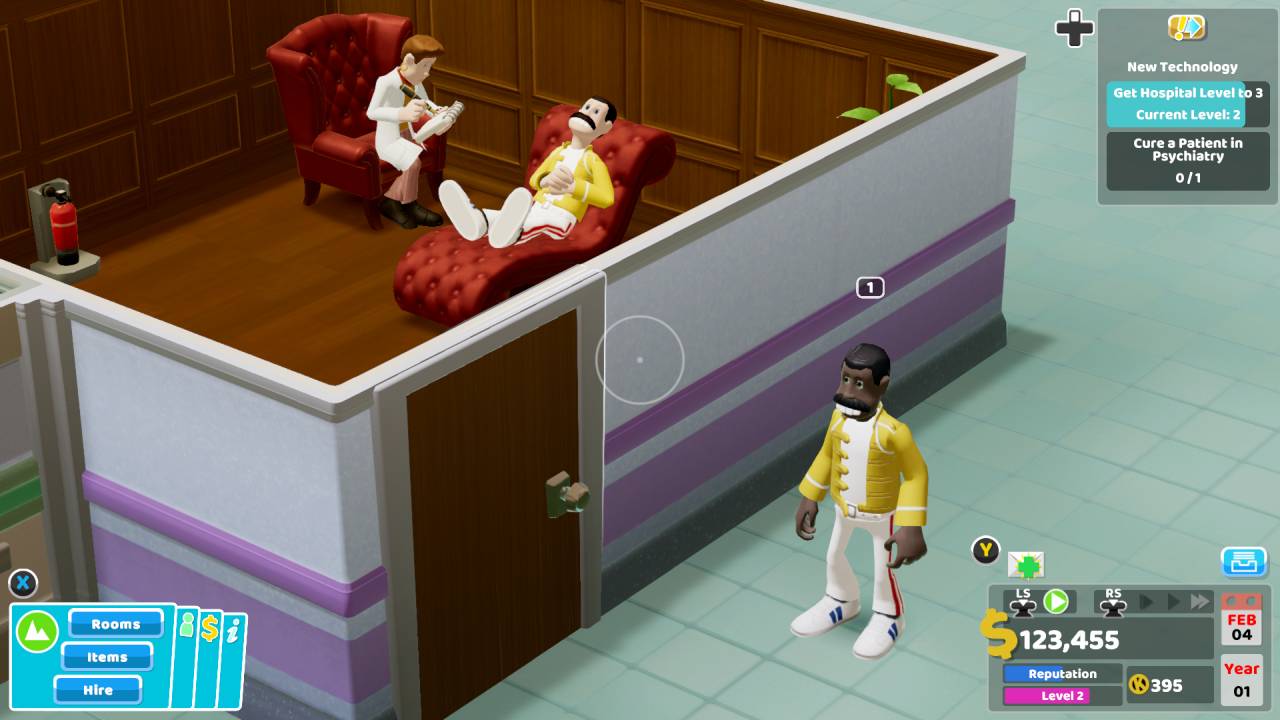 This sense of silliness and quirky humour is heightened by Two Point Hospital's colourful visual stylings and charming cartoon aesthetic. All the people look like characters from a Wallace and Gromit cartoon and there are plenty of goofy animations utilised for the various wacky diseases you'll be tasked with diagnosing. The background music and radio chatter offers a nice blend of 'calming medical waiting room music' and humorous one-liners to keep things fresh and fun, though a bit more variety in both the music and jokes wouldn't go amiss.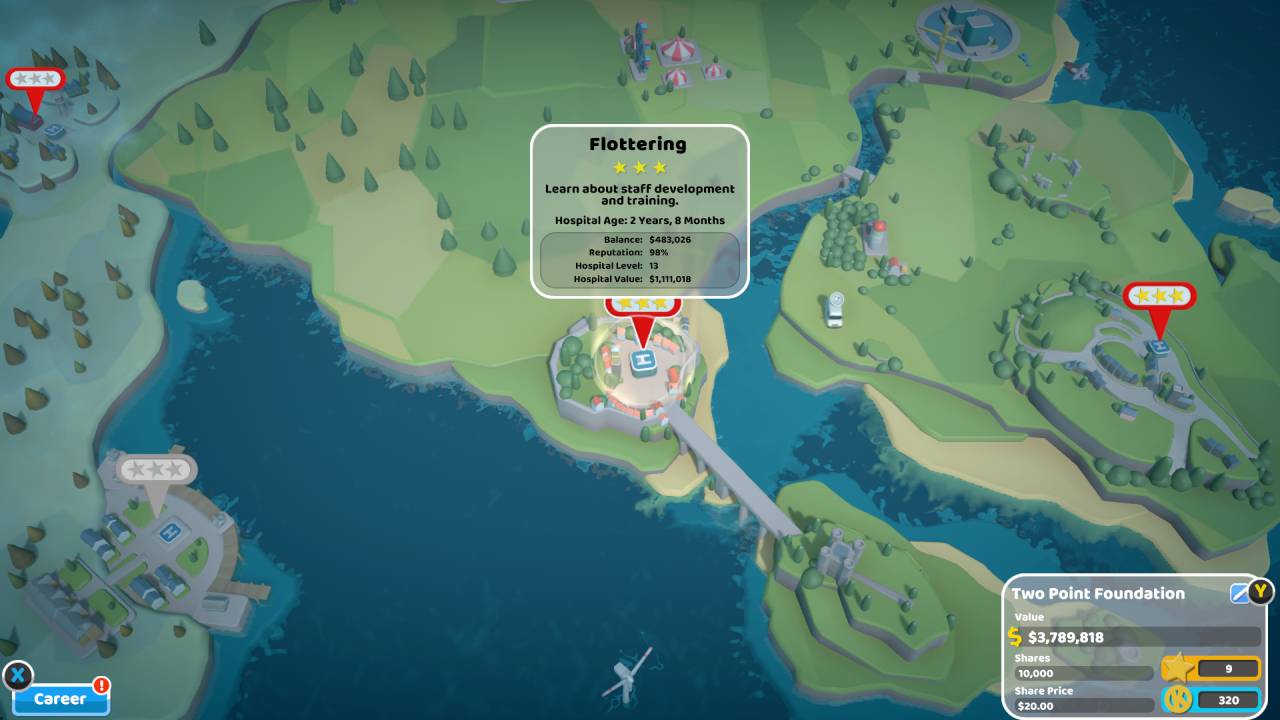 Final Thoughts?
Two Point Hospital is a fun, business-management strategy game wrapped up in a charmingly silly Theme Hospital-shaped packaged. Those looking for a business-sim challenge will find plenty of enjoyment in scrutinising payrolls, training staff and designing building layouts for maximum efficiency. Yet those looking for a more relaxed experience won't have much trouble completing the various challenges presented throughout the campaign. The creative tools on offer aren't as robust as other recent management games, but there's still plenty of opportunity to make your designs stand out. Check this one out if you've enjoyed other business-management games in the past or if you're looking for a goofy strategy game with plenty of charm.