Consoles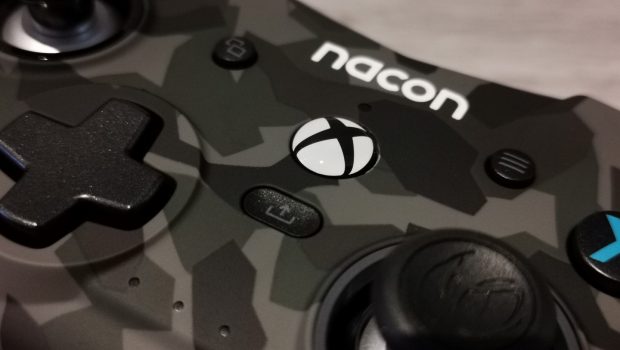 Published on November 14th, 2023 | by James Wright
Nacon Limited Edition Camo Revolution X Pro Grade Controller for Xbox Review
Summary: Nacon Limited Edition Camo Revolution X Pro Grade Controller for Xbox is pure wired power for Xbox and PC gamers!
Courtesy of Nacon, we were given the opportunity to check out their competition grade Limited Edition Camo Revolution X Pro Grade Controller that has been designed for the Xbox family of consoles (Xbox Series X|S, Xbox One) and Windows 10/11 PC's. According to the quote on the box from Gamesradar, they state that this wired controller is…"one of the best gamepads", so it is true? Read on!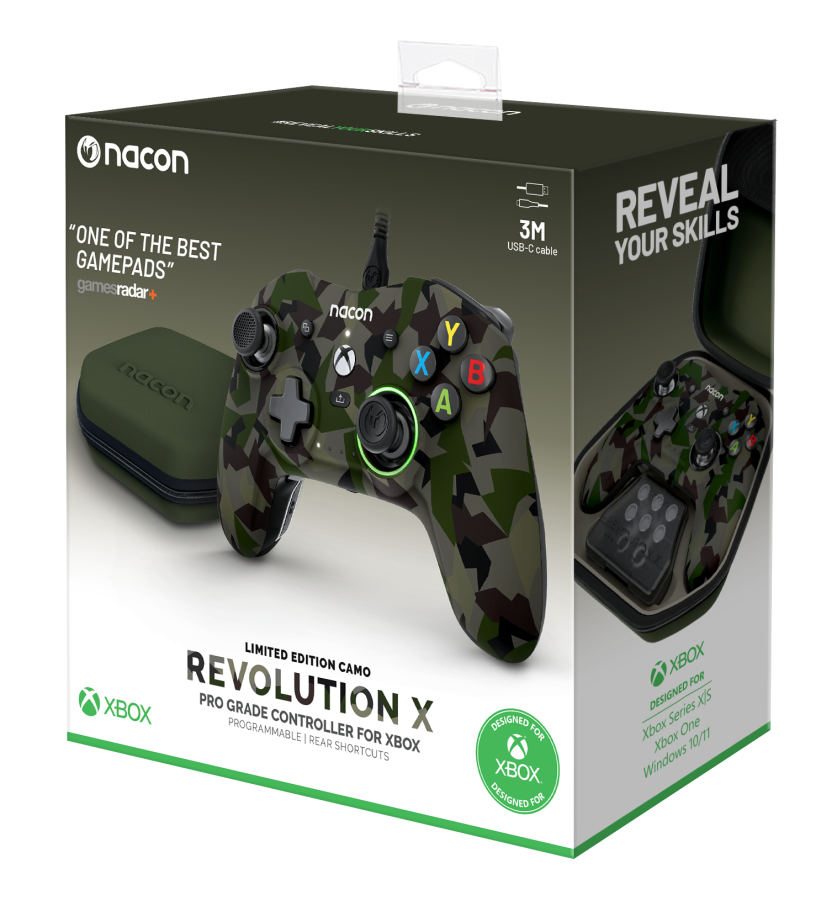 So what exactly is the Nacon Limited Edition Camo Revolution X Pro Grade Controller for Xbox? At its core, the Revolution X Pro Grade Controller is a wired yet customisable gaming controller for the Xbox and PC that in essence would be faster than a wireless controller with potentially zero lag that targets eSporters or gamers who want that performance edge. In terms of testing, we trialled the controller on the Xbox Series X and to connect, you simple plug in the generous 3 metre long braided cable into the console and presto, you're read to game.
The Nacon Limited Edition Camo Revolution X Pro Grade Controller also supports 3D audio and by plugging in a pair of headphones into the controller, it gives you access to Dolby Atmos to create that illusion of atmospheric sound from all directions.
Where the controller does set itself apart from the standard Xbox Series X controller is the customisation options. Courtesy of the Revolution X app, you can map buttons, set thumbstick sensitivity, set trigger dead zones plus you can program the four rear panel triggers for additional gaming functionality. Further, you can swap between concave and convex thumbsticks and thumbstick shaft sizes that seriously allows you to fine tune the Revolution X Pro Grade Controller.
Unboxing & Gallery
What about the build quality?
The build quality of Nacon Limited Edition Camo Revolution X Pro Grade Controller for Xbox is perfect and while made from plastic it feels very sturdy and more importantly good in your hands – weights are also included to fine-tune the weight as well. While the controller does mimic the official Xbox controller with its placement of thumbsticks and buttons, everything is the right place that makes it very familiar to Xbox gamers, even down to the Xbox button, share button and X, A, B and Y buttons on the right of the controller. Further, the braided cable is very strong and it will probably outlast your console.
To fully maximise the controller, you do need to install the app. The Revolution X app is available from the Microsoft Store for Xbox consoles and the PC that is a well-designed app and easily allows you to customise the controller. The controller itself also allows you to save up to 4 profiles on the controller which allows you to quickly swap between your favourite games or in-game needs. The main profiles include – Racing/Sports, FPS, Arcade/Fighting and Infiltration.
As you can see? Unparalleled customisation options!
Now to gaming! The Nacon Limited Edition Camo Revolution X Pro Grade Controller for Xbox is a controller built for pro-gaming that definitely feels more responsive than a wireless controller, however the ability to customise the device is where it shines. As a result, it makes your gaming faster when you are interacting with your virtual world, whether this was Call of Duty Modern Warfare 3, Starfield, Fortnite 2 or Forza Motorsport, all titles felt better to navigate, including an improved responsiveness. Given that, games who enjoy first person shooters, racing ggames or online RPG's will definitely find that this controller meets all their gaming needs. Additionally the inclusion of Dolby Atmos is a big selling point because with headphones, it does make audio in games a much more immersive experience.
Final Thoughts?
Although I miss a wireless controller experience, connecting the 3 metre long cable into the Xbox Series X console or a PC is no issue for me and is more than generous for most people. I don't miss dying batteries that impact upon gaming when you are using a wireless controller. I also don't miss, trying to find AA batteries around the house or scavenging from a TV remote control when the batteries die in the Xbox Series X controller. So yes, it is a wired controller but the speed, customisation options and never worrying about AA batteries again is definitely worth the purchase price!
The Revolution X Camo features:
Competition-grade wired controller for Xbox Series X|S and Xbox One
Pro Customization: Map buttons, set thumbstick sensitivity, set trigger dead zones and much more with the dedicated Revolution X app that allows pro customization options. Switch between concave and convex thumbsticks plus thumbstick shaft sizes allowing you to customize your play style.
Low latency, greater accuracy: Wired to reduce latency, allowing for faster reaction times and greater accuracy. Four programmable rear panel triggers provide an extra level of control.
Special Field Camo colorway: Cloaked in a Forest Camo design to complete your tactical gaming setup.
Durable: Long 9.8FT/3M nylon braided cable that is highly durable and ultra-flexible.
Game Chat: 3.5 mm headphone jack for game audio and chat functionality (headphones not included)
Buttons overview: Xbox, View, Menu & Share