3DS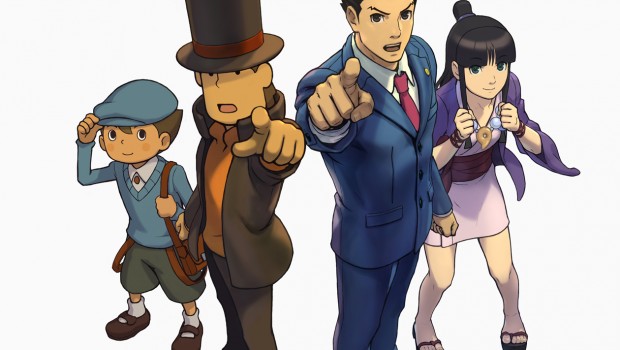 Published on February 6th, 2014 | by admin
TWO PINNACLES OF LAW AND ORDER UNITE IN PROFESSOR LAYTON vs PHOENIX WRIGHT: ACE ATTORNEY ON NINTENDO 3DS
6th February 2014 – Ladies and gentlemen of the jury, the world of a legendary academic and puzzle sleuth is set to collide with that of a hot-shot, justice loving attorney from 29th March when Professor Layton vs Phoenix Wright: Ace Attorney launches exclusively for the Nintendo 3DS family of systems. Whether in the heat of a court case, or out on the streets of London or the mystical medieval city of Labyrinthia, prepare to witness two great minds come face to face with magic, witchcraft, and all manner of contradictions to get to the bottom of!
If you are new to either the Professor Layton or Ace Attorney series, this first crossover adventure for the pair combines the investigative and puzzle-solving game elements of Layton with the intense courtroom-based action of a Phoenix Wright title. Both characters are famed for their quick wits and powers of unearthing the truth, and in this joint outing will need to work together to leave no puzzle or court trial unsolved.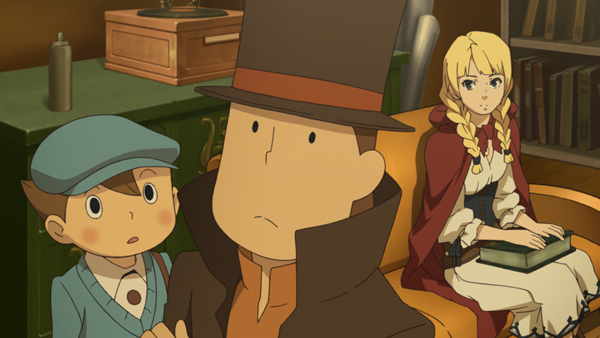 The scene is set in Professor Layton vs Phoenix Wright: Ace Attorney when through independent circumstances both Professor Layton and Phoenix Wright – with their respective partners Luke Triton and Maya Fey in tow – cross paths in London with a mysterious woman, Espella Cantabella and subsequently find themselves spirited away to Labyrinthia, a world overseen by the shadowy figure of the Storyteller. This literary master of Labyrinthia has a gift for foreseeing the future, and with every prophecy penned is a tale destined to become reality. Aside from dispelling the people of Labyrinthia's suspicions of foreign visitors, once Layton and Wright get acquainted and both remember their calling they must begin unravelling the unusual events of the city and save Espella from being condemned as a witch.
With the two quintessential gentlemen working in tandem, during court trials Phoenix Wright is able to use Hint Coins – a staple of the Professor Layton series – in order to narrow down options when presenting evidence, or provide helpful hints when cross-examining witnesses. After all, in the Witch Trials of Labyrinthia multiple witnesses to a crime can take to the stand, meaning Wright will need to be on guard to press any witness who is looking suspicious when another testimony is being given. Don't be surprised in addition to see Layton stepping up to raise an objection, both on the side of the defence and the prosecution…
For those who finish the main story, Professor Layton vs Phoenix Wright: Ace Attorney will offer Bonuses including exclusive artwork and music from the game. Make sure that throughout the course of your adventure in London and Labyrinthia you collect as many Picarats as possible – the higher the Picarat score you have at the end of the game, the more content will be unlocked. Once more for fans who complete the main story, free extra content can also be unlocked* gradually, with treats for fans such as twelve short new episodes for the game, and galleries featuring over sixty illustrations with comments from the development team on how they brought the two legendary gentlemen together for this unique adventure.
Two titans of law and order unite on 29th March when Professor Layton vs Phoenix Wright: Ace Attorney launches in Australia and New Zealand for the Nintendo 3DS family of systems. Get your thinking cap on when facing all-new puzzles from the perspectives of both Professor Layton and Phoenix Wright, and witness the law-enforcing pair battle side by side in the courtroom to secure justice and unravel the enigma that is the mysterious medieval city of Labyrinthia.
* Internet connection required for downloadable content.

Additional links:
Professor Layton vs Phoenix Wright: Ace Attorney gamesite: http://www.nintendo.com.au/catalogue/professor-layton-vs-phoenix-wright-ace-attorney
Nintendo 3DS Guided Tour: http://www.nintendo.com.au/nintendo-3ds-guided-tour
Nintendo Australia on YouTube: http://www.youtube.com/user/NintendoAU
Nintendo Australia Image Library: http://images.nintendo.com.au