Books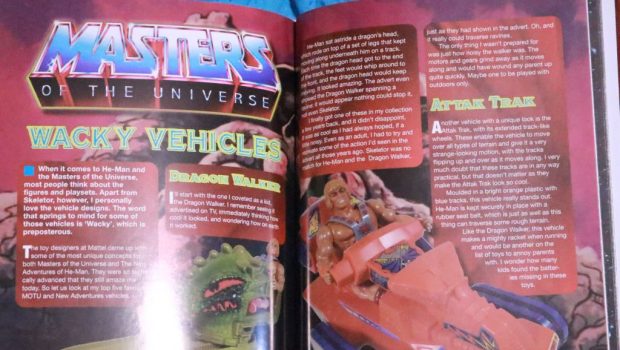 Published on January 3rd, 2023 | by Tim Chuma
Toy Polloi Annual 2023 Review
Summary: A great little annual about toys that itself managed to become a collectible. Well worth having a look at if you can find a copy.
I had backed the Fusion Retro annuals in 2020 and 2021 and enjoyed them so when the new Kickstarter also offered Toy Polloi having his own annual I went with one of the early bird backing pledges to get all 6 annuals.
Toy Polloi had been a regular contributor to the Fusion magazine, Fusion annuals and the Fusion Japan magazine I had enjoyed in previous years and has a popular YouTube channel where he restores toys.
There are already a lot of toy collecting books showing catalogues of toys and what is available on each line but they don't really have the personal angle you get from one person telling stories about their own experiences and different stuff than the usual brands.
The writer is based in the UK, so it is a different perspective again from a lot of the collectors who seem to be based out of the USA. This does tend to come up a lot as the discussion online tends to bias towards prices and what is available in that particular country and all the advice and stories come from the same place which gets tired after a while.
What it reminded me the most of is being in Australia where we always seemed to get things last in the world from everywhere. Even movies released in the northern hemisphere Summer would be held over for six months and in 1984 Ghostbusters, Gremlins, The Terminator, The Muppets Take Manhatthan and the Neverending Story opened within a month of each other.
I enjoyed the story that went along with each of the toy sections and how the author remembered them from back in day which showed you why he thought they were important to him.
The sections about the toy fixing toolbox and things related to Toy Polloi's collecting like upsetting the "serious" Star Wars toy collectors by fixing toys and telling other people how to do it were some of my favourite parts of the annual and will go down well with fans of the channel.
The centrespread photo shoot by "Toy With It" (and dedication as the photographer has since passed) was something I did not expect and these Action Man figures had their own story behind them which made it extra special.
There is a section on "toy grading" which is a controversial subject in collecting and recently covered by RedLetterMedia and the entire annual does lean towards collecting things as you personally like them or they mean something special to you rather than to possibly make money in the future.
Given the popularity of ToyPolloi's YouTube channel and the Fusion Retro annuals, this annual has now unfortunately sold out. You can still get the Fusion Annual and watch his YouTube videos on his channel. Maybe this annual might become a collectible itself one day?
I would recommend reading this if you can get your hands on a copy or someone is willing to let you read theirs. It is different reading something in physical print instead of on screen and it is different to just watching a video.
Book details:
Editor in Chief: Chris Wilkins
Written by: Toy Polloi
Layout: Ben Honebone & Alan Hammerton
Cover Artist: Tim Lattie
M.A.S.K Artwork: Moko-You
Proof Reader: Paul Morrison
Format: Hardcover, A5, Colour, 116 pages
Publisher: Fusion Retro Books
Published: December 2022
Now sold out, but Toy Polloi has written an article for the Fusion Annual 2023
Contents:
Toy Fixing Toolbox
Action Man
Micronauts
The Star Wars Collecting Rule Book
Action Force
Penny Racers
Mail Away Offers
Army Building
Growing Up Star Wars
Wabi-Sabi
The Six Million Dollar Man
Terrahawks
Space: 1999
The Toy Polloi Website
The Action Guys
Toys That Go Bad in the Night
Buck Rogers
Action Man Space Ranger
Does Fixing Toys Affect Their Value?
When Murdock Joined the Ghostbusters
Adventure People
Behind the Scenes
MOTU Wacky Vehicles
Fan Art
Trading Cards
The Black Hole
Grading Vintage Figures
Gallery: