iOS Hardware & Accessories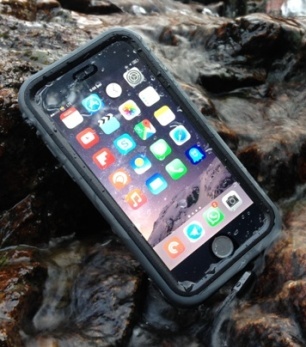 Published on March 3rd, 2015 | by admin
Take your iPhone on an Adventure with Catalyst Waterproof Cases, now Shipping to Australia and New Zealand
SYDNEY, Australia- 3 March, 2015 — The Catalyst lifestyle brand, renowned for maximum functionality and stylish waterproof solutions to safeguard electronic devices, is officially shipping its most protective waterproof iPhone 6 case to Australia and New Zealand. Created by adventure enthusiasts, Catalyst has redefined the protective accessory space by offering highest performance, fully functional, protective cases that fundamentally change how consumers use their iPhones.
Rugged and stylish, Catalyst has created one of the slimmest profile protective cases on the market, offering the best technical specifications whilst maintaining the curved shape of Apple's design. The Catalyst signature clear front and back design showcases and compliments the aesthetic of the iPhone. It also features Catalyst's unique patented rotating crown dial to quickly toggle mute, on and off. At a mere 11.4mm thick, every Catalyst case is tested IP-68 waterproof to a depth of 5m, designed to meet or exceed Military Standard 810G for drops and shocks of up to 6.6 feet and confirmed to be fully dust, dirt and snow proof.
"As a protective solution for everyday accessories, we've engineered cases for every person and profession; an ecosystem of cases and protective products to work with your lifestyle, not against it," says June Lai, Co-Founder of Catalyst Lifestyle.
The integrated touch screen film allows full functionality of the touchscreen including all Control Center and notification swipe functions. The Touch ID membrane also allows full fingerprint biometric scan. The hard coated optical lens transforms the phone into an underwater camera providing access to features such as slow motion video, time-lapse video and high definition footage. Since the camera lens is not recessed it will not trap dirt, snow or water, which might otherwise impede photography. Catalyst cases encourage users to dive deeper and climb higher while capturing every minute of every adventure.
Made with high quality and durable materials, Catalyst cases are easy to assemble, simple to remove and will not lose their protective quality based on the number of times they can be re-assembled. The cases feature the Catalyst signature True Sound Acoustics technology to ensure clear sound transmission without impeding audio quality or impacting durability or waterproofing features. They also feature a premium non-slip rubber exterior and come with a lanyard for extra protection and security. Designed to minimise limitations, the charge port is compatible with most Lightning connector heads and the audio port allows quick access to the 3.5mm stereo headphone mini-jack. For larger plugs or L-shaped jacks, an audio adapter is also available.
"Meticulous design and quality execution were our top priorities when producing this new line of cases for the latest generation of iPhones. We focused on having the cases protect in all conditions, but also allow the iPhone's aesthetics to remain the star", said Josh Wright, Co-Founder of Catalyst Lifestyle, "Also, as a climber and designer, I felt the design of any protective case for these larger devices would not be complete without a lanyard attachment point and included lanyard to secure your phone to prevent it from the inevitable accidental drops."
In addition to the iPhone 6 range, Catalyst plans to ship a model for iPhone 6 Plus, currently planned for Australia and New Zealand this March. The stylish and ultra-slim iPhone 6 Plus case will be available in striking Black and Space Grey and vibrant White and Mist Grey.
Pricing and Availability
Australian and New Zealand Distributor: MacGear
Website: www.catalystlifestyle.com
Australian Retailers: MYER, www.macintoshaddict.com.au, www.beezer.com.au
New Zealand Retailers: Noel Leeming www.noelleeming.co.nz, Mighty Ape www.mightyape.co.nz
| | | | |
| --- | --- | --- | --- |
| Model    | Colour Option  | RRP  | Availability |
| Catalyst Waterproof Case for iPhone 6 | Black and Space Grey | $93.50 AU  $94.99 NZ | AU/March NZ/March |
| Catalyst Waterproof Case for iPhone 6 | Rescue Ranger | $93.50 AU $94.99 NZ | AU/March NZ/March |
| Catalyst Waterproof Case for iPhone 6 | Marsala | $94.99 NZ | NZ/March |
| Catalyst Waterproof Case for iPhone 6 | White and Mist Grey | $93.50 AU $94.99 NZ | AU/March NZ/March |
| Catalyst Waterproof Case for iPhone 6 | Green Pop | $93.50 AU $94.99 NZ | AU/March NZ/March |
| Catalyst Waterproof Case for iPhone 6 Plus | Black and Space Grey | $97.50 AU $99.99 NZ | AU/March NZ/March |
| Catalyst Waterproof Case for iPhone 6 Plus | White and Mist Grey | $97.50 AU $99.99 NZ | AU/March NZ/March |