Comedy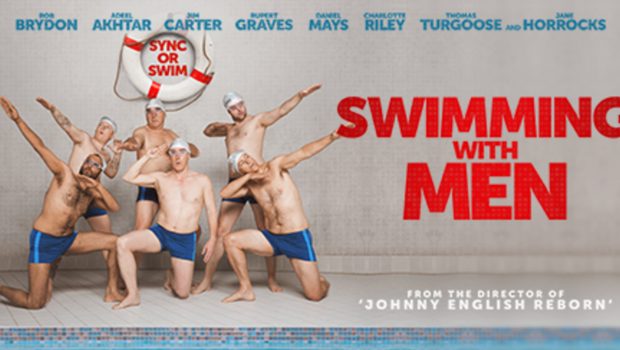 Published on August 23rd, 2019 | by Belinda Morris
Swimming with Men DVD Review
Summary: Cool Runnings meets The Full Monty.
The Brits certainly know how to make a great movie about men having a mid-life crisis that features an all-star cast!!
Interestingly, this movie was inspired by the true story of the men's Swedish synchronised swimming team which was featured in the 2010 documentary Men Who Swim.  The wonderfully uplifting part is that all the men in that team, make an appearance in this film as the Swedish synchronised swimming team (although this isn't explained until the credits of the film).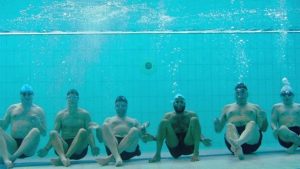 The plot of this movie is following the life of Eric (Rob Brydon, Would I Lie to You) who is married to Heather (Jane Horrocks, Absolutely Fabulous) and starts to believe that she is having an affair and is deeply unhappy with his career as an accountant.  He has always resorted to swimming as exercise and an escape from the world and happens to train when there is a local group of men who are practicing synchronised swimming.  Eric overhears that there is an issue with the team's formation and due to his aptitude with numbers, he makes the suggestion that the team needs to lose a member to have even numbers.  Eventually, the team convince him to join (ie ADD a team member to make it an even 8 members) and the rulebook of the team is explained to Eric.  The first rule of Swim Club is Don't Talk About Swim Club – sound familiar?  The endgame is for the team to represent Great Britain in the Unofficial Male Synch-Swimming World Championships.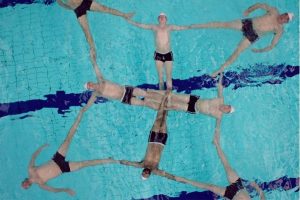 The team are not encouraged to discuss their personal issues in the team as these training sessions are the opportunities for the men to escape their lives even if just for a while (this also another one of the rules in Swim Club), but as you would expect, aspects of their lives start to filter through and you really get a feel for the personalities of each member of the team – even Silent Bob – yep you guessed it, named after the famous American comedy duo Jay and Silent Bob.  The cast is huge with Jim Carter (Downton Abbey), Rupert Graves (Sherlock, the UK TV series), and Daniel Mays (Byzantium) just to name a few.
I do note that considering most of the main cast are comedians or comedic actors, this movie was not as humorous as I had expected although this is not necessarily a bad aspect – it allows you to delve into the characters more and relate to them on various levels.  That being said, there were still some genuine chuckle and laugh-out-loud moments.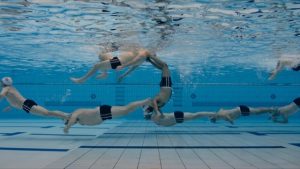 Due to so much of the movie being set underwater with synchronised swimming, there was some fantastic use of GoPro-type cameras to give some wonderful submerged action scenes and endless screenshots of men with nose clips, goggles and swimming caps.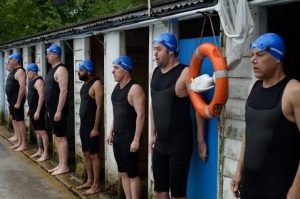 Music-wise, the song choices were quite apt including the Tom Jones' cover of "It's a Man's, Man's, Man's World", and Elbow's song "Grounds for Divorce" as well as their huge hit "One Day Like This" which is renowned for closing off the 2012 London Olympics.  Without my input, I'm absolutely positive that you can work out where some of these songs were heard during the movie!!
Overall, although this movie didn't quite live up to my expectations of a humorous feel-good movie reminiscent of The Full Monty, I still genuinely enjoyed watching it and felt so uplifted that it was based on a true event and that the Swedish team actually made it onto screen in all their glory.  I think this movie is a must for anyone who feels like their life has gotten into a bit of a rut and needs a pick-me-up.
DVD Details
Actors – Rob Brydon, Jim Carter, Rupert Graves, Daniel Mays, Jane Horrocks
Film Genre – Comedy
Label – Icon Home Entertainment
Audio – English, Dolby Digital 5.1
Running Time – 97
Aspect ratio – 2.4:1
Region Coding – 4
Rating – M
Consumer Advice – Coarse Language