3DS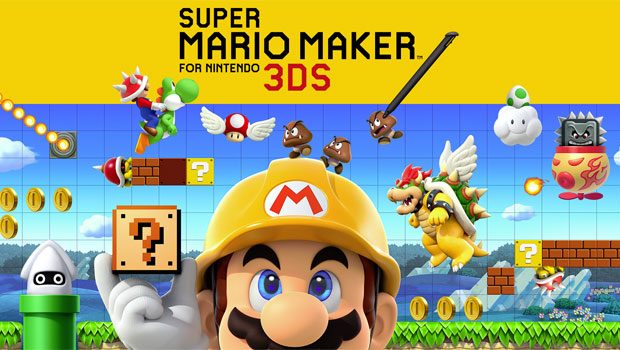 Published on December 9th, 2016 | by James Wright
Super Mario Maker 3DS Review
Summary: Super Mario Maker 3DS is a great portable installment of this game, however is lacking the 'share' capabilities of the Wii U.
3.6
Create, Play but no share!
As Nintendo Wii U users have been experiencing the thoroughly entertaining and quite clever Super Mario Maker, it's now time for 3DS owners to get in on the action. So if you've been kidnapped by the dragon Bowser and living in a dungeon, Super Mario Maker basically allows gamers to not only play but also create their own Super Mario inspired levels with an insane amount of options to customise and basically let your inner Nintendo muse run rampant by making some classic 2D arcade worlds. On the Wii U, both the official and player created levels really pushed this engine, however there are some limitations with this current incarnation on the 3DS console.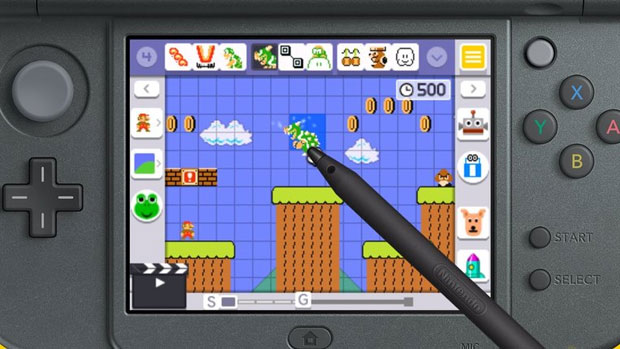 Key Features
• Enjoy a nearly limitless supply of side-scrolling 2D Mario™ courses anytime, anywhere.
• Take on 100 built-in courses as you tackle the Super Mario Challenge.
• Create the Super Mario™ courses of your dreams!
• Play recommended courses from the Super Mario Maker™ game on the Wii U™ console and take on that game's 100 Mario Challenge.*
• Share courses with other players via the StreetPass™ feature and local wireless.**
• For the first time ever, collaborate to make special shared courses.
*Not all levels created in Super Mario Maker for the Wii U console are compatible with this release. Wireless Internet access required in order to access the Wii U version's courses. For more info, go to support.nintendo.com. **This game does not include an online-upload feature. Game in 2D.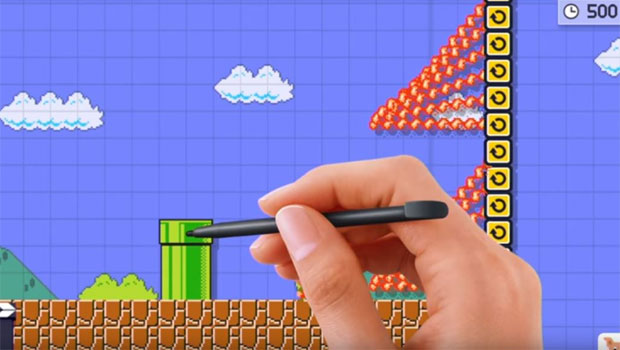 Even though this is a gaming creation tool and as mentioned, it is still a fully functional game which offers upon hours upon hours of replay value. However for those gamers who want to create, the game really fills this void quite well and the tutorial with the Nintendo inspired characters as guides to give you a helping hand really helps in mastering the mechanics. I was also quite impressive at how easy and quick you could make levels, although for those more complex ones, you do need to have time to think and it's almost quite a meditative experience.
However the main issue with the 3DS version is reduced functionality of accessing player created content which is considerably "clunkier" and more challenging because levels can only be shared via StreetPass or locally. Needless to say, it is still possible, however the finesse from the Wii U is basically removed and for internet levels, you only have access to those Nintendo allows. Given that, these levels are from the Wii U version as well.
When it comes to game creation, I found that the control system and mechanics were just as intuitive on the 3DS compared to the Wii U, especially with the Stylus. Given that it's on a mobile platform, you don't know have the wide scope of in-game items as the aforementioned console but for what it's worth, it's still quite impressive. Gameplay is equally as good with classic arcade controls as the game really channels that over the top platforming familiarity.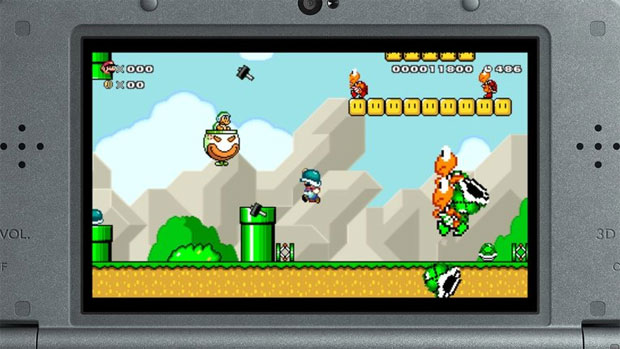 For offline play, Super Mario Challenge is that mode which offers players 100 different levels to play which highlight the mechanics behind this title. Sure, some of the levels are a little bit of a hit and miss but for the majority, they are quite fun to play as you encounter a wide assortment of cameos and Mario villains like Boswer and co. There's also challenges and mission tasks that need to be completed which make it more than just an 8-bit inspired retro game.
Graphics/Audio
Graphically, Super Mario Maker on 3DS is a great looking title on this portable console with lots of attention to detail which successfully merges the 8-bit market of yesteryear and brings it firmly into the 21st century. It's colourful with great items both in-game and available to players when creating their own levels that when matched with the Nintendo regalia definitely screams Super Mario in terms of its appearance. Asudio is equally as good, particularly the sound effects and thoroughly enjoyable musical score.
Final Thoughts?
Super Mario Maker 3DS is a fun game on this console that offers some really fun gameplay and more importantly, the ability to create your own 2D arcade worlds with an intuitive creation system. However the downside of this title is the lack of sharing your creations with other players from the around the world and if this was included in Super Mario Maker 3DS, it would have been a fantastic game on this console. It's still a fun game but is missing that final piece of the gaming puzzle!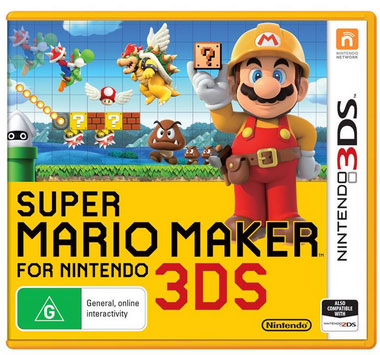 Game Details
Primary Format – Games – Nintendo 3DS
Game Genre – Platform
Rating – G
Consumer Advice – General, online interactivity
Game Developer – Nintendo
Game Publisher – Nintendo