Comics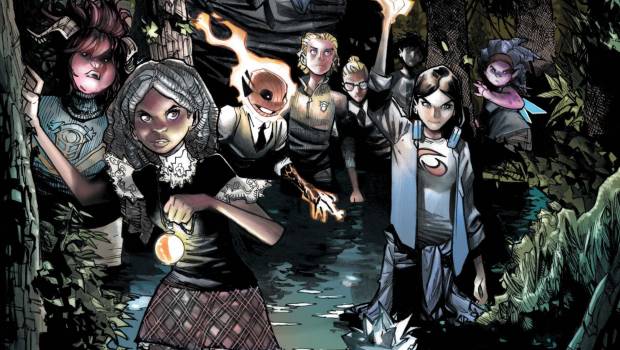 Published on November 12th, 2020 | by Tim Chuma
Strange Academy #5 (2020) Review
Summary: Fairly easy to pick up even if you have not been following the story but not an essential purchase.
After a game of "portal tag" through different dimensions goes wrong one of the students is trapped in the swamp with some weirdoes with trees for faces. "You know my friends will come looking for me" but that is exactly what they want.
Back at the school no one has heard from the boy who is missing and their teachers either do not care or are have other concerns particularly about a prophecy. Dr Strange is chastised about not caring about prophecies unless he is personally involved, but he is not concerned unless if it several prophecies at once.  The students decide to go off be themselves to look for their friend and the inevitable happens.
While I read the second one of these I have not really kept up with this story. I do not feel like I have missed much as you can fairly easily pick it up from this point and then go back to previous installments if you want to find out more about the characters.
I did like finding out more about German and how he found he had magical powers at age 5 and it was regarded as part of Mexican culture and accepted that he had this gift.
Great character designs and story in this one and it seems some of the characters are trying to fight each other all the time even if it is banned on campus especially using magic against each other.
Well worth picking this one up if you have an interest in this series and want an alternative to a certain boy wizard's adventures.
Comic details:
Writer: Skottie Young
Penciler: Humberto Ramos
Cover Artist: Humberto Ramos, J. Scott Campbell
Published: November 11, 2020