Comics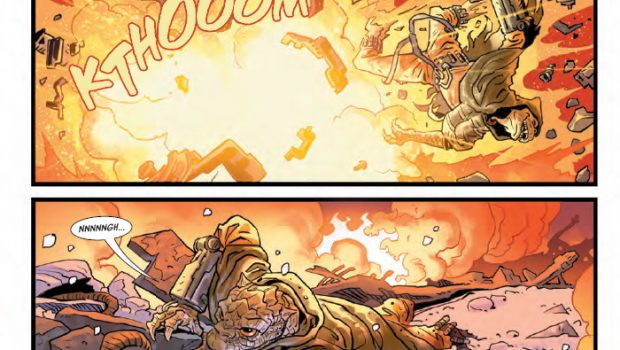 Published on July 18th, 2021 | by Tim Chuma
Star Wars: War of the Bounty Hunters #2 (2021) Review
Summary: The big show starts for this series. There are the crossover stories but you don't really need to read them all as they are more for background details.
4
Boba Fett on the warpath
Bob Fett arrives at the auction of Han Solo by Crimson Dawn, but not before having to deal with Bossk and sending a message to the other bounty hunters trying to track him down. Jabba the Hutt knows Boba is coming for him and wants to enjoy the explosions of the other bounty hunters trying to fight him.
There is a cross over mentioned here relating to Dr Aphra, but it is not compulsory to be reading that story to get this one but it does help you understand more of the back story. This will come up a lot more as more of the main characters from each of their stories get involved.
Not so sure about some of the one-shots. What is Jabba the Hutt going to do in his story apart from eat things and leave a snail trail? Salacious Crumb would by a fun story he could run around annoying people and eating picking out eyeballs. The IG-88 story would be pretty fun if it is anything like the fight one of the units has with Darth Vader in a previous story.
Lando, Chewy and the gang turn up at the party as the same time as Boba Fett but are overshadowed by Darth Vader making his own entrance. Something big is about to go down
This is the big event series in Star Wars right now, it makes sense why everyone seemed so out of it at the start of Jedi if they had been running around doing this for several years.
I would recommend this one even if you are just a casual Star Wars fan as it has a lot that makes it stand out and even some mentions of minor characters like Bossk that you usually don't see.
Comic details:
Writer: Charles Soule
Penciler: Luke Ross
Cover Artist: Steve Mcniven
Publisher: Marvel
Published: July 14, 2021