Comics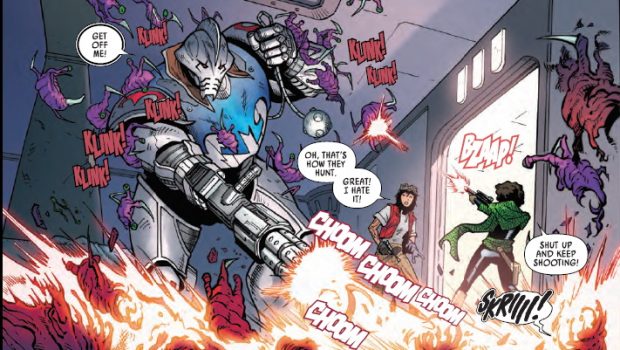 Published on July 6th, 2021 | by Tim Chuma
Star Wars: Doctor Aphra #11 (2021) Review
Summary: Good to see an old fan favourite character return even if it is only for the one story for now. They will be back I'm sure.
Dr Aphra has been sent by Domina Tagge to find her cousin, but when they arrive at his ship they find everyone dead and also bounty hunter Durge arrives there at the same time. There are some horrible beasties they have to deal with and also Durge and get to the Crimson Dawn auction.
This was another great adventure story and you don't really need to know what happens before or after to enjoy the action of this issue.
Would be a good one to read if you have not come across Dr Aphra before and wanted to try out an issue before going into the story proper.
Not sure what Dr Aphra is going to do in the War of the Bounty Hunters story as she is not really big for straight up fighting. Hopefully she does get to give Chewy a hug at one point.
Dirge was featured in previous Star Wars stories in the old pre-Disney continuity but this seems to be a new iteration. The 2003 Clone Wars series should still be canon as it is some of the best Star Wars until the Mandolorian.
I would recommend this one if you want to see more of Durge as he has not been around for a while and is sure to make a comeback sooner or later.
Comic details:
Writer: Alyssa Wong
Penciler: Minkyu Jung
Cover Artist: Meghan Hetrick, Sara Pichelli
Publisher: Marvel
Published: June 30, 2021