Comics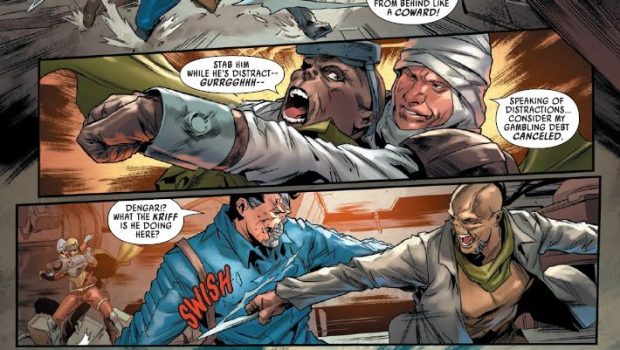 Published on March 22nd, 2021 | by Tim Chuma
Star Wars: Bounty Hunters #10 (2020) Review
Summary: I was excited for this at the start but got less so as this series has progressed. The Mandolorian has spoiled it for everyone.
This series started off strong and was a good concept, but I got less and less interested in it as it went along seeing as the Mandalorian now has two seasons under its belt and the Book of Boba Fett is coming along I want to see more of their stories instead.
When I last read this series Valance had just shown up to rescue a Rebel transport and was immediately attacked by pirates. Some stuff happened in the previous issue but much like the last Star Wars comic I read I managed to miss a major space battle and came in after.
There is a lot of sneaking around by Valance in this issue as he is outnumbered and the fighting seems to be over too soon. Supposedly this was billed as some kind of big showdown but as always it says continued next issue.
Does not really seem to be any surprises in terms of characters in this one apart from the rebel ship being called "the Spirit of Jedah" which was famously destroyed in the Rogue One movie but supposedly not that well known apart from rumours as the Empire spread the "mining accident" cover story.
If you are already on board with this story and character I would recommend it, otherwise maybe skip this one and wait for more stuff about Baby Yoda to come out as that is surely what they are going to be doing next given the success of the TV show.
Comic details:
Writer: Ethan Sacks
Penciler: Paolo Villanelli
Cover Artist: Mattia De Iulis
Publisher: Marvel
Published: March 17, 2021