Comics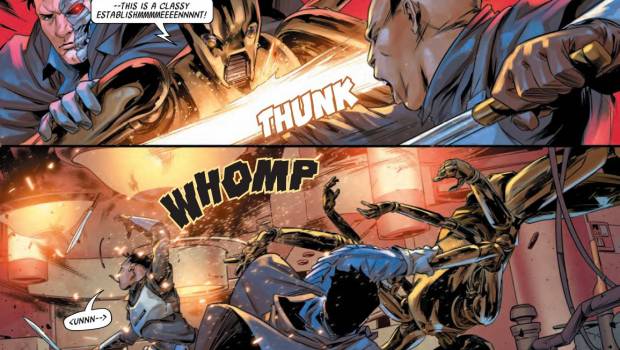 Published on December 24th, 2020 | by Tim Chuma
Star Wars: Bounty Hunters #8 (2020) Review
Summary: The story of Valance picks up pace in this one, worth a look if you have been following the series so far.
3
A wild Tasu Leech appears!
After leaving the girl he was meant to be protecting with the Rebels he revealed the location of, Valance finds himself with a bounty on his head so large he can't even hide in the most scummy parts of the galaxy.
Going to meet a former associate in a very public place, he almost gets taken out by a young Tasu Leech and takes some credits to make up for his time. Knowing he does not have long before other bounty hunters catch up with him, Valance makes an exit. He owes a favour to the rebels and agrees to rescue a ship that got left behind, will he get out of it this time?
After slowing down for a bit this storyline picks up again as Valance is by himself and doesn't have anyone to look out for. I did enjoy seeing a young Tasu Leech as he famously turns up in the Force Awakens but this seems to be when he was very young. The time this story is set within the films is indeterminate.
Another thing that comes up is another reference to Han Solo when he was still a pilot for the Empire. I thought it was a bit forced and I preferred the way Han Solo met Chewbacca in the one-shot comic about the big furry guy but not having Chewy killed so I am glad that issue is no longer canon.
While this is not really an essential purchase unless you are already following this series, it does have enough in it to be worthwhile.
Comic details:
Writer: Ethan Sacks
Penciler: Paolo Villanelli
Cover Artist: Paolo Villanelli
Published: December 23, 2020