iOS Hardware & Accessories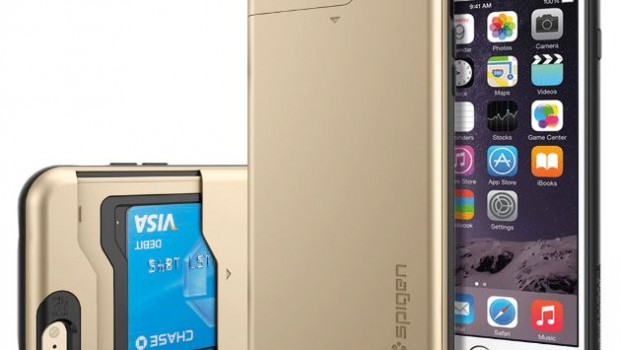 Published on April 22nd, 2015 | by admin
Spigen Slim Armor CS iPhone 6 Plus Case Champagne Gold Review
Slim Armor CS iPhone 6 Plus Case
Company: Spigen
Product: Case
Distributor: MobileZap
URL: http://www.mobilezap.com.au/48813-spigen-slim-armor-cs-iphone-6-plus-case-champagne-gold.htm
Price: $32.49
You've got your iPhone 6 Plus and you've got your screen protector. The next piece of the protection puzzle is a case and Spigen have a great little model available for users who also want to look quite stylish. Welcome to the Slim Armor CS iPhone 6 Plus Case from Spigen that comes in a variety in a colours with our review unit being the Champagne Gold model.
The appearance of the case also looks quite sophisticated and the gold model looks like something from the catwalk. Overall it's a well designed product that is not only eye catching but offers some much needed protection to your iPhone 6 Plus.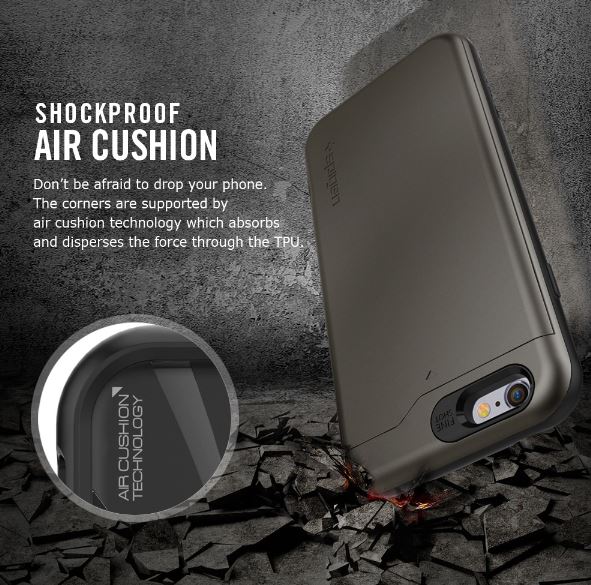 With that said, this is a very slim fitting case that really hugs your iPhone 6 Plus and should the unthinkable happen like a drop, you can rest assured that this product will take all the shock. In terms of installation, your iPhone just slides into the case and it boasts air cushion technology that basically creates a protective barrier around your smartphone should the unthinkable happen. It's also made from matte TPU and matte polycarbonate which offers dual layer protection
Another feature is that the front of the case has raised edges (or a lip) which means if you lay it down on the front, it won't scratch the screen. Also, like most cases, once your phone is installed into this case you have full access to all your ports on your iPhone Plus 6 but another great thing about this product is the back of it which has a special little place.
On the back of the case, it has a sliding card compartment which means you can store two cards on the back of the case which is ideal for a credit card and perhaps a license. It means you have less things to carry and we all know, we generally always ensure that we have our smartphones with us which is all we need now. So basically by sliding down the compartment door on the back, you can easily slide your cards inside the Slim Armor CS.
The only drawback on the case is that it is a little slippery to hold and that the compartment door seems a little thin. Although having religiously tested this for the last couple of weeks, you probably just need to be a little careful but nonetheless, it's a well designed product that not only protects your iPhone 6 Plus but looks quite snazzy.
Check it out!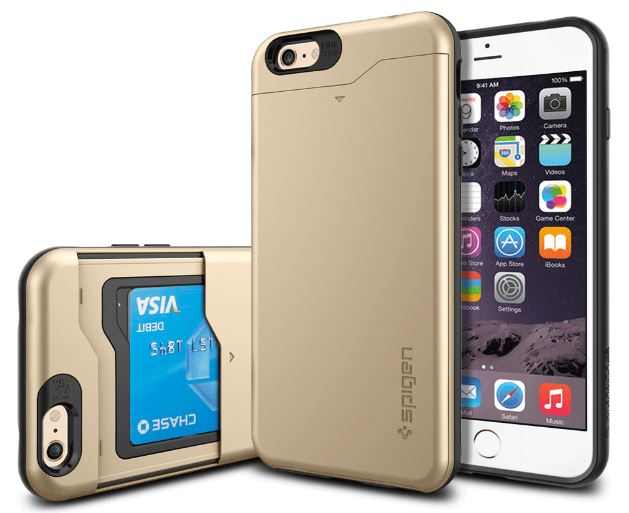 Features
Vertical Sliding Compartment for Card Storage
Spigen iPhone 6 Plus Case Slim Armor CS (Card Slot) Case features a back compartment that can hold up to 2 credit cards or IDs. This is a secure and ingenious way of storing your most vital cards and also means you can leave your wallet at home if you want to.
Advanced Shock Absorption Technology
The Spigen Slim Armor CS case features state of the art shock absorption and Air Cushion Technology to effectively protect the device from drops.
1.5mm lip protects the screen
To help protect your screen, the Spigen Slim Armor Case features a raised lip – reducing the likelihood of scratches and other damage when you place your phone face down on a flat surface.
Slim, yet protective
The Spigen Slim Armor Case for iPhone 6 Plus is incredibly slim when you consider its protective qualities. Your iPhone 6 will be right at home within the case, protected and ready for action.
Easily access all ports, controls & connectors
The case also features cut-outs for the ports and features of the iPhone 6 Plus, including the dock connector and camera.
For more information, please visit http://www.mobilezap.com.au/48813-spigen-slim-armor-cs-iphone-6-plus-case-champagne-gold.htm or for other iPhone 6 Plus accessories, visit – http://www.mobilezap.com.au/42881/apple/iphone-6-air.htm