iOS Hardware & Accessories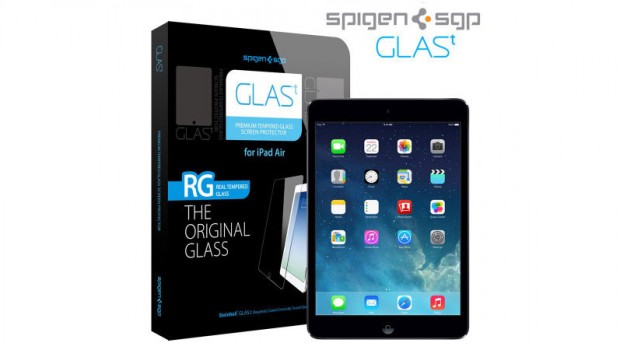 Published on March 19th, 2014 | by admin
Spigen GLAS.t Tempered Glass Screen Protector for iPad Air Review
Summary: The best ever iPad Air screen protector on the market
Spigen GLAS.t Tempered Glass Screen Protector for iPad Air
Product: Screen Protector
Distributor: www.mobilezap.com.au
Price: $78.49AUD (March 2014)
Reviewer: Peter B
You've just purchased the latest and greatest tablet, the iPad Air but realised that this awesome smart device has a huge chink in its armour and that chink is the screen. Just Google "smashed iPad screens" and click on images to see what kind of disaster awaits if you don't get the appropriate protection for your smart device.
Although traditional screen protectors keep the screen clean from grime and minor scratches, sometimes you need a little bit more protection and this is where the Spigen GLAS.t Tempered Glass Screen Protector comes into play. The GLAS.t is actually made from premium glass with an oleophobic coating and anti-shatter film which gives your screen an additional layer of proven protection thanks to the technology employed.
Features
High-tension tempered glass construction for enhanced shock protection
Oleophobic coating helps resist fingerprints
0.23 mm thickness adds minimal bulk to your tablet
Easy installation with no risk of bubbles
Anti-shatter Film coating
Designed for Apple iPad Air
The price tag for the GLAS.t may seem a bit scary but you've probably paid a lot of money for your iPad Air so you want the best protection on the market and this is it. I've been testing products since the original iPad and I've found the GLAS.t one of the best products available.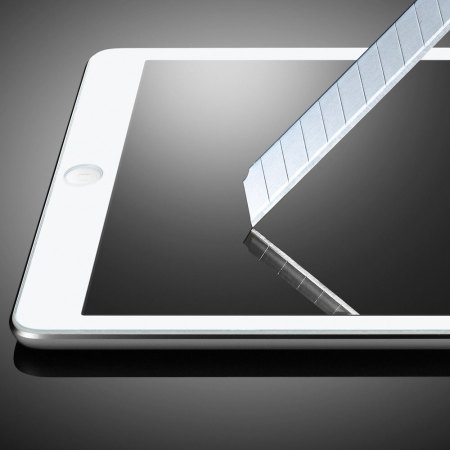 Applying the real glass GLAS.t was a breeze, although I suggest watching the YouTube video for easy installation. I also found that by following the instructions I didn't have any of those pesky bubbles under the screen protector that seem to be the bane of my iPad existence. Once installed, the product no way hampers the features of the iPad Air that include the camera, sensor, speaker or the home button.
The screen is still super sensitive to touch still and the colours seem so much more vibrant. Ironically the screen protector only adds 0.23mm of additional thickness to your tablet which is truly a moot point. There also seems to be less fingerprint marks as well which is due to the oleophobic coating.
Final Thoughts?
Besides an easy installation, no loss of sensitivity and an apparent improvement in picture equality, the best thing about the Spigen GLAS.t Tempered Glass Screen Protector for iPad Air is knowing that my tablet is totally protected from scratches, shocks or cracks thanks to this additional layer of high-tension tempered glass.
Highly Recommended!
For more information please visit
http://www.mobilezap.com.au/34495/electronics/ipad-air/screen-protectors.htm