iOS Hardware & Accessories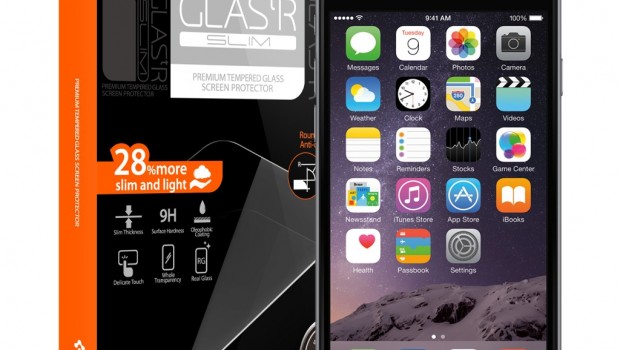 Published on April 24th, 2015 | by admin
Spigen GLAS.tR SLIM iPhone 6 Plus Tempered Glass Screen Protector Review
Spigen GLAS.tR SLIM iPhone 6 Plus Tempered Glass Screen Protector
Product: Screen Protector
Material: Tempered Glass
Company: Spigen
URL: http://www.mobilezap.com.au/48867-spigen-glas-tr-slim-iphone-6-plus-tempered-glass-screen-protector.htm
Distributor: MobileZap
Price: $32.49AUD (April 2015)
In my opinion, Spigen make some of the best protective accessories for smartphones and with the new iPhone 6 Plus, you really need something to protect your investment because as we all know, these are one of the best phones around.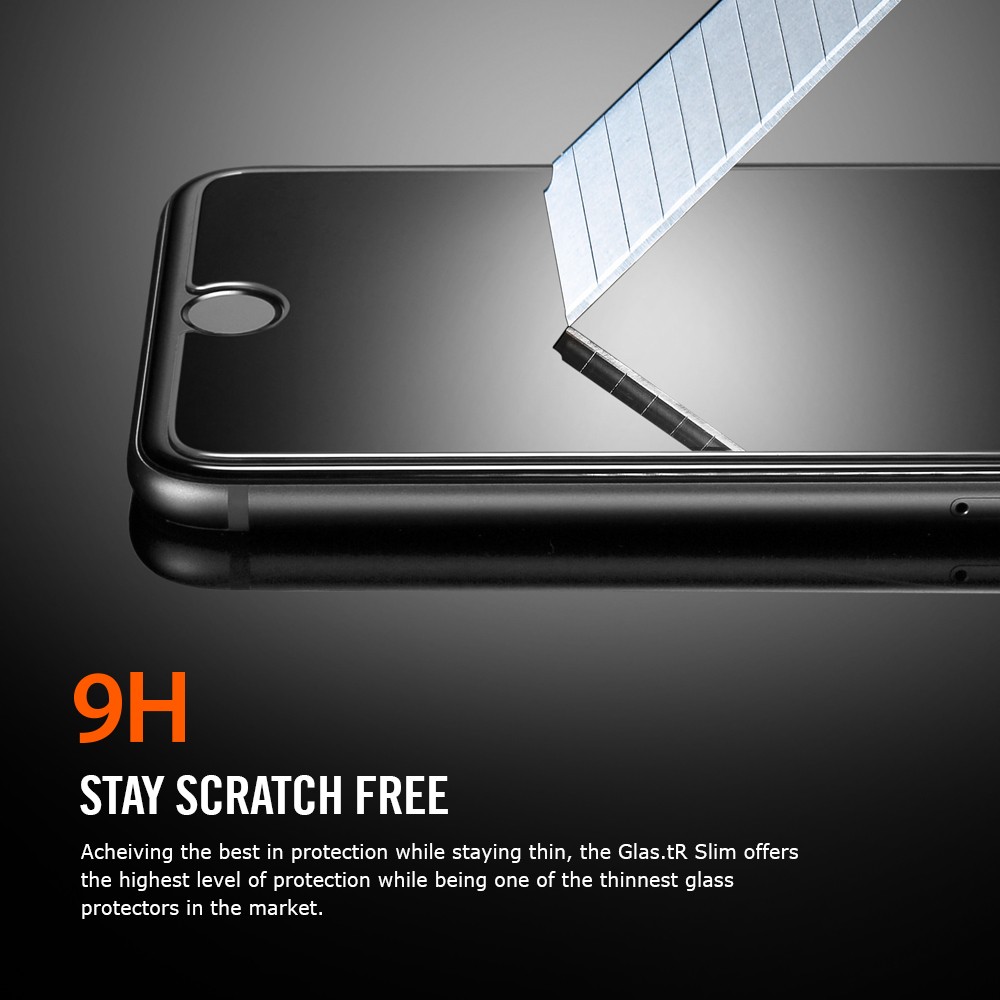 Opposed to cheap plastic screen protectors (PET film), tempered glass offers the user an additional layer of true protection and if you just check some of the YouTube for videos of tempered glass and smartphones, you'll see just how strong these screens are.
This product is also shatterproof that gives it another form of protection for the iPhone 6 Plus screen should the unthinkable happen. It also still amazes me how many people don't have screen protectors installed on their iPhones too, just have a look around next time.
In terms of protection rating, the Spigen GLAS.tR SLIM iPhone 6 Plus Tempered Glass Screen Protector has surface hardness of 8~9H which is three times stronger than regular PET film which boasts an oleophobic coating that helps reduce fingerprints and grime plus it's easy to clean. The product is also 0.4mm in thickness with some of the competitors only 0.3mm.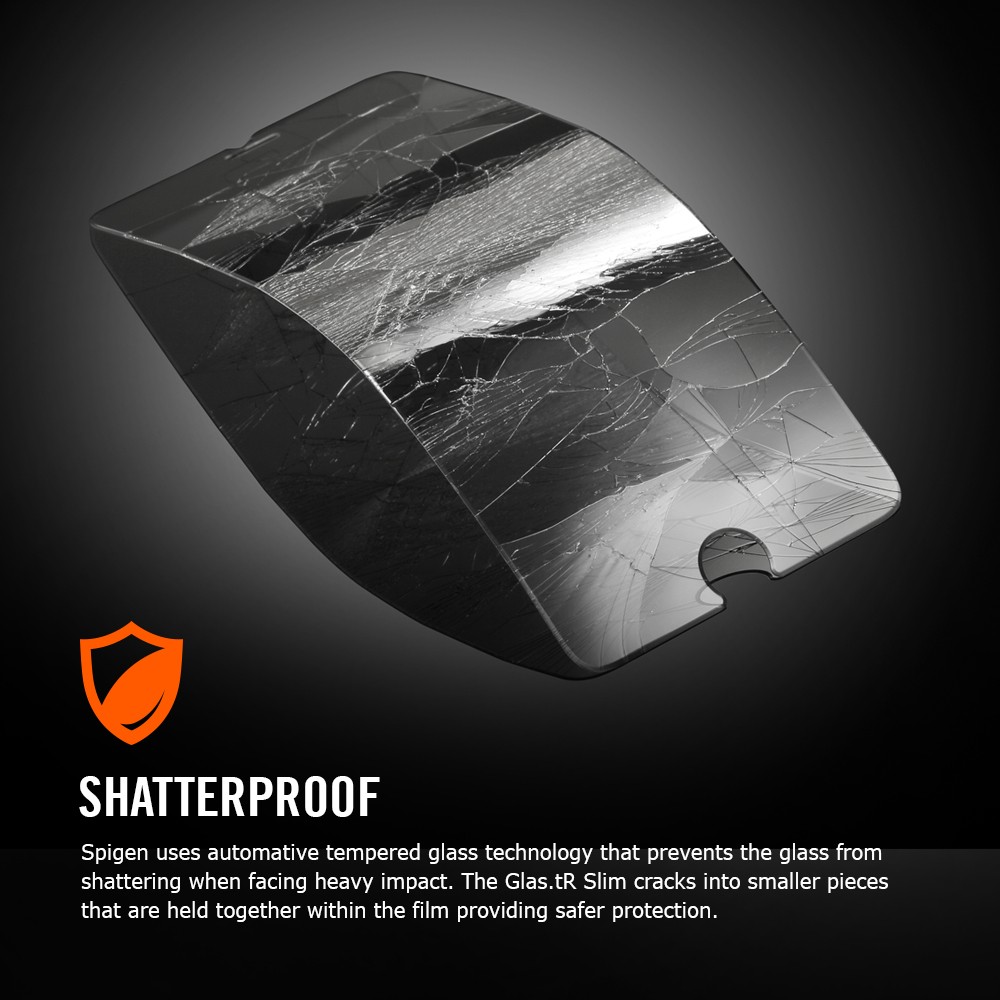 Even though the thickness of the screen protector is 0.4mm, you still have full access to your screen with no loss of sensitivity while you use the touch screen. In terms of installation, the product comes with a Squeegee and a Wet Cleaner to get your iPhone 6 Plus screen cleaned. Once cleaned, you simply lay on the GLAS.tR SLIM Premium Tempered Glass and you're ready to go. It's also the perfect fit on your iPhone 6 Plus!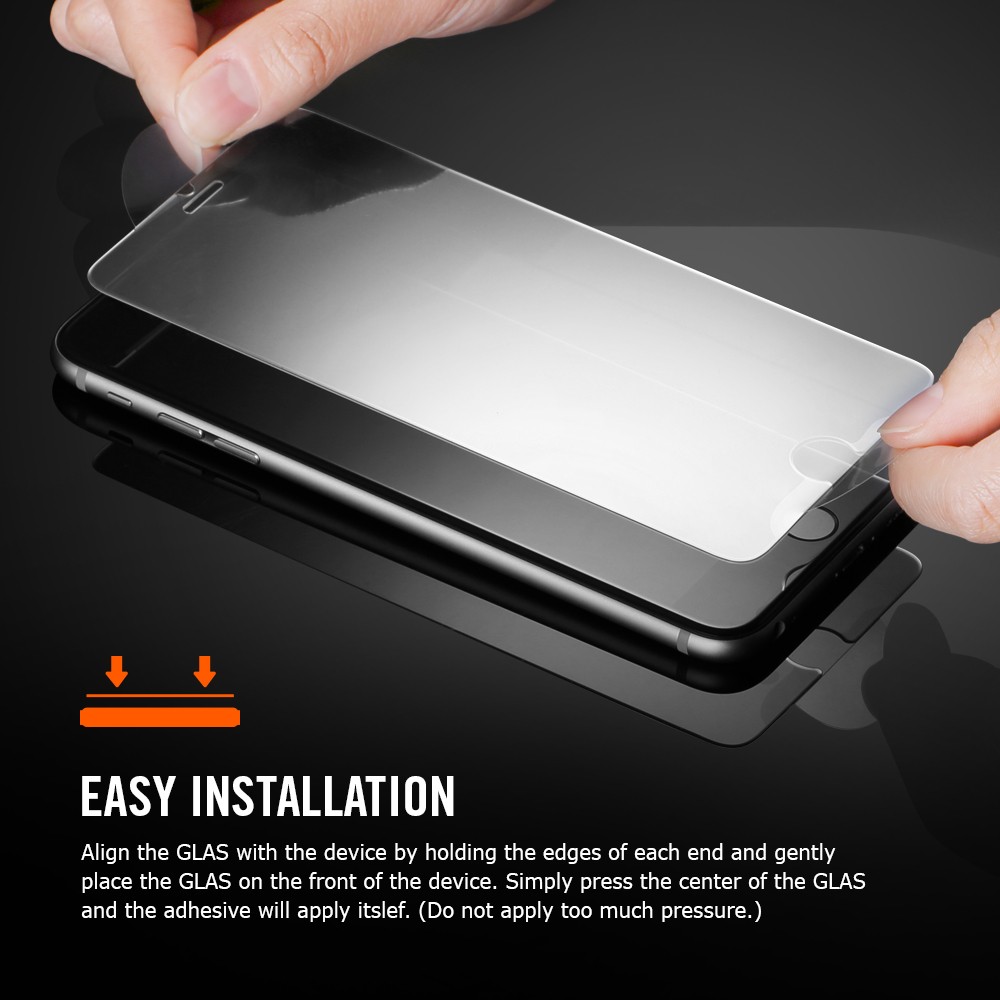 Another highlight of tempered glass is that they don't leave bubbles like PET film when laid and as mentioned, installation is very easy. You just need to make sure you clean the screen well before laying the protector. After using this product for several weeks now, I cannot fault it and not only does it offer great protection for my iPhone 6 Plus screen but there is no loss of sensitivity either.
The GLAS.tR SLIM iPhone 6 Plus Tempered Glass Screen Protector is another excellent product from Spigen that we can happily recommended!
Features
High-tension tempered glass construction for enhanced shock protection
The Spigen GLAS.tR SLIM Series screen protector is made from a chemically reinforced glass, combined with an anti-shatter film that maintains perfect image clarity while protecting your iPhone 6 Plus's screen from scratches and external shocks.
Rounded edges and tapered home button cut-out
The GLAS.tR SLIM is a unique glass screen protector in that it is specially designed with rounded edges to be more chip-resistant and deflects shock from bumps and drops in order to reduce the likelihood of screen damage.
Oleophobic coating helps resist fingerprints
This screen protector features an oleophobic coating that resists oil contamination and fingerprints, making it easier to clean without the build up of grease that can lead to a rainbow sheen effect.
0.4 mm thickness adds minimal bulk to your phone
Engineered to provide superior screen protection, the Spigen GLAS.tR SLIM Series is only 0.4 mm thick – so you can be sure it is safe from harm while looking as good as new without added bulk.
Easy installation with no risk of bubbles
As this is a premium glass screen protector and not a film, it does not bubble at all on application. In addition, the Fluorine coating allows for easy removal should the GLAS.tR SLIM be damaged or if you just want to swap it out for another colour.
Also included is an epoxy coated button cover in the same colour as your GLAS.tR SLIM Series screen protector.
Made for the Apple iPhone 6 Plus
Designed specifically for the Apple iPhone 6 Plus, the Spigen GLAS.tR SLIM Series screen protector offers a perfect fit for your device. Featuring cut-outs for the camera, sensors, speaker and button with transparent sections for the capacitive buttons – so you can still see when they are lit.
For more information, please visit http://www.mobilezap.com.au/48867-spigen-glas-tr-slim-iphone-6-plus-tempered-glass-screen-protector.htm and check out http://www.mobilezap.com.au/42881/apple/iphone-6-air.htm for more accessories for your iPhone Plus