iOS Hardware & Accessories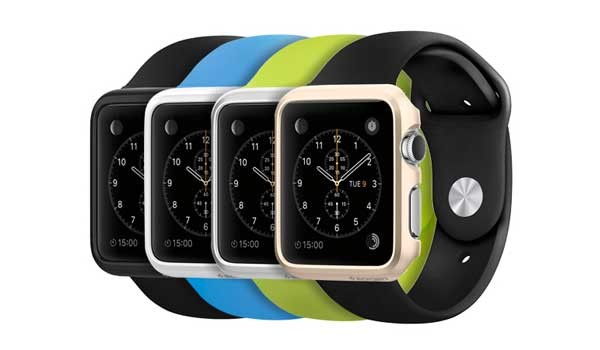 Published on July 8th, 2015 | by Admin
Spigen Apple Watch Case Thin Fit (42mm) Review
Summary: The Spigen Apple Watch Case Thin Fit is good on paper but doesn't work too well in the real-world
On paper, the Spigen Apple Watch Case Thin Fit (42mm) is a great way (in theory) of protecting your awesome Apple Watch and adding some gold coloured bling to it. But users should be warned that the cover easily comes off the watch and to make matters worse, it's when you least expect it. As a result, if this happens, you can unfortunately say goodbye to the Spigen Apple Watch Case Thin Fit because it could be anywhere.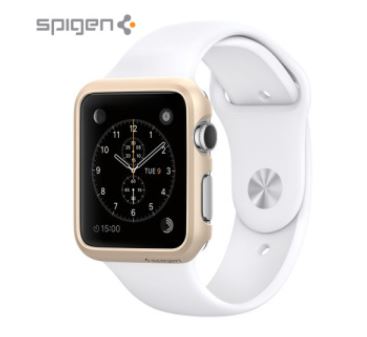 The thin case design from Spigen is also designed with a hard case made from premium polycarbonate which does protect the casing of your Apple Watch and also gives you access to all buttons and features of the item. It's also available in many different colours including silver and in the two different Apple Watch sizes that also include 38mm. Installation only takes a couple of seconds to put on and when installed it definitely gives you some good protection for anyone with an Apple sports watch. It also looks quite decent.
Unfortunately although its thin and lightweight design has been used to fit snuggly onto your Apple Watch, I've lost one already during everyday wear. I did try a second one but once again, the face did fall off but I was lucky to find out where it landed. So you definitely need to be careful while using this product and as of that, I really cannot recommend it.
Features
Minimal, protective design
The Thin Fit case for the Apple Watch (42mm) has been specifically designed and crafted to offer amazing protection despite being incredibly slim and beautiful in appearance.
Protective polycarbonate material
The Spigen Thin Fit is a hard case made of a polycarbonate material. The durable, lightweight and non-toxic qualities of polycarbonate make the Thin Fit a reliable solution for protecting the Apple Watch from external impacts.
Coated with a soft feel non-slip matte surface to improve grip
The Spigen Thin Fit case is coated with a non-slip soft feel surface that enhances your grip on your device. There is also a Urethane coating that prevents discolouration of the case.
Keeps your watch slim and light
Thanks to the Thin Fit's design, your device won't have added bulk all the way around, helping to keep your Apple Watch as slim and light as it was designed to be.
Access to ports and features
The case optimises functionality to all of the Apple Watch's ports and features.
Please visit Mobile Zap for more information