3DS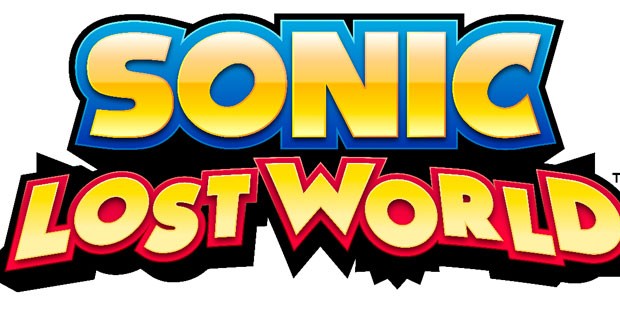 Published on October 30th, 2013 | by Admin
Sonic Lost World 3DS Review
Title: Sonic Lost Worlds
Platform: Nintendo 3DS
Distributor: SEGA
Reviewer: James Wright
Rating: G
Sonic the Hedgehog returns to the world of gaming with his latest instalment on the Nintendo 3DS called Sonic Lost World. This game is a 3D platformer which requires our blue hero to perform a variety of speedy and colourful moves with a touch of Parkour thrown into the mix, not to mention cool wall climbs. It also boasts new controls, powers and 4-player support via local and online play with exclusive 3DS content.
Key Features
• Sonic moves like never before. Vault over obstacles, free run up and along walls, and sky dive between islands at lightning speed. Plus the Spin Dash is back!
• Execute new and improved Color Powers. Sonic can now fly through the air, tear up levels and explode into enemies. He's more powerful than ever!
• Speed through a variety of exhilarating levels. Explore massive mind-bending courses, vast underground tunnels and colossal structures in the sky as you run inside, outside and upside down.
• Save the world one fight at a time. Take on each of the devious Deadly Six in dynamic boss battles which test all of Sonic's moves and power-ups.
• Race friends in high speed multiplayer races. Take them down across a range of ultra-competitive levels and modes
• The first handheld Sonic game ever to feature fully realized Nintendo 3D levels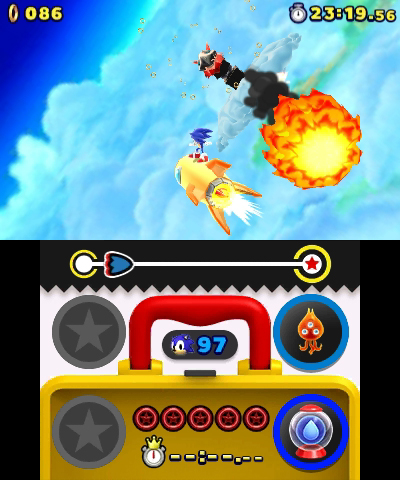 Reminiscent of those classic Sonic titles that requires gamers to travel at high speeds, avoid obstacles, defeat enemies and collect gold rings, Sonic Lost World definitely ticks all these boxes and if you have played Super Mario 3D Land or Super Mario Galaxy, the game does have its parallels. The 3DS version of Sonic Lost world will take most gamers around 8 – 10 hours to complete as they race through a variety of different worlds as you take on the Deadly Six.
In terms of story, once again Sonic is up against his evil nemesis Dr. Eggman who has harnessed the power of the Deadly Six to rule the world. Unfortunately it did not go according to plan and Dr. Eggman needs the help of Sonic as the Deadly Six have turned upon him. Together they must explore the Lost Hex searching for a solution to end the reign of the Deadly Six. It's a classic Sonic tale!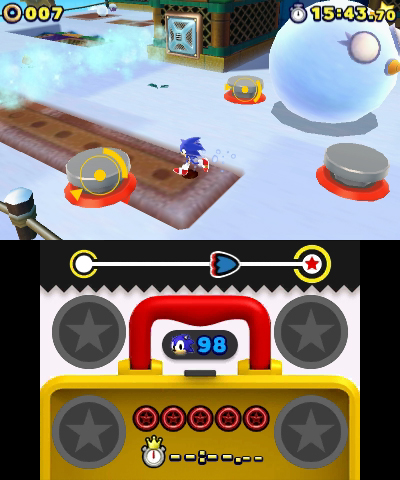 In terms of gameplay, it is quite a fast paced 3D platformer especially with its catchy soundtrack as you navigate this 3D world by running up walls and using your Spin Dash for additional speed. For the majority, the controls work well (gyroscope are so-so), although at times it does become a little frustrating, especially when you keep messing up a certain area which is sometimes the fault of the wonky camera. Although the inclusion of a sprint button (R1) really makes a difference when navigating this game, especially the wall-runs. In relation to the gyroscope, it's actually quite a challenge to master and if someone saw you using this feature, they might want you committed.
Gameplay is a mixture of third person and side scrolling  and as the camera is from behind for the majority of time, it does make things a little easier seeing things coming up. Environment are relatively quite diverse and incorporate the puzzles well, especially the water areas. The game does allow you to replay levels in order to beat your own person times as well and you can compete in the time trial mode which is online play and lets you compare your scores with others as well.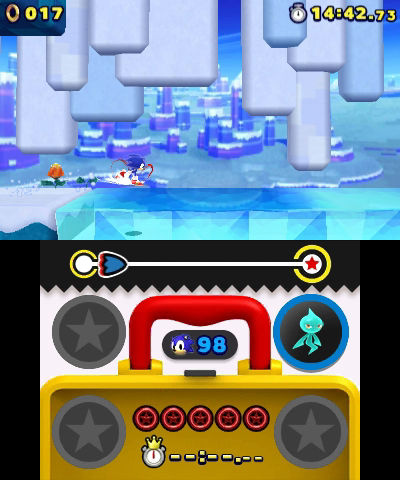 Along the way, you will encounter a variety of enemies like Buzz Bombers of Newtrons which require you to either avoid or destroy in a kid friendly fashion by jumping or bouncing on them. There are also a variety of power ups available to the player to give you bonuses such as speed or combat which is sometimes needed during the boss battles. Add in some racing levels and this give a little bit of diversity to the player. Overall, Sonic Lost World works but the controls and camera does slightly interfere in the overall enjoyment factor of this title. It tries to be classic Sonic but comes across as unnecessary filler in the 21st century world of gaming.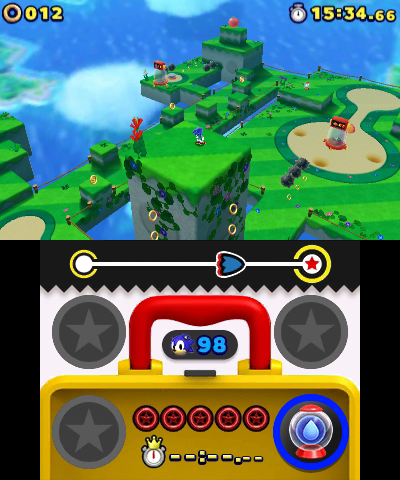 Graphics/Audio
Graphically, the title does look like a Sonic game, especially with our colourful protagonist and cartoon inspired levels that although look simplistic are modelled well. The developers have also managed to create a true sense of speed, although this does make things a little tricky if you have enabled 3D as if you move the console too far, you have to readjust your eyes. This happens more so on those areas that have quite a few obstacles or enemies… it also made me a little ill due to the high speed nature of Sonic. Audio is fun and works in this traditional arcade way.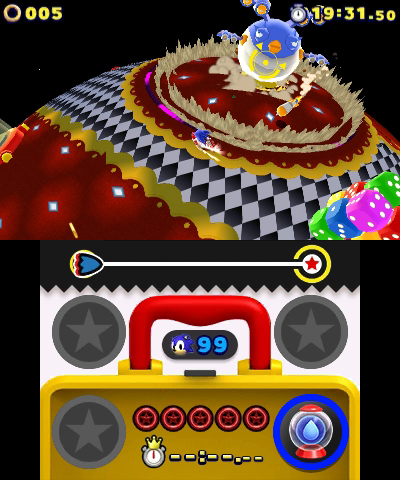 Final Thoughts?
In conclusion, Sonic Lost World is an above average game on the 3DS that unfortunately has a few issues with the control system which  sometimes challenges the gamer when the clues or pathways are not that clear in the gaming world. It's a unique twist on a classic video game character that hopefully the developers can flesh out more for the next incarnation of Sonic the Hedgehog!