XBox 360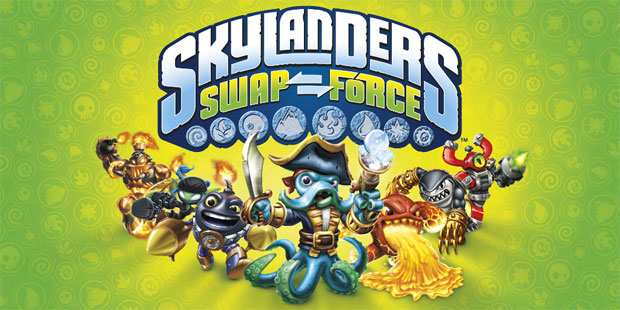 Published on October 11th, 2013 | by Admin
Skylanders Swap Force XBox 360 Review
Summary: Skylanders Swap Force definitely takes this franchise to the next level up that we had a ball playing. It may not be as refined as Disney Infinity (I guess it does help when you have the Disney vault of characters available) but in terms of local and online play, there's something quite enjoyable about seeing your action figures come alive in the virtual world.
Title: Skylanders Swap Force
Developer: Toys For Bob
Publisher: Activision
Available: Now
Reviewer: James Wright
Rating: G
With Disney just releasing Disney Infinity, Activision have upped the ante with their latest Skylanders jaunt, Skylanders Swap Force which creates a new gimmick to this action figure video game franchise by the ability to allow players to create their own Skylanders. This is done by removing the top or bottom of the action figure and then replacing this part. This also opens up the gameplay to some new strategies as not only can you mix and match pieces of the figures together but also create new statistics for your characters. Best of all, if you own any of the previous Skylanders games or figures, they are compatible with this title.
Starter Pack Contents
Skylanders Swap Force game
Skylanders Swap Force Portal of Power
Three Skylanders Swap Force characters
Three Skylanders Swap Force trading cards
Three sticker sheets with secret codes
The story behind the latest instalment once again involves the nefarious Kaos who still seeks total domination of the world but this time the Skylanders of Cloud Break Islands have come to the rescue with their special swapping force abilities. Kaos hopes that by controlling the powers of a magical volcano, he will get the upper hand and in turn, fulfil his vile dreams. With the Swap Force characters, although they are part of the Skylanders, they were blown into pieces when the magical volcano they were protecting exploded but thankfully they managed to pull themselves together. Given that, the story of Swap Force is beautifully presented on the Xbox 360 with some great in-game cutscenes to progress the story.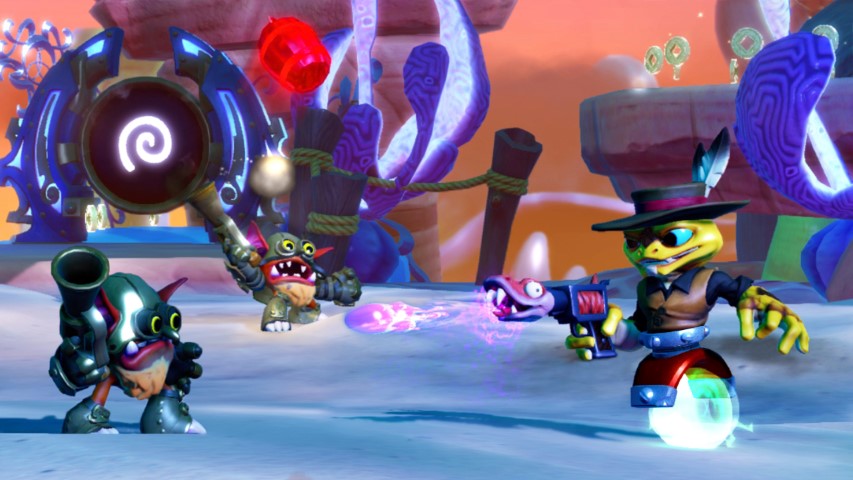 At its core, Skylanders is an interactive video game which allows younger gamers the ability to place action figures on a portal of power which makes them appear in the game. The catch to Skylanders is that you can purchase additional action figures and each of these figures have their pros and cons that does change the strategy of the gameplay. With that said, Skylanders is an action arcade game which requires players to complete a set number of objectives and engage in a variety of enemies in classic beat 'em up fashion.
As mentioned, the developers have tweaked the gameplay of Swap Force by allowing players to create their own creatures that results in new abilities. In essence, you could take the speed from one Skylander and match that with the strength of another. In terms of swapping action figure parts, this is done through magnets so you can rest assured that your toys don't fall apart in the middle of battle. Although that could be pretty cool. Given that, Swap force gives players 16 new characters with a whopping 250 unique character combinations.
With characters like Blast Zone and Wash Buckler, you could create a character called Blast Buckler or Wash Zone for some very interesting ability combinations.  The top half of the Swap Force characters generally focuses on their fighting abilities with the lower half on movement which creates some interesting combinations. Like the previous games, players can swap between Skylanders on the fly which does assist in the interactive nature of the title. Another interesting element of Swap Force are the new mini-games which allows players to engage in other activities such as racing or mountain climbing (Frogger anyone?) that is similar to the new Disney Infinity. However unlike Disney Infinity which requires you to purchase additional figures to access new areas, everything is accessible in Swap Force with just the starter pack.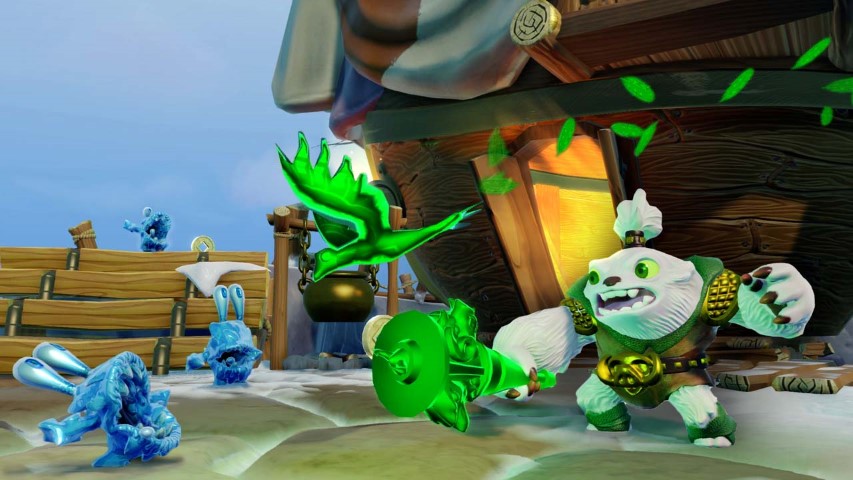 As you explore the Cloud Break Islands, you will need to upgrade your Skylanders abilities and this may get a little tricky for some of the younger gamers as each part of these new Skylanders can be upgraded. One difference between this incarnation of the series is the exploring mechanics of the game which does encourage you to explore, especially to find additional treasures or side quests to increase the longevity of the game. Another highlight of the game is that you can finally jump and this definitely makes the game much more enjoyable which opens up for some great exploration. Needless to say, there is a ton of secrets and unlockables to be found in the main campaign mode. Given that, Portal Master Rank is what most Skylanders players want to achieve and although an element of grinding is required, it is well worth it in terms of what is unlocked for your characters.
For battles, they do start with a rock paper scissors mentally, however as you progress, the skills of your Skylanders does influence how the battles may pan out but it's still requires an element of button mashing but the combinations is where the combat does shine. The developers have even included an online mode to the game which allows players to team up with their friends and with the local game, player's friends can just put a Skylander on the Porter and join in whenever they want or leave whenever they want.
With that said, the overall aspects of multiplayer is more enjoyable too because it's not just a "scab" fest with each player for themselves as you can now share the "loot" that you find. Another good thing about multiplayer is the new puzzles that need to be solved together and thankfully if you enter an area that you don't have the powers for, the game will compliment you in order to solve the puzzle. The arena also allows you to play Player vs Player, co-op and a combination of both with is really fun.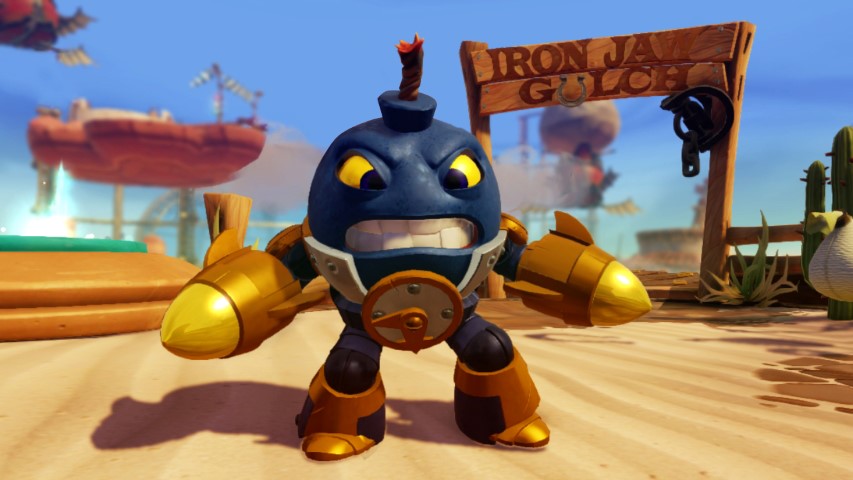 Graphics & Audio
Graphically, Swap Force gives the player a variety of colourful and different environments that they can visit from wind swept deserts to areas volcanoes. The game looks like a Saturday morning cartoon and the characters themselves are extremely well animated but where the game does shine is seeing your new Skylanders on the screen once you have mixed and matched. Compared to the previous versions of Skylanders, there is a big difference in the graphics and that's for the better. There's some great use of lighting in the game, including special effects that make this a rather impressive title on the Xbox 360. Sound effects are equally as interesting and add an element of "fun" and "mystery" to the gameplay. The voice acting is also quite professional, thanks to Patrick Warburton and Steve Blum and there's some great one-liners thrown into the mix.
Final Thoughts?
Skylanders Swap Force definitely takes this franchise to the next level up that we had a ball playing. It may not be as refined as Disney Infinity (I guess it does help when you have the Disney vault of characters available) but in terms of local and online play, there's something quite enjoyable about seeing your action figures come alive in the virtual world. However with 16 SWAP Force characters available that creates a crazy 250 different character combinations, that really opens up the game to some interesting strategies for the player. It's definitely a game that can be played by the entire family.