Comedy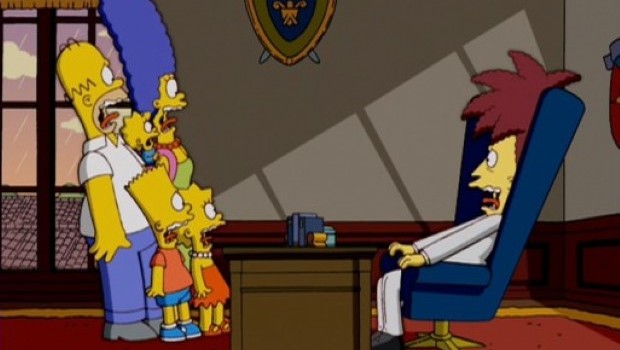 Published on December 6th, 2014 | by Sean Warhurst
The Simpsons: The Seventeenth Season DVD Review
Summary: Whether or not you decide to pick up this boxset will depend on your opinion of the latter years of the show.
The Simpsons The Seventeenth Season
Film Genre – TV Animation
Label – 20th Century Fox
Audio – English (Dolby Digital 5.1)
Aspect Ratio – 1.33:1
Region Coding – 4
TV Standard – PAL
Rating – M
Year of Release – 2014
Primary Format – Movies/TV – DVD
Reviewer – Sean Warhurst
Like anybody of a certain age, The Simpsons played an important part in forming my comedic sensibilities whilst growing up and although it's inarguable that the quality of the show has dipped somewhat in recent years the dysfunctional yellow family will always hold a special place in my heart.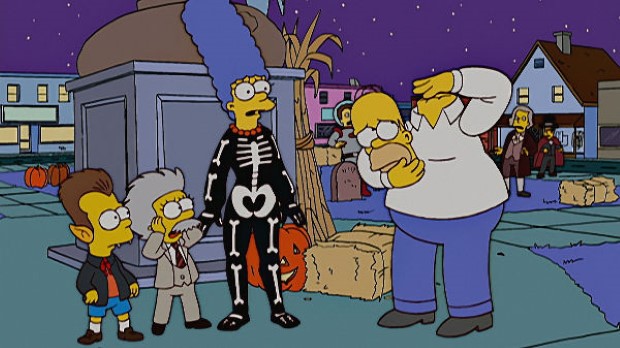 Most fans argue that the series began to wallow in the mire of mediocrity around season 11 or so, with 'Saddlesore Galactica' often being pinpointed as the point where the rot really began to set in. But claims of diminishing returns have been levelled at the show throughout its entire run, with the episode where Skinner is outed as a rebellious nogoodnik named Armin Tamzarian being held up as another example; the simple fact of the matter is that many let nostalgia cloud their judgement and, in my opinion, whilst definitely not quite as brilliant as the first ten or so seasons, The Simpsons still remains an enjoyable way to whittle away the hours to this day.
The Simpsons: The Seventeenth Season features 22 episodes of ribald animated fun, from the return of Bart's nemesis Sideshow Bob (Yet Again!) during the Simpsons' trip to Italy, a trilogy of Christmas tales as well as another set around the theme of water in the style of the usual Treehouse of Horror episodes, the wife swap episode written by Ricky Gervais and a futile attempt to transform Groundskeeper Willie into a gentleman.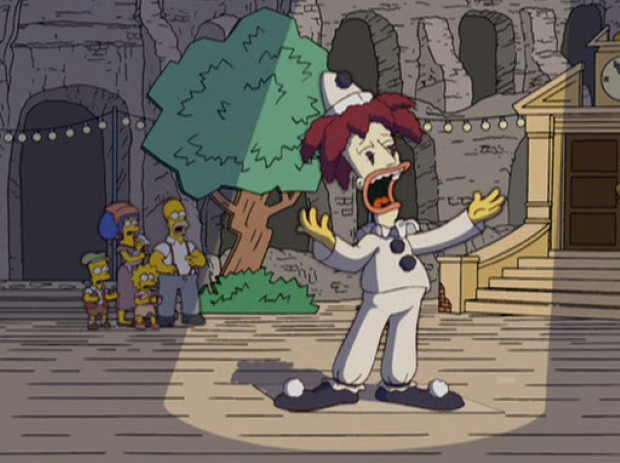 There's also the abduction of Richard Dean Anderson by the notoriously MacGyver obsessed Patty and Selma, Homer and Marge playing marriage counselours, Lisa striving to end the debate between creationism and evolution and Bart gets sent to a behavioural modification camp.
The episodes here are all enjoyable enough and there's some real gems to be found amongst them, despite what the vocal minority may have you believe. That's not to say that they're all flawless; this incarnation of the show is a very different beast to the earlier seasons and the tone of the episodes seem to be a lot more random than that of the classic era.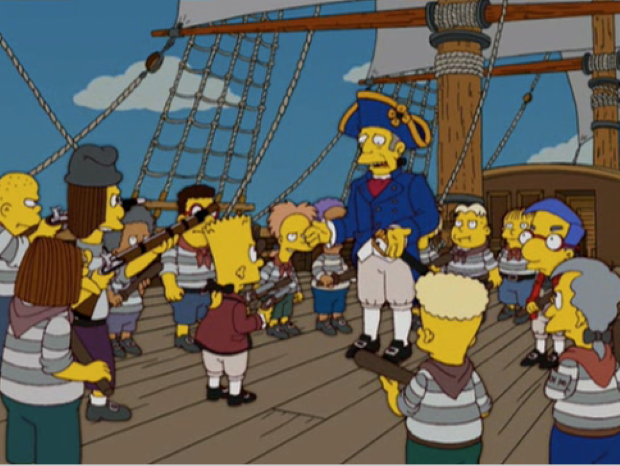 I personally believe that this shift in tone can be squarely attributed to Al Jean's tenure as the showrunner; coming back to the series in 2001 after the cancellation of The Critic, the show that he and co-showrunner of the third and fourth season of The Simpsons, Mike Reiss, created, he's since held the position of showrunner up until the current season and has, for better or worse, transformed The Simpsons to better suit his personal vision.
The audio and visual quality is as accomplished as you'd expect for a high profile release like this, although the difference in image quality between these episodes and the bonus episode from season 25 included in the set are like night and day in terms of clarity and sharpness. Still, there's very little aggressive aliasing or any visual anomalies to speak of and, overall, this is another fine transfer from 20th Century Fox.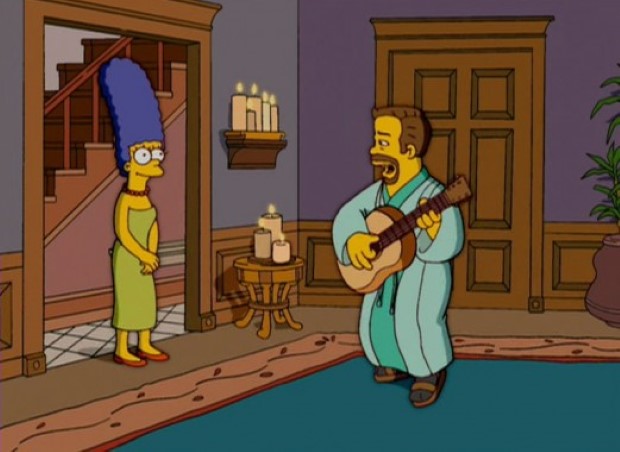 Episode Listing:
The Bonfire of the Manatees
The Girl Who Slept Too Little
Milhouse of Sand and Fog
Treehouse of Horror XVI
Marge's Son Poisoning
See Homer Run
The Last of the Red Hot Mamas
The Italian Bob
Simpsons Christmas Stories
Homer's Paternity Coot
We're On the Road to D'ohwhere
My Fair Laddy
The Seemingly Neverending Story
Bart Has Two Mommies
Homer Simpson, This is Your Wife
Million Dollar Abie
Kiss Kiss Bang Bangalore
The Wettest Stories Ever Told
Girls Just Want to Have Sums
Regarding Margie
The Monkey Suit
Marge and Homer Turn a Couple Pay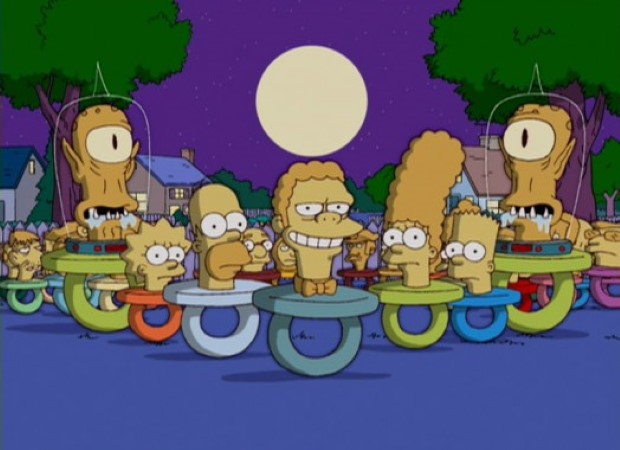 Special Features
As with the previous releases, this release contains a plethora of supplemental features for fans to explore once they've exhausted all of the episodes. Chief among them are the always entertaining audio commentary tracks on each episode featuring a revolving door of contributors; insightful, revealing and genuinely amusing, these amicable tracks have a conversational quality that makes for easy listening.
There are also a handful of deleted scenes for each episode (Although these have to be viewed awkwardly inserted into the episodes in question rather than via a play all option, which can get a little annoying, unless I somehow managed to miss that option), an introduction by Matt Groening, some animatics, a couple of featurettes focusing on scoring the music for the show as well as an interesting look at original concept art and their final animated state, a live table read over an onscreen script, a special language feature for 'Homer Simpson, This is Your Wife' and more.
As you can probably tell from the exhaustive list above, there's something for practically everyone on this release and, if you're not interested at all in exploring these extra features, there's still a bonus episode from season 25 to keep you amused.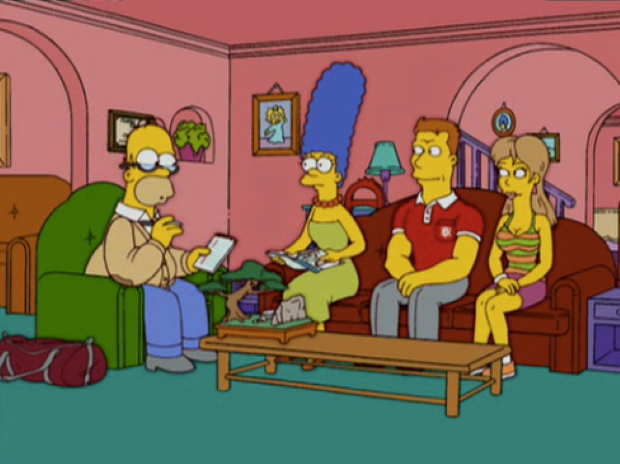 List of Features:
Audio Commentaries on Each Episode
Deleted Scenes
Sketch Gallery I (3:22)
Sketch Gallery II (3:20)
Buongiorno, Simpsons Lovers (3:46)
Animation Showcase: The Girl Who Slept Too Little (12:58)
Let There Be Music (5:07)
Special Language Feature
The Great Ones (22:02)
Live! It's The Simpsons (34:55)
Bonus Episode – The Man Who Grew Too Much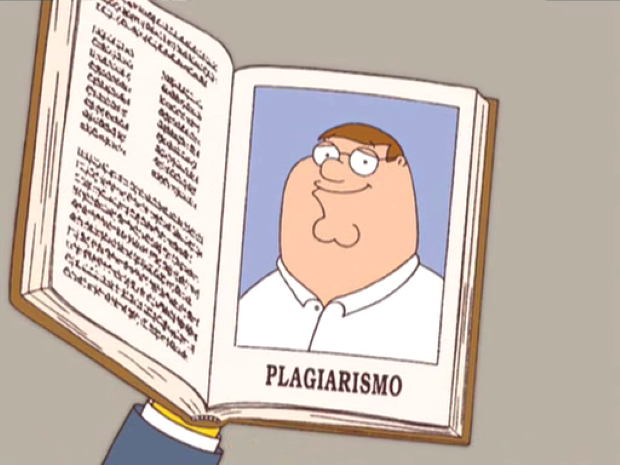 Final Thoughts
One thing that surprised me whilst watching this set is quite how much I enjoyed the episodes; like many other fans I'd drifted away from The Simpsons over the years and had also decried its downward turn in quality, but upon viewing many of these episodes for the first time I realised that the show still managed to elicit laughs from me and, in stark contrast to the general consensus, I feel that The Simpsons still manages to retain its vitality, which is no mean feat for a series in its seventeenth year.
Sure, the episodes on this set pale in comparison to the classic era for the most part, but personally I'll take a slightly worse season of The Simpsons over many of its contemporaries. There's a reason why the series has inspired so many other animated programs and firmly lodged itself into our generation's pop culture lexicon and many of those reasons are still evident, if not quite as prominently, in this collection of episodes.
Whether or not you decide to pick up this boxset will depend on your opinion of the latter years of the show; if you're of the mindset where nothing can touch the classic era and denounce anything that came after season 10 or 11 then nothing on here is going to make you change your mind. If, however, you're simply looking for an amusing distraction with everyone's favourite animated family or are a completionist, then The Simpsons: The Seventeenth Season will more than satiate your desires.