Action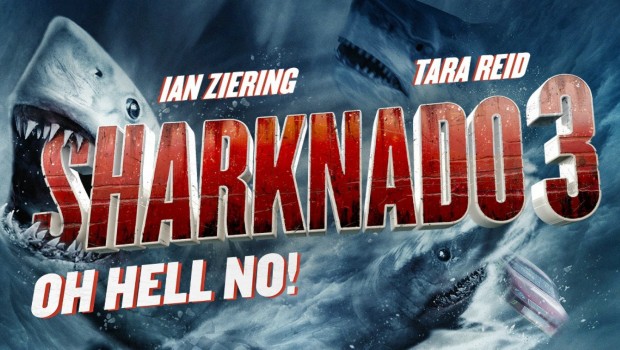 Published on September 17th, 2015 | by admin
Sharknado 3: Oh Hell No! – October 1, 2015
Universal Sony Pictures Home Entertainment is releasing releases three new action-packed shark titles – available to own on Blu-ray™, DVD & Digital from October 1, 2015.
SHARKNADO 3: OH HELL NO!
"The best shark-snark yet" – Yahoo!
Sharknado 3: Oh Hell No! picks up where Sharknado 2 left off with Fin Shepard (Ian Ziering, Sharknado, Beverly Hills, 90210) accepting an award from the President (Mark Cuban, Serena, Deadfall) for his sharknado heroics.  The ceremony is interrupted as a sharknado strikes, devastating the nation's capital and spurring Fin back into action to save the people from the attack.
However the storm suddenly takes an unexpected turn for the popular East Coast, putting thousands of vacationers in danger. With the eye of the storm set to devastate the coast, Fin and April (Tara Reid, Sharknado, Van Wilder) decide to enlist the help of NASA to defeat the ravenous sharknado before it's too late. Featuring an array of guest stars including David Hasslehoff  (Stretch, Baywatch), Frankie Muniz (Malcom in the Middle), Jerry Springer (Baggage, The Defender) and George R.R Martin (Game of Thrones).
3 HEADED SHARK ATTACK
Three heads, three times the teeth.
The world's greatest killing machine is three times as deadly when a mutated, three-headed, great white shark eats through a research facility, killing everything it comes across. Just as the survivors escape, the shark turns its attention to a cruise ship full of partygoers. As the shark eats its way from one end of the ship to the next, the survivors from the research facility attempt to help the passengers escape. However they soon discover that killing a three-headed shark will be much more difficult than they anticipated. Featuring a star-studded cast including Karrueche Chan (Vanity, The Bay), Danny Trejo (The Book of Life, Machete), Jena Sims (Kill The Messenger, Last Vegas) and Jaason Simmons (Sharknado, Baywatch).
MEGA SHARK VS. KOLOSSUS
Nature's deadliest creature against man's deadliest weapon.
Russia is in search of a new energy source when they accidently reawaken the Kolossus – a giant doomsday robot from the Cold War period loaded with explosive energy. Simultaneously, a monolithic new Mega Shark suddenly appears, threatening global security. Endangered by two terrifying monsters, the world must figure out how to stop the deadly giants before they destroy everything on both land and sea. Starring Illeana Douglas (Six Feet Under, All Stars), Amy Rider (The Secret Life of the American Teenager, Clappy), Brody Hutzler (Legally Blonde, Hot in Cleveland) and Ernest Thomas (Malcolm X, The Hustle).