Comedy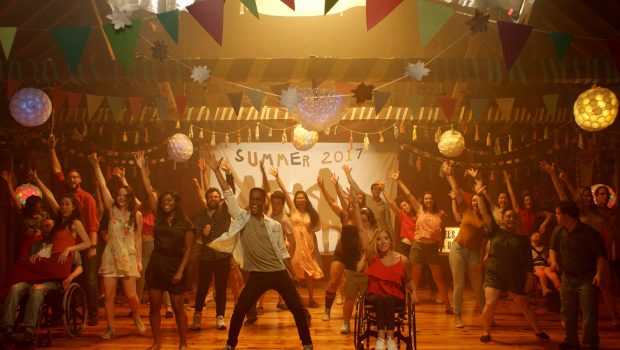 Published on November 21st, 2021 | by Tim Chuma
SFF 2021: Best Summer Ever (2020) Review
Summary: I was glad to have saved this one until the end of the festival. Maybe not so many grim documentaries in a row next time. A fun movie and an easy recommend.
On the last day of summer dance camp Sage (Shannon DeVido) and Tony (Rickey Wilson Jr.) say they will keep in touch but have no idea that they are going to end up at the same high school after a serious of wacky coincidences plus there is a big homecoming game the team has not won for 25 years. There is also an evil cheerleader looking to spoil everyone's fun and a lot of song and dance.
I had been saving this one for the end of the festival viewing and was glad that I did as some of the documentaries were hard to sit through. From what I can find out about this one it has been an audience favourite at a lot of festivals and I can see why.
While the musical genre has been done a lot over the years the inclusiveness in this one does stand out and no-one even seems to mention any of the characters being different they just accept it. The film was produced by Zeno Mountain Farm, a non-profit organisation making films featuring people with a disability.
There were a lot of different actors in this that hopefully get to do more roles, I did like Emily Kranking as Nancy as she gets some funny lines but also everyone else gets at least one joke or chance to stand out.
The plot is fairly easy to follow and you can tell what is going to happen in the end but I still enjoyed it.
Special mention to the karaoke type subtitles during the songs which made it easier to follow even for people who are able to hear the songs.
I did enjoy the song and dance numbers and I usually do not get into this sort of film that much or not for a long time.
A great family film and something to watch with someone special that won't have any nasty surprises or anything really that bad that happens which is a relief these days.
Well worth your time and hopefully it gets a wider release outside the festival circuit.
Trailer
Film details:
Directed by Lauren Smitelli, Michael Parks Randa
Written by Will Halby, Terra Mackintosh, Michael Parks Randa, Andrew Pilkington, Lauren Smitelli
Starring: Shannon DeVido, Rickey Alexander Wilson, MuMu, Jacob Waltuck, Emily Kranking, Ajani A.J. Murray, Eileen Grubba, Holly Palmer, Bradford Haynes, Lawrence Carter-Long, Christine Bruno, Eric Folan, Phil Lussier, Jeremy Vest, Sophia Bratt, Benjamin Bratt, Maggie Gyllenhaal, Peter Sarsgaard, Zack Gottsagen, C.C. Sheffield
Genre: Musical, Comedy
Country: United States
Length: 80 minutes