Action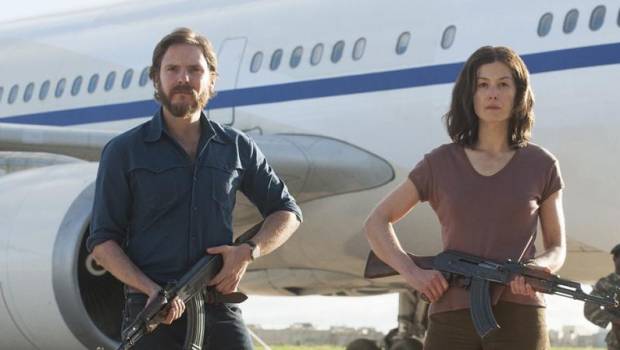 Published on September 20th, 2018 | by Curtis Mayfield
Seven Days in Entebbe Digital Review
Summary: With all its fault Seven Days in Entebbe is a solid effort at telling a very complicated real-life story that's still in the headlines today
Brazilian director José Padilha has made his way into western cinema and television with some hits and misses. One major miss would be the unsuccessful reboot of Robocop that nobody wanted, while his biggest hit might be the two episodes he directed of the binge-worthy Narcos series. Padilha's latest film takes on the very prickly subject of Palestine and Israel tensions during the 1970s. Seven Days in Entebbe is the dramatisation of the hijacking of a plane and a seven day long hostage situation that saw a plane load of people being held captive in order to free Palestinian prisoners. Padilha and screenplay writer Gregory Burke have left behind the over the top action from their previous works to give a stripped down (almost boring) retelling of a very intense international news story. Daniel Brühl plays Wilfried Böse, a German revolutionary (or terrorist depending on how you see it) who sympathises with Israel's enemy and takes a planeload of people hostage in the name of Palestine. Along side him is the amazing Rosemund Pike who is unrecognisable at first with her big 70s glasses and stoned faced stare. Pike plays Brigitte Kuhlmann, another German radical with dead eyes and a flawless German accent (hey she even speaks German in the movie!). Things are already leaning towards the white-saviour side of things right? And that's exactly what is happening, though Pike's character is far less merciful and way more ruthless than her partner.
The first third of the movie shuffles at a snails pace but the tension and stress levels amp right up around the 45 minute mark, especially when the Jewish hostages are separated from the rest of the group. The white-saviour moments start to peak its head up when Wilfried, just 30 years after the end of WW2 feels the guilt of his country's recent past. Padilha even recognises this Hollywood trope of making the white guy the hero when one of Wilfried's Palestinian counterparts questions his motives – "If I lived in Europe I would never come here. So why are you fighting?" both the Palestinian character and audience asks. Though this movie has been getting a tidal wave of bad reviews there is a lot to be said about the acting and pace of the movie. Denis Ménochet's portrayal of one of the kidnapped pilots and moral compass to Wilfried (which is a little corny and unrealistic) puts in a great performance which leads to some great dialogue between the two characters. The same can be said about Eddie Marsan going into complete chameleon mode as an advisor to the Israeli leader (played by Lior Ashkenazi). Marsan plays his character with enough chilled sleaze that when he's advising the Prime Minister on what to do when over 100 people's lives are at risk it sounds like he's planning a picnic as opposed to the safe release of innocent victims caught in a bloody political battle.
As the title of this movie suggest this story is one slow slog of an event to watch which bogs down the movie a little. The jumps between tense political boardrooms and the very dangerous event comes off as a little Argo-esque. On one hand the filmmakers should be praised for not attempting to make a Jason Bourne movie out of an intense real life situation. On the other hand there probably could have been a better angle to approach this story from, starting with not having the two white characters (as talented as they are) be the centre of a narrative about the tensions between two Middle Eastern countries. And though Padilha and co almost successfully walk the line between being subjective and objective, Palestine still isn't painted in the best light with the only Palestinian characters being shown as super angry radicals. Why they chose to ignore the Palestinian government's side of the story isn't answered. Another fault in the movie is its crowded cast. Sure every actor puts in a strong performance but things become claustrophobic when Ben Schnetzer shows up as an Israeli soldier who's hesitant to fight and includes a back-story with his performance artist girlfriend. There's probably a metaphor or two in there but unfortunately it gets lost amongst the huge cast and immense plot. As little character development as there is, the movie still does a good job of giving each character enough screen time for us to familiarise ourselves with their motives and backgrounds.
But with all its fault Seven Days in Entebbe is a solid effort at telling a very complicated real-life story that's still in the headlines today. By the movie's end there are no winners or losers, which is the case in the real world, especially when it comes to wars between countries. The movies subject is one that the world can never forget, it's too bad this movie with its amazing cast falls victim to unbalanced story telling which then leads to this year's best forgettable movie.
Film Details
Director – José Padilha
Film Genre – Drama/Biography/Thriller
Label – Entertainment One
Audio – English DTS-HD 5.1
Subtitles – English
Running Time – 107 minutes
Rating – M
Year of Release – 2018
Primary Format – Movies/TV – Blu-Ray