Comedy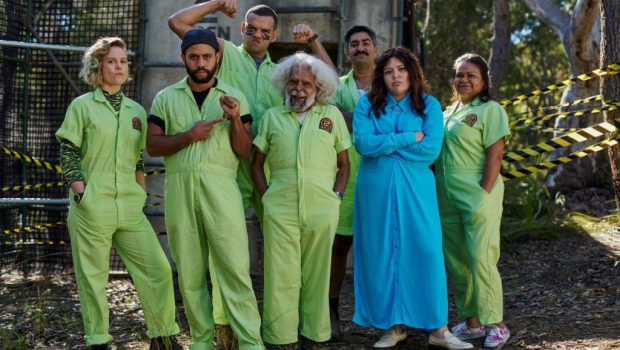 Published on October 18th, 2021 | by Tim Chuma
Series Mania 2021: Preppers (2021) – Episodes 1 to 3 Review
Summary: A fun show from what I have seen here. Now I just want Uncle Jack Charles to bring me a tray of party pies.
When breakfast television host Charlie (Nakkiah Lui) has an on-set meltdown that blows up on social media, she goes bush until it blows over at her nan's property. Turning up one night she finds Monty (Uncle Jack Charles), has been given a 10,000 year lease to set up a community of preppers.
From the Q&A that screened with these episodes with Julia Zemrio, the show is based on the social media storm around  Nakkiah Lui's appearance on the final episode of Get Krackin' and how it would play out in the real world if the character was on a real show.
They managed to complete the production of the show just before Sydney went into lockdown and a local COVID19 testing site gets a credit as the entire crew was going there regularly to get tested.
I had not seen the Black Comedy series that Nakkiah Lui had written on before but I have heard good things about it. There is no real reason I never saw it I just had other things on.
The cast is great in this especially Uncle Jack Charles who does not have that many lines but always seems to come in at the right time when he is needed. I wish he would deliver me an entire tray of party pies.
A great example of steering into the skid was the casting of Grant Denyer as the slimy executive producer and Brooke Satchwell as the co-host of the breakfast television show. It is always fun when the industry gets to make fun of themselves in this way as the shows they work on have a set formula and they can't really go against it.
Kate Miller-Heidke has a great cameo in this but I won't ruin it as there is a big set piece important to the story. It was fun to see her as I have not seen her play live for quite a while now.
This is screening on ABC TV and iView in the next few months and is well worth your time.
Trailer:
Film details:
Director: Steven McGregor
Writer: Nakkiah Lui, Gabriel Dowrick
Starring: Nakkiah Lui, Jack Charles, Aaron L. McGrath, Meyne Wyatt, Grant Denyer, Brooke Satchwell
Country: Australia
Language: English
Genre: Comedy
Length: 30min per episode
Screened as part of Series Mania 2021 via ACMI Cinema 3 online.