3DS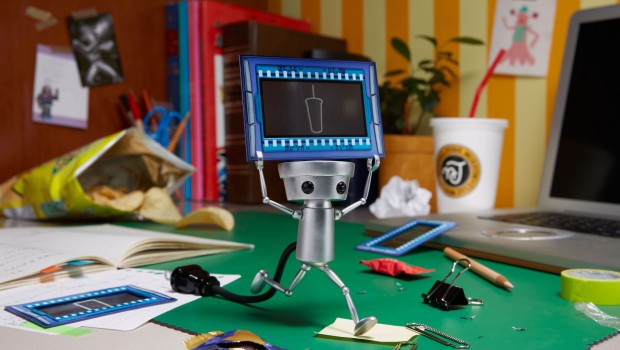 Published on May 30th, 2014 | by admin
SCALE NEW HEIGHTS IN PULLBLOX WORLD ON 20th JUNE, AND EMBARK ON A PHOTO SCAVENGER HUNT IN CHIBI-ROBO! LET'S GO, PHOTO! ON 4th JULY – ONLY ON NINTENDO eSHOP
Special price promotions for Pullblox and Fallblox on Nintendo 3DS and 2DS, and the new Pullblox World on Wii U
29th May 2014 – This summer, the Nintendo eShop library is set to expand with two new games available for download exclusively on Wii Uand Nintendo 3DS and 2DS systems. Launching on 20th June, Pullblox World brings the beloved puzzle-platformer series to Wii U, accompanied by special price promotions for all three games in the series. Hot on the heels of this, Chibi-Robo! Let's Go, Photo! is unleashed on 4th July on Nintendo 3DS and 2DS, and is set to change the way you look at the world around you! The game marks the return of the fan-favourite little robot in a photo scavenger hunt that uses the system cameras to bring real-world objects into Chibi-Robo's world.
Revel in the colourful Pullblox World, and enjoy the first Wii U outing for the puzzle-platformer series that began with Pullblox and Fallblox on Nintendo 3DS and 2DS. Take control of Mallo, the strong little guy with acrobatic powers, and help him rescue children trapped in the Pullblox structures. Using his skills, you can solve three-dimensional, block-based puzzles by pushing or pulling blocks to climb to the top of the structures. As the game progresses, the puzzles get larger and more complex, with some massive, screen-filling creations resembling familiar objects, animals and even classic Nintendo characters. Endless replay value is ensured by the return of Pullblox Studio, providing an easy-to-use interface for players to create and share their own puzzle creations.
In addition to crisp and colourful HD graphics, Pullblox World brings 250 new puzzles (some with brand new gameplay mechanics) and makes it easier than ever to share your own creations or discover new puzzles created by other players. The all-new Pullblox World Fair is integrated with Miiverse, so players from all around the world can play and rate puzzles by other creators – including more puzzles made by the Pullblox World developers!
To celebrate the upcoming launch of Pullblox World, Nintendo is holding special price promotions on Nintendo eShop. Pullblox and Fallblox for Nintendo 3DS and 2DS will be available at a discount for a limited time, while owners of either title can get a 30% discount on Pullblox World if they get it between 20th June  and 31st July using the same Nintendo Network ID*
If you still have a helping hand to spare, you're welcome to assist Chibi-Robo, the 10 cm-high tiny robot, tasked with opening a museum in Chibi-Robo! Let's Go, Photo! on Nintendo 3DS and 2DS. The Curator dreams of immortalising real-world objects as NostalJunk to put on display, and it's your job as Chibi-Robo to help him fill his exhibition rooms using your very own photographs! Through the Nintendo 3DS and 2DS cameras, accurately line up in-game silhouettes with real-life objects, take a snap and watch them be transformed into the coveted NostalJunk.
The game also introduces you to a cast of colourful and hilarious characters who need Chibi-Robo's help – from a sushi-slinging squid to an eccentric pair of chefs! Do your part with cleaning and vacuuming the world, and helping to solve their problems with missions such as retrieving ingredients from a fridge that's gigantic from the perspective of Chibi-Robo! Through these jobs earn Happy Points to obtain new silhouette film for your camera. The more happiness you spread, the faster you can realise The Curator's dream of having as many NostalJunk aficionados admire his exhibits as possible. 
From the puzzle-platforming challenges of Pullblox World on Wii U (20th June) to the picture-taking adventures in Chibi-Robo! Let's Go, Photo! (4th July), owners of Nintendo systems will have even more unique gameplay experiences to look forward to this summer, only on Nintendo eShop.
* Pullblox and Fallblox on Nintendo eShop on Nintendo 3DS and 2DS will be available at the discounted price of AU$6.50 (NZ$8.50) each from 30th May until 12th June , after which they will revert to their regular prices of AU$9.00 (NZ$11.25) and  AU$10.40 (NZ$13.60) respectively. Owners of Pullblox and/or Fallblox on Nintendo 3DS and 2DS who download Pullblox World on Nintendo eShop on Wii U using the same Nintendo Network ID  can purchase Pullblox World at a special price of  AU$9.10 (NZ$11.90) from 20th June until 31st July . After this date, the game will be available to purchase from Nintendo eShop at the regular price of AU$13.00 (NZ$17.00).
Additional Links:
Nintendo Australia website: http://www.nintendo.com.au/ NintendoAustralia Twitter:https://twitter.com/NintendoAUNZNintendo Australia Facebook: https://www.facebook.com/NintendoAUNZNintendo AU YouTubehttp://www.youtube.com/nintendoau
Nintendo Australia Image Libraryhttp://images.nintendo.com.aunintendo.com.au/nintendo-3ds