Comedy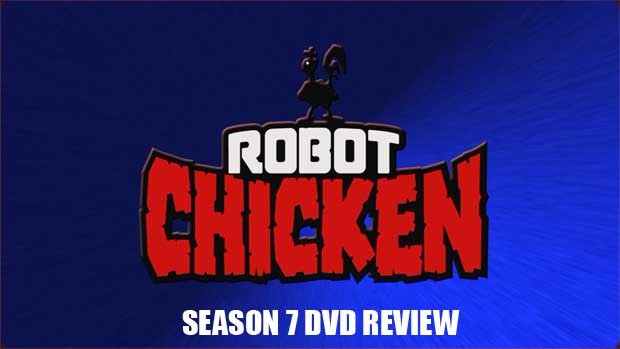 Published on September 28th, 2015 | by Tony Smith
Robot Chicken Season 7 DVD Review
Summary: Robot Chicken Season 7 is pure comic gold on DVD!
Those whacky guys from Robot Chicken (Seth Green, Matthew Senreich, Mike Fasolo & Co) return again for another spectacular and highly amusing season that really takes the piss out of both pop culture and mainstream media. Add in their unique "tademarked" stop-motion techniques of awesome toys, particularly those from the 80's plus lots of guest-stars such as Adrianne Palicki and Katee Sackhoff and Robot Chicken Season 7 once again hits all the right notes for Champaign comedy. There's also lots of "why the face" moments like Blade taking on a Vampire version of Big Bird from Sesame Street which really throws some curveballs at the viewer and that's Robot Chicken works so well.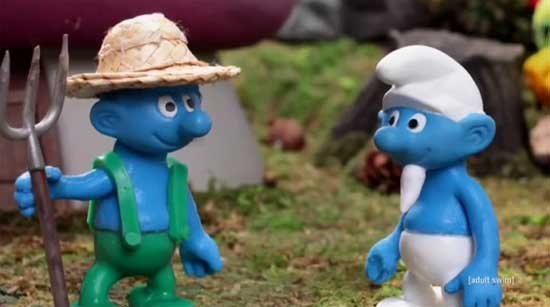 Other amusing anecdotes from the season 7 include Skeletor trying to destroy Snake Mountain when it turns into a tourist attraction to a hilarious Undercover Smurf sketch based on the reality TV series Undercover Boss to the guys of Robot Chicken taking the mickey out of Candy Crush and Bear Grylls, there's just way too moments in this season to have a favourite. However with all this comedy, sometimes it can be a little too much and Robot Chicken is best watched in 1 to 2 episodes snippets because the humour does become a little stagnant. This is not to say that Robot Chicken is bad but rather it's like eating too much chocolate because it gets too much.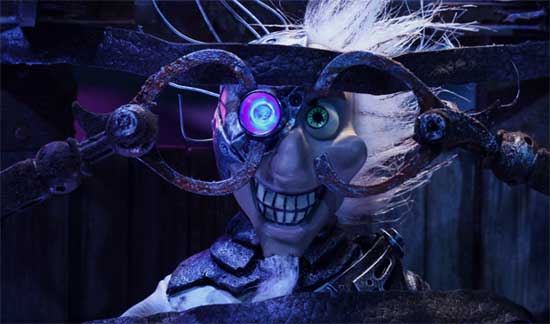 You can also tell that the guys behind Robot Chicken love Batman because season 7 has a few references to our favourite caped crusader and his alter ego Bruce Wayne. Furthermore, some of the gags do fall a little flat but rest assured that the next gag will have you smiling or almost wetting yourself from laughing too much. Another highlight of Robot Chicken are the voices and some of the charaters sound quite absurd at times and once again Seth Green is the star with his quirky and sometimes over the top voices that always make me laugh.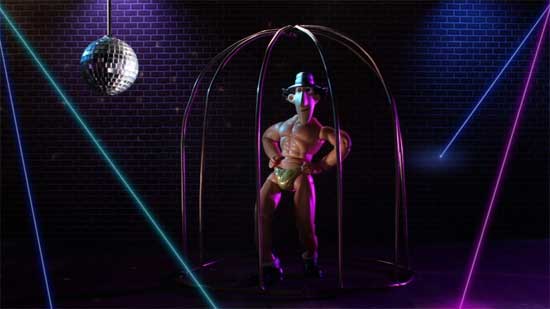 Episode Listing
1. Bitch Pudding Special
2. G.I. Jogurt
3. Link's Sausages
4. Secret of the Booze
5. Rebel Appliance
6. Legion of Super-Gyros
7. El Skeletorio
8. Snarfer Image
9. Up, Up and Buffet
10. Panthropologie
11. Catdog on a Stick
12. Super Guitario Center
13. Noidstrom Rack
14. Stone Cold Steve Cold Stone
15. Walking Dead Lobster
16. The Hobbit: There and Bennigan's
17. The Robot Chicken Lots of Holidays but Don't Worry Christmas is Still in There Too so Pull the Stick Out of Your Ass Fox News Special
18. Batman Forever 21
19. Victoria's Secret of Nimh
20. Chipotle Misérables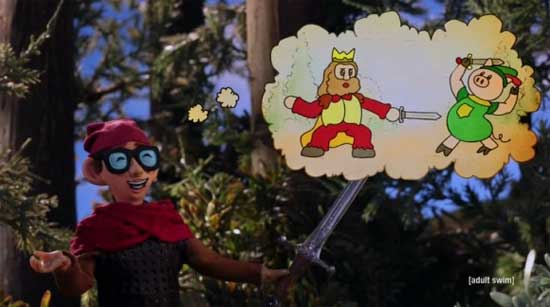 Video, Audio & Special Features
The video quality of Robot Chicken 7 looks great on DVD with some exceptional use of colours that really highlights the stop motion techniques of Adult Swim. Audio is equally as good with its Dolby Digital 5.1 presentation which produces good levels and well balanced dialogue, sound effects and music. There's also a wealth of special features with commetnary for every episode which is definitely worth it because hearing the guys talk about how it was made, how they messed up and what made them laugh is quite infectous. There's also a bonus Christmas Special, featurettes and deleted scenes to make this a worth purchase for any fans of Robot Chicken.
Final Thoughts?
In conclusion, the guys from Adult Swim hit the mark with Robot Chicken Season 7 and if you want to laugh, cry and perhaps even wet yourself, then you really … I mean REALLY should check out this highly entertaining DVD, particularly if you want to see a fast food version of Les Misérables, Santa Claus arguing with Superman or the delightful Katee Sackhoff voice a highly amusing segment based on Strawberry Shortcake… it's pure comic gold!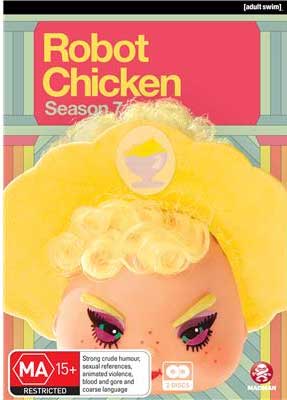 DVD Details
Film Genre – TV Animation
Label – Adult Swim
Audio – English (Dobly Digital 2.0)
Running Time – 220
Region Coding – 4
TV Standard – PAL
Rating – MA15+
Year of Release – 2012
Primary Format – Movies/TV – DVD